In the trailer for SyFy's Happy!, an adaptation of Grant Morrisons' comic of the same name, we catch a short glimpse of a creepy, villainous Santa Claus. He's a Very Bad Santa and he's kidnapped Hailey, whom Chris Meloni's Nick Sax is on a mission to save, thanks to the incessant pestering of Hailey's imaginary friend, Happy the Horse. This holly jolly creeper is portrayed by Joseph Reitman, a long-time actor who hopes to scare the crap out of you in the upcoming SyFy series. I was lucky enough to conduct a phone interview with Joe to learn about the man behind this "Very Bad Santa."
To start, how did you get your role in Happy!?
I got the show because Brian Taylor, who's the director, is someone who I've worked with a few times in the past. He directed Crank 2, he directed Gamer, and a movie called Mom and Dad, all of which I was in. He came and saw me do a play in Los Angeles to support me, and after he saw it he had like a glimmer in his eye, a little look, and then he called me and said, "I think you're the right guy for this job." He ran it up the flagpole at USA and SyFy, and they offered me the gig.
You said you were doing a play in L.A.?
Yeah, I did a play called Like Blood From a Cheap Cigar, that I performed in Los Angeles with a girl named Genevieve Joy, who wrote the play and I got cast in it. It happens to be a play we took to the Edinburgh Fringe Festival and performed over there at the beginning of August as well.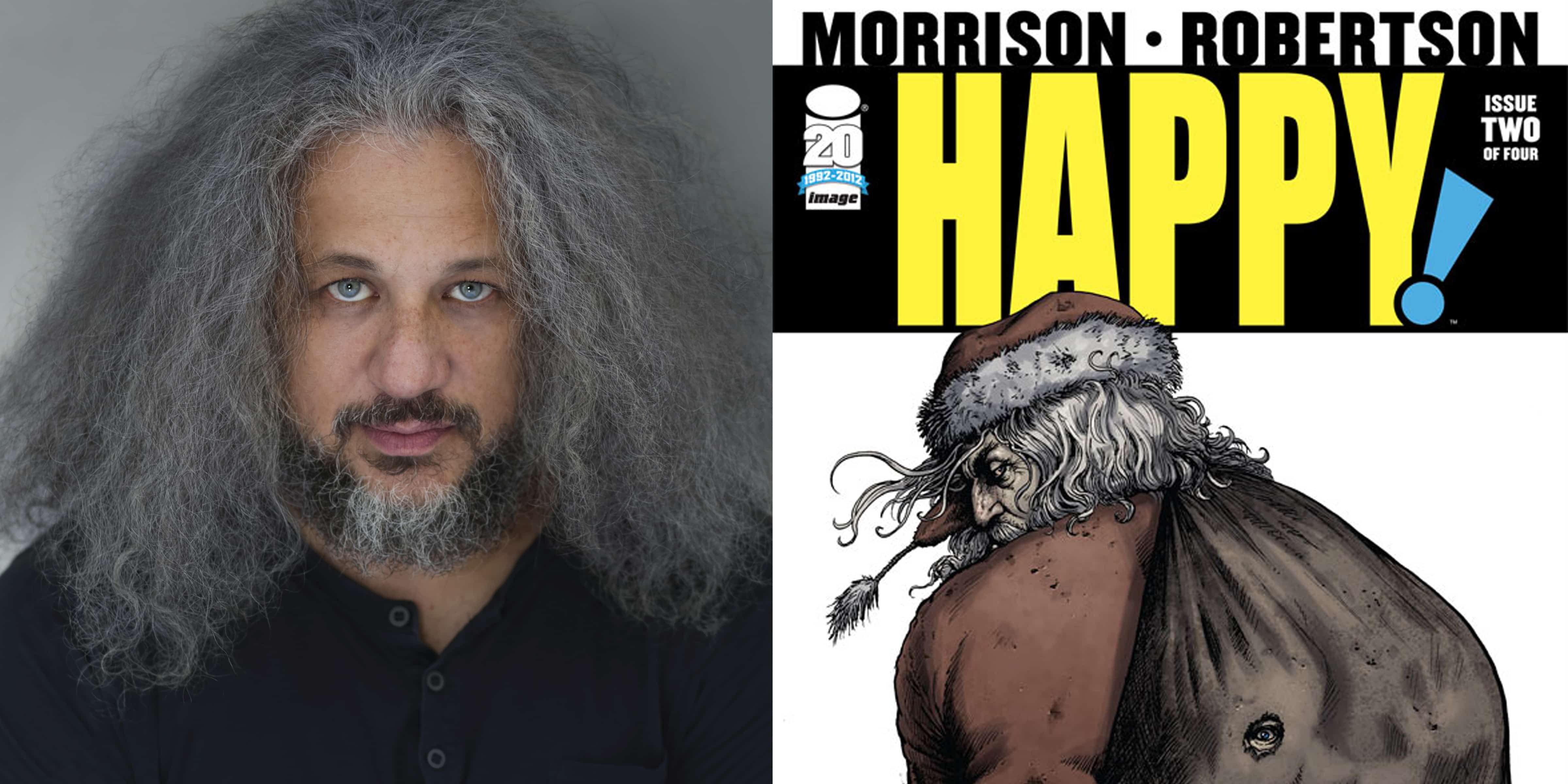 Did you read the Happy! comic before getting the role?
I had read the comic, I'm a comic guy and a Grant Morrison fan, so I knew who he was already and I had read the comic. I read a lot of Image stuff.
So, you're playing, literally, a character named "A Very Bad Santa…"
Yes, which kind of makes it sound like a he's just an extra on the show, but he's not, I promise, but it's a very weird thing [laughs].
[Laughs] I love that it's actually the character's name.
One of the big jokes with Brian [Taylor] is that he never gives my characters names in things. He never does. I'm like, "None of my characters have real names, you just kind of, like, describe them," which he does for everything. One time I was like the "the Long-Haired Board Op," you know? [Laughs] I'm like "Will you name somebody?!"
What can you tell us about the character, how are we introduced to him?
Well, you've read the comic, I bet?
Yes I have, he's kind of a passing character at first.
Yes, and they do the same thing in the series. He's a passing character. They do exactly the same thing in the series that they did in the comic. In the beginning, in the first two episodes of the series, he's touched upon lightly, and in episode three, things really start to change for Really Bad Santa.
Episode three in the series, if you were to ask me, is the episode where all the characters come to fruition, where you really get a sense of who everybody is. They really start to get rounded out and they end up having a third dimension. The third episode is really kind of where you get to know Really Bad Santa.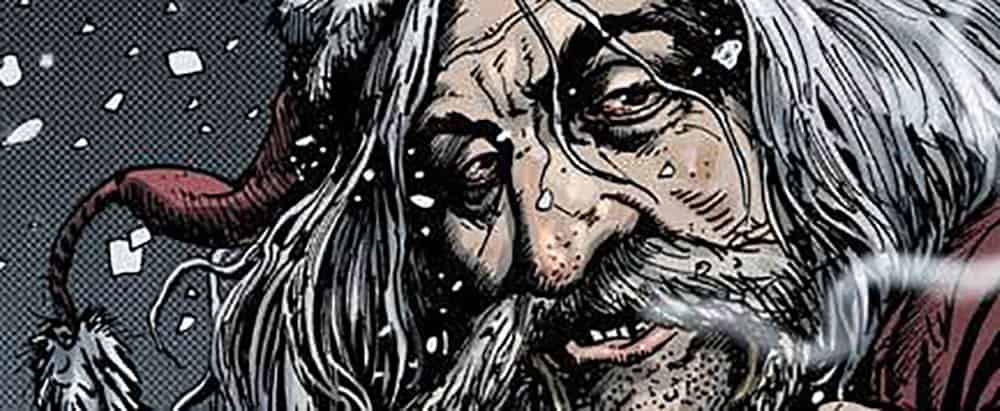 How exactly do you get into the mindset of playing a holly jolly creeper?
That is a good question, it's a very good question. I covered my fridge with pictures, like motivational pictures, ranging from pictures of presents to pretty girls dressed as reindeer, to people duct-taped to a chair. Anything I thought fit his motif and thought process, I covered my entire fridge and my apartment with that.
[Laughs] That's great.
[Continuing] I listened to Christmas music between two and four hours a day.
Oh my god.
I would go to the gym and work out to Christmas music. I would go to sleep with my earphones in listening to Christmas music. I'd make breakfast to Christmas music. I had a Very Bad Santa playlist that had everything from Perry Como to NSYNC on it that was all Christmas songs, and I just kind of played them non-stop in my dressing room, and I brought my pictures. I covered my dressing room with pictures of things I pictured as my imaginary friends, of anything that I could kind of latch onto, I kind of covered my room in. So, that's a big part of it.
So you partially subjected yourself to the holiday retail life, of listening to Christmas music for six hours.
Yeah, and I'd have like two or three versions of "The Twelve Days of Christmas" taped to my fridge as well. You know, things like that. The Santa is a really miserable, dirty guy, so I thought about going out and kind of panhandling, but that didn't seem necessary. But, I did walk around people, I walked amongst young people at night, and thought like [A Very Bad] Santa, what he would want to do to people, and kind of got in his mindset that way too.
And, I developed a great hatred for Chris Meloni. I really focused on hating Chris, like really thinking of him as The Grinch. Like, I took pictures of him and drew stuff on them, you know what I mean? Like putting horns on him [laughs], and I kind of just lived in this world where I hated Chris Meloni. And, we obviously worked together and get along fine, but I tried to focus, when I wasn't doing that, on not liking him as much as I could.
[Laughs] That's a very interesting approach.
Yeah, but it makes sense, though. And, I ate a lot of food. Like a ton of food.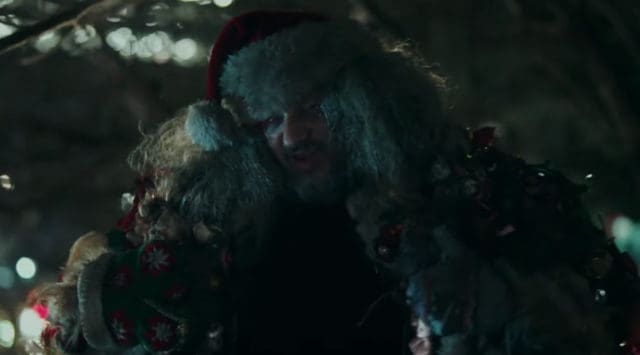 That's probably the best part of it [laughs].
Yeah, it was. At first, if you take a look at the first comic of Happy!, he's [A Very Bad Santa] kind of strung out, and I spoke to Brian, I said, "I'm going to try to get strung out for Santa." He goes, "No, I want you big," and I went, "got it" and I went right to Ben & Jerry's and just started. I did that and when I got to New York, I ordered dinner when we got together and I said "Trying to get big for Santa," and he goes "Why?" and I go, "But you told me to get big!" He's like, "Well I meant like strong big." I was like "Dammit!"
So then I went and joined a gym and started eating a high-protein diet and doing five sets of four reps of really heavy weight-lifting, trying to bulk up a little bit to compete with Chris, who's obviously in great shape, you know – he's always working out. I kind of focused on challenging him in that way, so I could match him. So there's a lot of things like that too. And on the eating part, I wanted to feel more like a rhino than anything else. Like this big, powerful thing that had a lot of weight behind it.
You're pretty active in television besides Happy!. Is there any other shows you've got coming up that you'd recommend or want to promote?
Oddly enough, I don't have any other TV that's coming out right now, because this is what I've been doing since the spring. But, I'm doing a small cameo in a film called, Playing for Beethoven when I get back to Los Angeles at the end of the month, after I get back from Spain and Portugal, where I'm going now. Then I'm doing a film in January with Kevin Smith and Greg Grunberg, and we'll be shooting that in Arizona. Then, Brian Taylor's next movie, Mom and Dad, is coming out in January or February as well.
So that's what's coming out, but also, a movie that I did called This is Meg came out on Hulu about a month ago that's really funny, totally improv, kind of like Curb Your Enthusiasm type of movie that we did without a script, with just a story arch. That's a really good movie that I'm very proud of. Even on Amazon Prime, there's a web series that I did that got picked, which is really good called 37 Problems, that I'm also super proud of. It's one of those things that was done for no money but got picked up by Amazon, a new kind of outlet for shows that are six minutes long, which I'm excited about. Being able to create content that can kind of go nationwide for no money is an exciting process.
How has the Very Bad Santa's role changed from the comics, is he given a bigger part? Is it spread out a little more?
The biggest thing is the comic is only four issues, but the series is eight episodes. So obviously, they had to dig deeper. They had to create some new characters, they had to expand the characters. If you've read the comic, you probably know a lot about where Santa ends up. But, with that said, it's a TV series, and it's a supernatural TV series, dealing with a lot of bizarre stuff, so there's no way to know what's gonna happen in the future. Because, you have to create a world that doesn't end after four issues. So there's no way of knowing what exactly happens to Santa, but I can say that they dive much further.
In the comic, I wouldn't say Santa is 2-dimensional, but you know, you don't really get a sense of his history or why he is the way he is. In the series, somebody has to have Hailey, and they have to create drama and suspense that the comic doesn't necessarily have to have in the same way. Because, it's just a different medium and processes in a different way. So, you need to get a better sense of Santa, there needs to be a mountain for Chris Meloni to climb, or you don't have a series. So that's a big thing they they really tried to develop.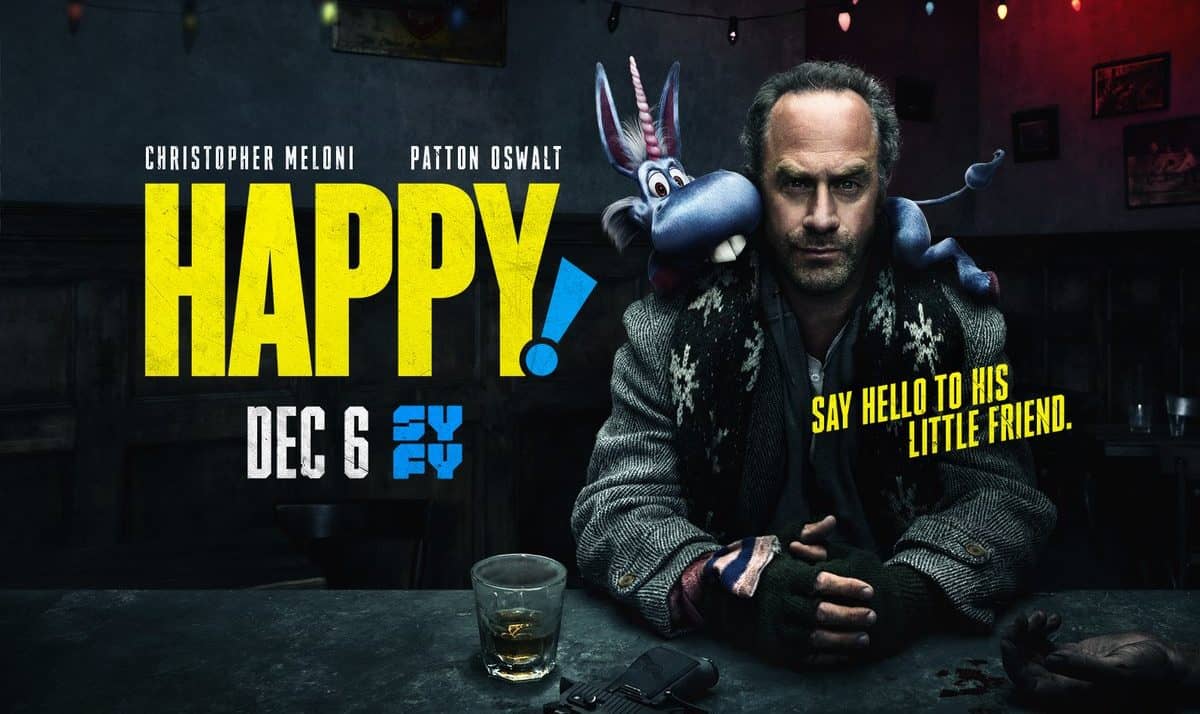 Do you think fans of the comic are going to like the show based on what you've seen?
I think the pilot is unlike anything else on television, and anybody who's read any reviews of the show, the reviews are accurate. It is the craziest thing you'll see this Christmas, that's for sure!
It's not like regular television, it moves super fast, and it comes right at you and doesn't pull any punches. It's violent, it is dark, it is sexual, and I personally think it's great because it pushes the boundaries of television, and I just hope that I scare the crap out of everybody.
[Laughs] Well, that's a good goal to have, and a lot of that sounds exactly like the comic, so that's great.
Yeah I think it's very true to the comic in the sense that the tone stays very true and Brian and Grant [Morrison] and also Patrick [Macmanus], the show runner, all really wanted to make sure they pushed boundaries. I think they're aware that the audience, for something like this, it's better to have a rabid, hungry, dedicated audience than anything else. This is not NCIS Los Angeles. It's a different show [laughs], you know? It doesn't blanket cover everybody, but the people who like it are gonna love it.
You can find Reitman's recent work on Hulu and Amazon Prime, and be sure to check out the premiere of 'Happy!' tonight on SyFy.