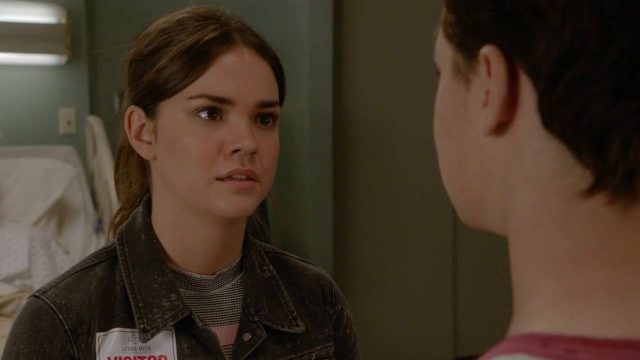 The Fosters is never short on drama, and the family has certainly has had their fair share of health problems in the past. However the sheer amount of health issues featured in just one episode was astounding. Several members of the Adams-Foster family toy with drugs, a depression storyline is introduced, and the family ends up having to rally in the hospital after a serious injury turns into a risky surgery. Let's see how everyone got to these precarious positions.
The Adams-Foster's home is officially up for sale, though the kids don't know it yet. Lena's parent's financial situation is just too bad for any other choice to be made. Stef thinks about taking the detective's exam to earn more money, but you can tell it's not her first option. Even if Stef and Lena were to double down and work seven days a week, their home wouldn't feel like a home anymore. There is no choice but to sell the house, and the kids do not react well.
Mariana's stress level is through the roof with her robotics competition coming up and half the STEAM team having quit due to their masculine insecurities (I'm using my nice words here). Between that and keeping Nick afloat in secret, Mariana decides to take some of Jesus' ADHD medication to push through it all. What's worse is that Mariana isn't the only one using drugs in the family. Jude hasn't stopped using pot for a week. Callie is furious and tells Noah's mother since she is the one who provided the medical marijuana card to her own son in the first place. Noah's mom has the good sense to apologize, but Jude is not as appreciative. He feels Callie is being hypocritical about secrets, and tells his sister in no uncertain terms to stay out of his life.
If you needed more confirmation that Brandon and Callie are over than Brandon living with his still married girlfriend and the moms knowing about Brandon and Callie's relationship, it would be Callie's solidified relationship with AJ. Callie stumbling out of AJ's room after sex to see Mike and Brandon standing in the other room could not have been more awkward. At least Callie and AJ are having a normal teenage relationship, and given everything they've been through, that's probably for the best. That's not to say that Callie is set on living a 'normal' life. She's still desperate to get an innocent Kyle out of jail before he can be transferred to an adult prison. She doesn't yet realize that there is someone purposely trying to keep Kyle incarcerated, and now that someone is coming after her.
Brandon living the life of a full-time student and surrogate father is not working out at all. Courtney puts alot of responsibility on Brandon but doesn't set boundaries where Mason is concerned. All of this probably could have been avoided if Brandon had moved in with Mike.
Mike finally finds out that Brandon has been supporting Courtney, and gets more than he bargained for when he finds out Brandon and Callie slept together. After everything Mike went through to give AJ a stable home, Brandon is the one who is in desperate need of a father-son talk.
Gabe starts to flake on his commitment to working on the Fosters' home. Jesus doesn't want Gabe to get in trouble with his mothers, so when Gabe doesn't show up again, Jesus covers for him. As a result Jesus gets hurt. He walks around not realizing he has a nail in his skull all day, until he collapses to his parent's horror. Gabe feels horrible when he finds out, but it doesn't erase what happened. Luckily Jesus recovers just fine, but Gabe's recovery has yet to start. He's not lazy, he's suffering from depression. It's not uncommon during a major life transition, even a good one. Gabe got used to living his life cut off from the world, and now that he has his freedom he doesn't know what to do. His first step needs to be to ask for help. Much credit to the writers for pointing out this social issue.
Whose future are you most worried about after this week?