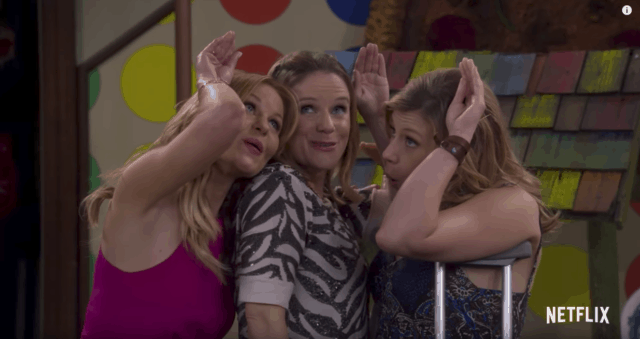 Get ready for all the feels and a heady dose of nostalgia as we prepare to binge watch season three of Fuller House, coming to Netflix Friday, September 22nd, 2017. If you aren't a fan of spin offs, it might just be time to change your tune. Season One of the reboot was greeted with massive ratings (hello nineties kids turned parents) and an equally eager audience for season two. Netflix knows how to keep a good thing going and has ordered a total of eighteen episodes for the third season. Unlike previous seasons, they're going to divide this one up, showing the first nine now in September and the second batch later on in December of this year.
For those counting, that's five extra episode of Fuller goodness over what we got in the first two seasons. Yes please! Perhaps they are feeling generous since this season will kick off on the thirty year anniversary of the original show's initial air date (and since we had to wait forever for a release date)! We don't really care why they gave us more, we're just glad they did! Anyway, if you've somehow managed to miss watching any of the new Fuller House episodes, it basically takes place when the kids from Full House grew up.
DJ was married and tragically widowed and is now doing the single Mom life with help from her sister, Stephanie, and best friend, Kimmy and family. The storyline follow the three women's journey and the ups and downs related to finding their way in this new reality.
We left season two with lots of things up in there air, like Jesse and Becky's trip to meet their new baby, Stephanie and Jimmy talking about her infertility in the best way imaginable, Steve proposing to his new chick (with, perhaps a little awkwardly, DJ's help), and the heart stopping confession from Dj that she had wanted to pick Steve all along (despite the fact that her and beau Matt are closer than ever)!
Watching the new season's trailer we see the ladies reminiscing on times past, some funny banter with our groom to be, and some recreating of iconic grand entrances from the guys, including copycat outfits (although Jesse is quick to point out the others had to get "a bigger size").
We then find out Steve and fiance have decided to wed in Japan (I smell drama), Ramona goes on to bruise Jesse's ego (twice), then we have laughing, sadness, dancing, and fireworks, and we don't just mean the kissing!
If the new season is even as remotely interesting as the trailer is, we are already hooked! Fans are ready for answers and Netflix kept us holding our breath long enough!
If you want to catch a look at the (just over) two minute trailer yourself to get your fix before Friday comes you can check it out below. In the meantime, have fun checking out old cast pictures, placing your guesses on romantic outcomes, and petitioning online for a certain missing Tanner girl to make an appearance (hey, we can hope)!