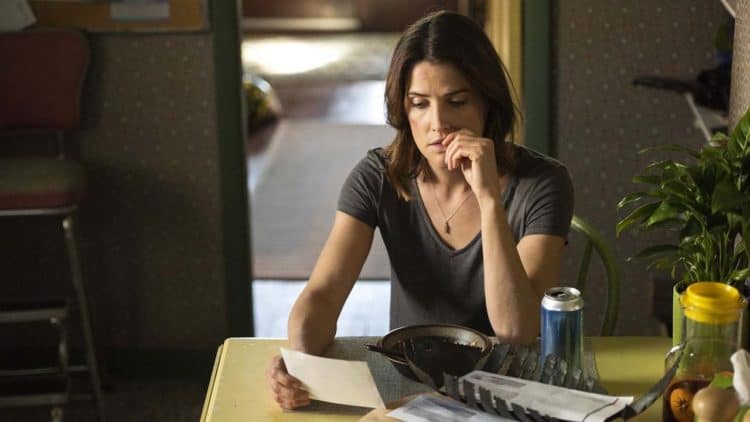 'Stumptown' is a crime drama television series that premiered on ABC on September 25, 2019. It was created by Jason Richman and is called 'Stumptown' because this is the nickname of Portland, Oregon, where the series is set. The storyline revolves around Dex Parios who is a veteran that suffers from PTSD after she served in Afghanistan and was injured in an explosion that also killed her childhood sweetheart. She is struggling to care for her younger brother and has a lot of gambling debts, so she becomes a private investigator who works on cases in which police cannot get involved. Here is your chance to meet the cast of the exciting new series 'Stumptown.'
Cobie Smulders
The main role of Dex Parios is played by Cobie Smulders. She is a Canadian actress who began her career in 2002. In films, she is best known for playing Maria Hill, a S.H.I.E.L.D. agent, in the Marvel Cinematic Universe. She has portrayed this character in six films, with the 2012 film 'The Avengers' being the first. In television, Smulders is known for playing Robin Scherbatsky in 'How I Met Your Mother', a CBS sitcom. For her role in this sitcom, she won the EWwy Award for Best Supporting Actress- Comedy in 2013. In 2017, she became a Theater World Honoree for her role in 'Present Laughter'. She has been married to Taran Killam since 2012 and they have two daughters together, Shaelyn Cado and Joelle. Smulders suffered from ovarian cancer at the age of 25. Following surgery and treatment, she is now in remission.
Jake Johnson
In Stumptown, Jake Johnson plays bar owner and Dex's friend Grey McConnell. This actor's birth name is Mark Jake Johnson Weinberger, but he dropped his first and last names when he became a performer. In television, he is best known for playing Nick Miller in the Fox sitcom 'New Girl' from 2011 to 2018. He is also famous for his many film roles. Some of the films in which he has appeared include 'Jurassic World', 'Tag', '21 Jump Street', 'Drinking Buddies', 'The Mummy', 'Paper Heart', 'Get Him to the Greeks', 'Safety Not Guaranteed', and 'Let's Be Cops'. He has also voiced two video games, both of which were released in 2015. These were 'Lego Jurassic World' and 'Lego Dimensions'. In his personal life, Johnson has been married to Erin Payne since 2006, and they have two children together.
Tantoo Cardinal
The character Sue Lynn Blackbird is played by Tantoo Cardinal Sue Lynn is the mother of Dex's deceased boyfriend and the owner of a tribal casino. Cardinal is a Canadian film and television actress of Metis descent. She has had roles in films and television series including 'Black Robe', 'Smoke Signals', 'Spirit Bay', 'Dances with Wolves', 'Legends of the Fall', and 'North of 60′. Cardinal was made a Member of the Order of Canada in 2009 due to her contributions to Aboriginal performing arts in Canada. She won the Academy of Canadian Cinema and Television's Earle Grey Award for lifetime achievement in 2017. An interesting fact is that Cardinal was once arrested along with Margot Kidder and dozens of others when they were protesting the proposed extension of the Keystone Pipeline in 2011.
Cole Sibus
Cole Sibus plays the role of Dex's younger brother Ansel Parios. This character has Down syndrome and works at Grey's bar as a bar-back. This role in 'Stumptown' is only Sibus' second professional acting role. His first job was playing the part of Arrow in the 2018 drama film 'Spare Room'.
Adrian Martinez
Tookie is a food truck owner who is also one of Dex's informants. This character is played by actor and comedian Adrian Martinez who is best known for his roles in the films 'Focus' and 'The Secret Life of Walter Mitty'.His role in the 2015 heist film 'Focus' was his first main role in a film despite having worked as a professional actor for 20 years prior to landing the role. In 'Focus', he starred opposite Will Smith and Margot Robbie. Martinez has also worked prolifically in theater and appeared in a series of commercials for State Farm. His most recent film role was playing the owner of a local pizza joint in the 2017 film 'Going Under'. This film also starred Bruce Willis, Stephanie Sigman, and John Goodman.
Camryn Manheim
Camryn Manheim plays Lieutenant Cosgrove in 'Stumptown'. This character is the superior of Detective Miles Hoffman. Manheim is probably best known for playing Ellenor Fuller in ABC's 'The Practice', for which she won a Primetime Emmy Award for Outstanding Supporting Actress in a Drama in 1998. She is also known for her roles in 'Ghost Whisperer', 'Elvis', and 'Person of Interest'. This actress was born in New Jersey but grew up in Illinois, and she now lives in Venice, California. She has one son, Milo Jacob, who was born in 2001 just two days before Manheim celebrated her 40th birthday.
Michael Ealy
Ealy portrays Detective Miles Hoffman who is Dex's contact at the Portland Police Bureau. In television, this actor is known for playing Dorian in the Fox series 'Almost Human'. However, he is better known for his roles in films. These have included 'Barbershop', 'Takers', 'Think Like a Man Too', '2Fast 2 Furious', 'The Perfect Guy', 'About Last Night', and 'The Intruder'. When he began his career in the late 1980s, Ealy first worked in Broadway productions. In 2005, Ealy won the Black Reel Award for Best Actor for his role in 'Their Eyes Were Watching God'. He then won an African-American Film Critics Association Award for Best Supporting Actor for 'Colored Girls' in 2010. In 2012, he married his long-term girlfriend Khatira Rafiqzada and they have a son and a daughter together.
Tell us what's wrong with this post? How could we improve it? :)
Let us improve this post!