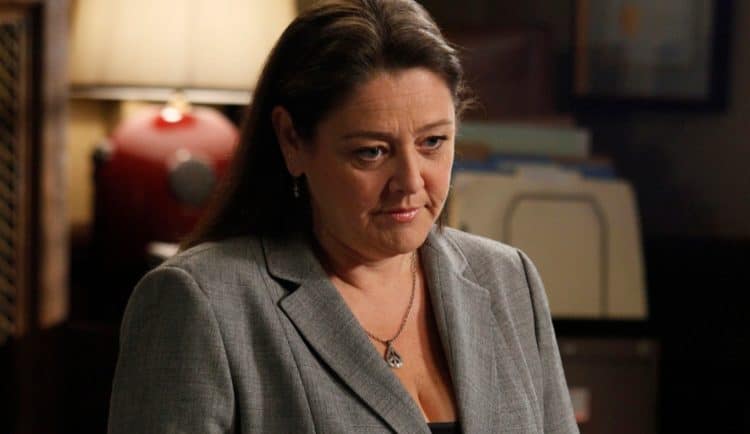 Actress and performer Camryn Manheim is one of TV's most respected and prolific actresses, having appeared on everything from The Practice to the Ghost Whisperer to Person of Interest. Her recent turn on Celebrity Family Feud (which saw her and her son, Milo, square up to fellow guest Marissa-Jaret Winoku) may be the first time she's hit the game show scene, but seeing as her career has already taken her from everything from sign language interpreter to author, TV actress to fundraising host, it was perhaps inevitable she'd eventually add yet another string to her already overloaded bow. To find out more about the actress, take a look at these ten fast facts.
1. She's an NYU Tisch graduate
Camryn was born in Caldwell, New Jersey and raised in Peoria, Illinois by her parents, Sylvia, a teacher, and Jerome, a mathematics professor. After developing an interest in acting while working at a Renaissance Fair during her time at Woodrow Wilson Classical High School, Camryn decided to pursue it further; after graduating with a BFA degree from University of California, Santa Cruz in 1984, she enrolled in New York University's renowned Tisch School of the Arts Graduate Acting Program, graduating with an MFA degree in 1987.
2. She's fluent in sign language
After studying sign language for 2 semesters at the University of California, Santa Cruz, and later at NYU, Camryn worked briefly as a sign language interpreter at hospitals and as a job trainer for the deaf. As fans will know, she's since found cause to revisit her training, having been called upon to sign in both The Practice and in an episode of Law and Order. As she revealed to Ability Magazine, the language has also won her the opportunity to meet some of her heroes, with both Carly Simon and Mathew Modine inviting her to sign for them during stage performances.
3. Her breakthrough was "Wake Up, I'm Fat"
7 years after graduating from New York University's Tisch School of the Arts Graduate Acting Program, Camryn got her breakthrough with her one-woman off-Broadway production, "Wake Up, I'm Fat". The success of the show inspired Camryn to adapt it into a book, which she published under the same title in 1999. The memoir documents her life growing up, and the struggles she's encountered as a result of her weight. "The book is my journey from going from victim to victor. It is often very sad because you cannot tell the stories of growing up fat in America without talking about some of the really cruel and tragic events that happened. it's also very funny because I see the world through fat-colored glasses," she told CBS.
4. She's a multi-award winner
Camryn's work as an actress has been prolific, and as you'd expect of such a talented performer, she's picked up a fair share of awards over the years. Her first (an Emmy for her work on The Practice) came in 1998, swiftly followed by a Women in Film Lucy Award in 1999. She's since bagged two Viewers for Quality Television and Satellite awards (again for The Practice) and numerous nominations for her performance in Elvis.
5. Her son is following in her footsteps
Camryn had better watch out- she's got some serious competition in the acting stakes from her son Milo. Milo, who was born in 2001 just 2 days before Camryn's 40th birthday, made his Big Apple acting debut at the New York Musical Festival's "Generation Me". He's since enjoyed success as Zed in the Disney Channel Original Movie, Zombies, and Pierce in American Housewife. He's also appeared on season 27 of Dancing with the Stars, finishing in 2nd place with dance partner Witney Carson.
6. She's up for a Romy and Michelle sequel
While Camryn may be best known as a TV actress, it's not stopped her appearing in several noteworthy films over the years. Fans of 1990s comedies may remember her best as Toby Walters in the cult classic Romy and Michelle's High School Reunion. Camryn obviously remembers her time on set fondly, and has made it very clear she'd be 100% interested in appearing in a sequel. "Dude! We need a Romy and Michele sequel," she told Too Fab. "I'm so ready for it myself!"
7. She's co-chair of The Justice Ball
Every year, the Los Angeles based charity Bet Tzedek Legal Services — The House of Justice (a non-profit that provides advocacy services and support to people living in poverty, along with communities affected by civil right abuses) hosts the Justice Ball, an event that combines a night of music and dance with the serious business of raising funds. Behind the scenes of the event is Camryn, who's been doing her bit for the community by acting as co-chair of the ball for several years.
8. She collected the bounty on a photograph of her baby
When Camryn fell pregnant with Milo, she was at the peak of her fame on The Practice. Intrigued by the actress's reticence over who the father was, the press decided to make her pregnancy one of the big stories of 2000- something Camryn didn't take particularly well too, especially when she heard they'd placed a "bounty" on the first photograph of her newborn. Craftily, she decided on a way to beat them at their own game. "I knew that people were going to try and get this photo, so I took it myself," she told Yahoo Entertainment. "And I sent it in. And I got the cash. And that's going to go to my son's college fund. So I'm saying, there's always a way to work the system, ladies!"
9. She's competitive
Camryn has taken the principle of never losing out on roles and applied it to new territory… earrings. As IMDB reveals, the actress has 12 piercings in her right ear, and all because she wanted to beat someone she knew who had 11.
10. She's played the same character 4 times
Camryn is one of the few actresses who's managed to make a character so popular, she's been asked to reprise them on multiple TV shows. Between 1997 and 2004, she played the character of Ellenor Fruit on The Practice. In 1998, she appeared on Ally McBeal as the self-same character. The same thing happened again in 2000, when she featured as Ellenor on Gideon's Crossing, and for a further (although who knows if final?) time in 2001 on Boston Public.
Tell us what's wrong with this post? How could we improve it? :)
Let us improve this post!