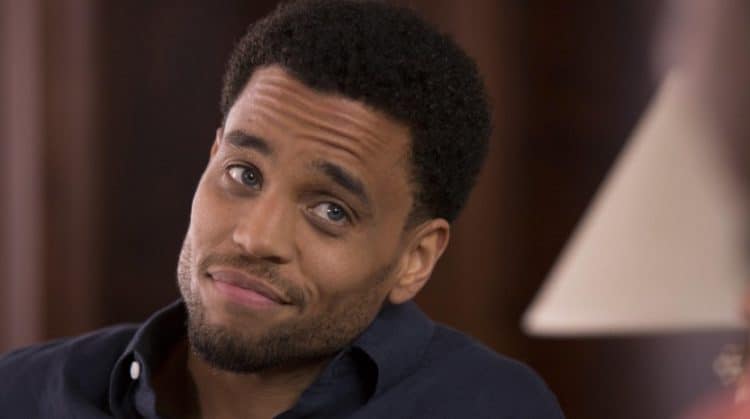 In truth Michael Ealy is the kind of guy that a lot of people might have seen once or twice in the movies, or even more since he does pop up from time to time just for a bit part or a cameo, but it could be that folks don't fully recognize him. That being the case he's still someone that has earned his stripes as an actor since he's been around a while and has picked up a lot of tips and tricks throughout the years. He's something of a soft-spoken person so it's very easy to think that he's not a forceful personality since that's not really how he portrays himself. Instead he's the calm, mellow individual in a movie that tends to go with the flow a lot of times and is more or less someone that's trying to do the best he can with the life he has whether people accept him for it or not. He's not exactly the every-man character but he does usually play someone that's easy to relate to.
Here are five of his best movies.
5. Last Vegas
He does play more of a bit part in this movie but that's perfectly okay since the movie is more about four old friends that gather together in Vegas for a bachelor party when they find out that one of the friends is getting married. The one thing about Vegas is that it tends to make just about anyone feel young again no matter how old you really are. But then again, a night spent partying, dancing, drinking, and basically just cutting loose takes a heavier toll on an older body than it does a younger one usually. But throughout the movie the great part is that the friends do reconnect and manage to put aside their differences from years before.
4. Unconditional
Things happen in life for the strangest of reasons. Sometimes we can't figure it out and sometimes we don't want to since quite honestly they seem too horrific to understand given that the pain we endure at times can be too much to contemplate. But when things do happen and life sours in a way it's important to remember that there is hope and that there is still light in the world, and that some people are capable of letting it shine in a very big way that can dispel the shadows of doubt for a time. This movie is something inspirational and hopeful since it does depict a story in which a woman comes to realize that life is still filled with wonder.
3. Seven Pounds
It's interesting to note that Ealy was actually hand-picked by Will Smith for his role in this movie. But the whole idea is a man that has destroyed his own world is seeking to make amends by improving the lives of others that desperately need help and are unable to do this on their own. The only problem is that he's using his brother's IRS credentials, which as many people might understand is a big problem since impersonating someone is a bad enough crime to worry over, but impersonating an agent of the IRS is something that might easily land you in jail if it's been discovered.
2. The Intruder
Some people don't know how to let go. When a young couple manage to buy the home of their dreams the original owner starts hanging around even when he's not invited, in effect gaining pity from the wife and irritation from the husband. When it becomes evident that he's not willing to let go of his old home however it's seen that he'll do just about anything to make sure that people know that the home is his now and always. When the couple finally realize how dangerous he is however it's almost too late since he finally goes over the edge. After learning his history and what happened in the house though the couple finally realize what has to be done.
1. Barbershop
Sometimes an establishment is more important to a neighborhood than people realize. Calvin, played by Ice Cube, is the kind of guy that just wants to get the money and make good on the life he wants, but when people learn that he's sold the barbershop his father owned for so long he comes to realize just how much the place means to the community. In the meantime Ricky, one of Calvin's employees, is trying to turn his life around and do the right thing in order to have a decent life, and is given a second chance by Calvin just as Calvin's father did for another back in his day. It does show how a single business can influence a community in a big way, and how important it can be to keep that old-fashioned feeling.
It might be time to start recognizing Ealy a little more.
Tell us what's wrong with this post? How could we improve it? :)
Let us improve this post!