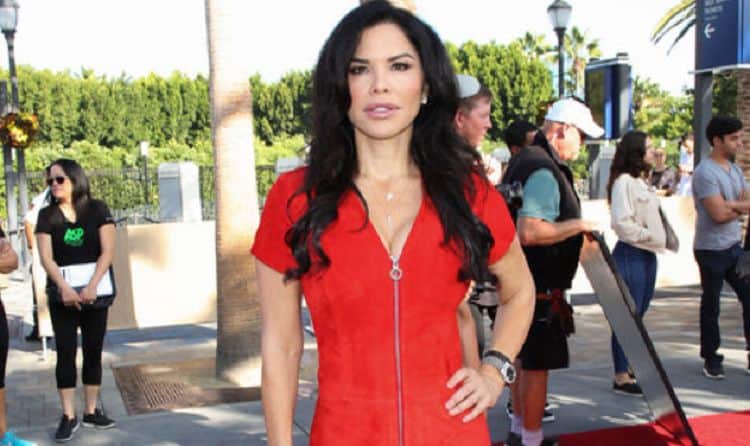 Until early 2019, Lauren Sanchez was best known as the Emmy -Award nominated news anchor and host of such shows as Extra, Best Damn Sports Show Period, Good Day LA and Fox's 11 Ten O'clock News. That all changed in January this year when the National Enquirer broke the explosive news that she and Amazon CEO Jeff Besoz had been getting hot and heavy behind the backs of their respective partners for months. In the fallout of the story, both Sanchez and Bezos filed for divorce … while the two are still believed to be together, whether their relationship will survive the intense public scrutiny is something only time will tell. To find out more about the newsworthy reporter, keep reading.
1. She was the first Hispanic woman to anchor UPN 13 News
Sanchez cut her teeth in news journalism at KCOP-TV while still a student at USC; after graduation, she built on the skills she'd learnt as an intern to land the gig of anchor and reporter at KTVK-TV in Phoenix. Her move from regional to national came with her appointment to the position of entertainment reporter on Extra. After Extra, Sanchez took a seat over on Fox Sports, where she picked up an Emmy nomination for her work as anchor and correspondent on Going Deep. In 1999, Sanchez returned to her roots at KCOP- TV to become the first Hispanic female to anchor UPN 13 News.
2. She's appeared in several movies
Not content with restricting her talents to reporting, Sanchez has made cameo appearances in a number of films and TV shows. The list of appearances is long, but you're probably most familiar with her work from features such as The Longest Yard, We Bought a Zoo, Saw, Fantastic Four, The Day After Tomorrow, Akeelah and the Bee, Killer Movie, Batman Begins, and Fight Club.
3. She's a mom
You may not know, but Sanchez is a mom three times over. Her first child, son Niko, is the result of her relationship with former NFL tight end Tony Gonzalez. 4 years after Niko's birth, Sanchez married Hollywood agent and founding partner of William Morris Endeavor Entertainment, Patrick Whitesell. The two remained together until their very public split in early 2019. Despite it ending in acrimony, the relationship did at least provide a little happiness, mainly in the form of son Evan (born in 2006) and daughter Eva (born in 2008).
4. She's officially beautiful
We may have suspected it for some time, but it's been confirmed: Lauren Sanchez is officially beautiful. PEOPLE were the ones to break the news when they added Sanchez to their list of the World's Most Beautiful People (this was prior to 2006, by the way, in the time before the number of beautiful people in the world jumped from a measly 50 to a greedy 100). PEOPLE's opinion was clearly shared by many, not least US Weekly, who were enough in awe of Sanchez's inherent hotness to add her to their "Hot Bodies" issue.
5. She has a Pilots license
Sanchez has been passionate about flying since a child, inspired no doubt by her father Ray's work as a flight instructor and aviation mechanic. Sanchez took the jump from passenger to pilot in 2011 but found the task of getting her helicopter license a challenge. "You go to school for a year, take a test, then you do a check ride – you go up with an instructor, and they take you through the emergency procedures," she told the Hollywood Reporter of her experiences. "If you lose your engine, he turns off the throttle, and you have to get down. It's like life. It's good if everything goes right, but if s**t hits the fan, can you survive?" Thankfully, Sanchez did survive, and in June 2016, she was awarded her license.
6. She's an entrepreneur
As if her talents as a reporter, news anchor and actress weren't enough, Sanchez beefed up her portfolio still further in 2016 when she dipped her toes into the murky waters of entrepreneurship. Her first venture, Black Ops Aviation, represents the first aerial film and production company to be owned by a woman. The company, which Sanchez formed alongside Steve Safford and his Studio Wings production company, was created as a means of allowing Sanchez to combine her passion for piloting with her abilities as a producer… and to get women out of the kitchens and into the skies. "This space is dominated by men," she told The Hollywood Reporter. "But there's nothing physical about flying a helicopter. You can be 5-foot-1 or 6-foot-4. There's no reason more women aren't in this."
7. She was the first host of So You Think You Can Dance
In 2005, Fox launched So You Think You Can Dance, the hugely popular televised dance competition that sees a variety of trained dancers showcase their talents at a series of open auditions in the hope of eventually bagging the title of "America's favorite dancer". Taking hosting duties on the show's first season was Lauren Sanchez. Despite proving popular in the role, Sanchez called it quits after just one season when she found out she was pregnant with her second child. Since Sanchez stepped down from the role, the show has been hosted by British television personality, Cat Deeley.
8. She claims to have been fired from So you Think You Can Dance
At the time of her departure from So You Think You Can Dance, we were all under the impression Sanchez had chosen to leave voluntarily. As it turned out, things weren't quite so clear cut as they seemed. In 2012, Rumorfix discovered a video that suggested the former host had been fired after producers discovered she was pregnant. Sanchez was understandably more than a little upset about the revelation, telling Rumorfix:" Finding out that I was fired because I was pregnant was devastating. After that interview I called my husband and was bawling on the phone." In the aftermath of the discovery, Sanchez reportedly consulted legal firebrand Gloria Allred, but dropped any further action before matters reached the court.
9. She's been engaged at least 4 times
According to Page Six sources, Sanchez has been engaged to at least 4 people. The first was sports broadcaster Rory Markas, who she met during her time as an intern at KCOP-TV. Sanchez reportedly left Markas (who would move on to be a play-by-play announcer before dying of a heart attack in 2010) when she left KCOP-TV for KTVK-TV. After Markas came Anthony Miller, a former footballer to whom Sanchez was engaged for a year and a half. After breaking up with Miller, Sanchez moved on to "NYPD Blue" star Henry Simmons. The two quickly got serious, announcing their engagement within a short time of meeting and moving into a house together in Manhattan Beach, California. Their relationship seemed set to last the course… so it was a surprise to all when Sanchez suddenly announced she was dating the agent Patrick Whitesell, to whom she would later get engaged and marry.
10. Her wedding was a starry occasion
Thanks to her husband's job as a Hollywood agent, Sanchez and Whitesell's 2005 wedding was one of the most star-studded events of the year. Among the host of celebrities in attendance were films stars Ben Affleck and Matt Damon (both of whom are represented by Whitesell), Affleck's then wife Jennifer Garner, Jessica Alba, and Hugh Jackman (who, ever the entertainer, got the guests grooving with a rendition of "Mack the Knife"). The couple didn't leave all the entertaining to their guests, however, choosing to delight them with a flamboyant rumba choreographed by So you Think You Can Dance's Mary Murphy.
11. She nearly hosted The View
In 1999, the producers of The View threw a series of open auditions to find a replacement to former host, Debbie Matenopoulos. Sanchez performed well in the auditions (with even Barbara Walters herself saying she was "thiiis close" to getting it), but ultimately lost out on the opportunity to Lisa Ling. Despite failing to land a permanent role on the panel, Sanchez has enjoyed numerous guest appearances on the show, and, according to TMZ was even tapped to become a regular fixture in 2014 after stepping in as a guest host alongside then regulars Whoopi Goldberg, Jenny McCarthy and Sherri Shepherd.
12. Her mother nearly died in a plane crash
Given Sanchez's love of all thing's aviation, it comes as something of a surprise to learn that when she was a child, she nearly lost her mother in a horrific plane crash. Following the incident, her mother spent several months in hospital, with it being touch- and- go for a while as to whether she would pull through. Fortunately, she survived, as did Sanchez's love of planes.
13. Sanchez and Bezos' affair become public in January 2018
In 2019, Amazon CEO Jeff Bezos and his wife of 25 years, MacKenzie, made the shock announcement they were getting a divorce. According to The National Enquirer, the reason for the split was down to the steamy 4-month affair Bezos had been conducting with Lauren Sanchez while both parties were still married; a claim fully supported by the scores of sneaky snaps and explicit text messages the publication went on to share. Further credence was given to the claim when, within just 2 days of Bezos and Mackenzie's announcement, Sanchez and husband Whitesell made a remarkably similar statement of their own.
14. She and Bezos bonded over a love of flying
Sanchez is known for her love of aviation: not only does she had a pilot's license, she also has her own aviation and production company. Bezos' passion for space is equally intense, and it was this shared interest that ultimately led to them hooking up. The pair (who had known each other's families for some time) met up in late 2017 for a dinner at the Bezos' estate. As the conversation turned to flying, the sparks began to fly; from there, it was just a matter of time before things got serious.
15. Bezos met the family while Sanchez was still married
In early 2018, Lauren asked her brother, Michael, to meet her new boyfriend, Jeff Bezos. While this might have been all well and good under normal circumstances, in this case something (or rather, someone) was throwing a spanner in the works: Sanchez's husband Patrick Whitesell, to whom Sanchez was still very much married. While Michael initially balked at the awkward situation, he eventually relented and joined his sister (and a select few friends) to meet and greet the new boyf.
16. She's estranged from her brother
When the National Enquirer published a series of highly intimate messages and photographs (including several below- the- belt selfies of the Amazon CEO) that had been exchanged between Bezos and Sanchez, it was rumored the source of the leak was Michael Sanchez, Lauren's brother. While Sanchez vehemently denied sending the more revealing of the photographs, his answer to The Hollywood Reporter's question of whether he shared any info with the Enquirer at all was a little more ambiguous: "I'm not saying I didn't do something. Until I go under oath, what I can tell you now is that ever since April 20, when I met Jeff, my only goal has been to protect Jeff and Lauren." Either way, his suggested involvement has not been greeted kindly by Lauren, and the two are currently estranged.
17. She sparked rumors of a split after the scandal broke
After the National Enquirer made Sanchez and Bezos' affair public, the two did as much as possible to keep their heads down. So low key did they take it that after 40 days of not being seen together in public, rumors started to circulate that they'd parted ways. Page Six dispelled the rumors after reporting the couple were still very much together and were currently taking refuge in one of Bezos' luxurious Park Avenue condominiums.
18. She has a shady romantic past
According to reports, Sanchez's husband Whitesell may not be the only man Sanchez has cheated on. Since news of her affair with Bezos broke, men have been coming out of the woodwork to cast shade on Sanchez's romantic past. One such informant is former flame, NFL player Anthony Miller. "I couldn't really trust her," he told Page Six. "She gets around. She was cheating on me with other guys."
19. She has a net worth of $30 million
Thanks to her long career in TV, Sanchez has accrued a very healthy fortune. As of 2019, Celebrity Net Worth estimates her personal fortune to be in the region of $30 million. Not bad, but it somehow pales when you consider her lover's Jeff Bezos' personal fortune… a mammoth $114 billion.
20. She's a star in one of the world's costliest divorces
As Bezos and his estranged wife finalize their divorce proceedings, the eyes of the world are on who gets what of the couples combined wealth of $150 billion…. and how much exactly will be left for Sanchez and Bezos at the end of it. According to the most recent reports, Bezos will be keeping all of his assets in the Washington Post and Blue Origin. MacKenzie will get 25% of the couple's shares in Amazon, while Bezos will keep overall control of the company. Should be just enough left for Sanchez and Bezos to buy a nice little start-up home in that case…
Tell us what's wrong with this post? How could we improve it? :)
Let us improve this post!