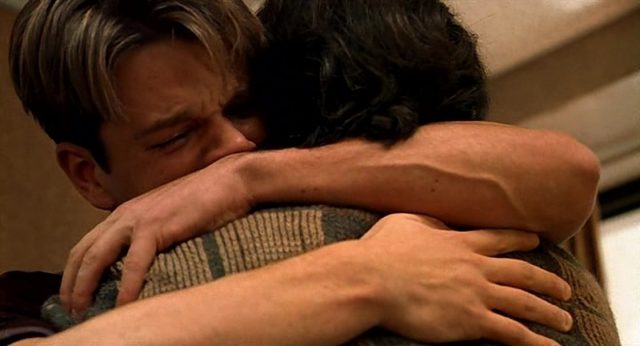 It's okay for guys to cry in a movie, Matt Damon proves that much. Look at it this way, he's played one of the toughest guys in film to date and yet he still manages the waterworks when it's necessary, so don't say that boys don't ever cry. The act of showing emotion isn't primarily a woman thing any more than being rough and tough is a guy thing. Those old stereotypes still exist but in this day and age they're not as useful as they used to be. Nowadays guys can cry and it's not a big deal, unless of course they get weepy every two minutes or so and can't seem to shut it off. Then it doesn't matter if you're a man or a woman, it would indicate that you might have emotional issues.
But one thing we know about Matt Damon is that he knows how to turn it on when he needs to.
5. Saving Private Ryan
He cries a couple of times during this movie, but this scene near the end when he's standing over Tom Hanks' character, the tears pooling in his eyes, you can see some true emotion beginning to build. There's no real winning in war, not from a soldier's standpoint, and there's no way to tell those that fought and died in such conflict the measure of thanks they've earned.
4. The Departed
It's interesting how he goes from being Mr. Tough Guy and then all of a sudden starts sobbing on the ride down the elevator. That's a serious mood change that comes from knowing that his aggressor wouldn't be pulling this kind of act if he didn't have something truly worth showing to the legitimate cops. Of course first he's got to get past all the other cops that have ties to the criminals.
3. The Talented Mr. Ripley
You don't get to see him crying but you can hear it as he slowly, methodically, crushes and then smothers Peter, the man he's began a relationship with after the death of Dickie. Mr. Tom Ripley is truly a talented but but very troubled man as he shows throughout the film. It would take someone truly messed up in the head to start going after everyone that knows, suspects, or could find out what he did to Dickie.
2. The Martian
This isn't like being stranded in the middle of the ocean or in the middle of a desert, where random happenstance might see you rescued. This is an entirely different PLANET that he's stranded on, so a few tears are perfectly okay when he realizes the magnitude of what's happened. He has to grow his own food, he has to find a way to survive, and he has to hope and pray that those back home will eventually receive his messages.
1. Good Will Hunting
Will was a young man looking for someone to finally break down that last major wall that he'd been holding up for years. Once that last little bit of resistance was hammered through he was able to finally accept that someone was actually there to help him, not trick or hurt him again.
Matt Damon isn't any less of a man for crying, remember that.