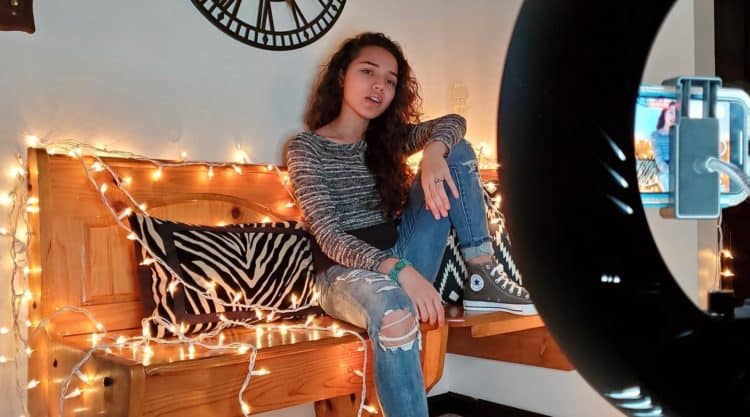 Each season of The Voice welcomes a new group of talented singers, and season 21 is no exception. One of the contestants who has already been getting lots of attention is none other than 15-year-old Keilah Grace. Despite her young age, the talented singer has shown that she has the vocal range and stage presence of someone who has been singing for decades. During the blind audition, she sang a cover of " Never Tear Us Apart" by INXS and she got three out of the four judges to turn around. She decided to join John Legend's team and fans are looking forward to following her journey throughout the rest of the season. Keep reading to learn 10 things you didn't know about Keilah Grace.
1. She's Always Dreamed Of Being On The Voice
If Keilah Grace seemed more than ready for her moment on stage, that's because she was. In an Instagram post, she shared that she's dreamed of auditioning for The Voice since she was 11 years old and she couldn't be more excited about getting to live out her dream.
2. She's A Model
Music may be Keilah Grace's first love, but it's not the only thing she is interested in. She has also gotten into the modeling industry. At the moment, it doesn't appear that she has worked with any major brands, but she's well on her way to getting there one day.
3. She Hopes Her Art Will Make People Feel
Entertaining isn't the only thing Keilah wants to do with her music. She also hopes that it will allow her to connect with people on a deeper level. On her website, Keilah Grace says, "No matter what kind of performance it is, in the end it's really about making you feel something. People might not remember exactly what you say, but they will always remember how you made them feel".
4. She's Grateful For All Of Her Fans
Having a strong fan base is an important part of success in the entertainment industry, and this is something that Keilah Grace already has a solid understanding of. She is thankful for all of the people who have shown her love and support so far in her journey.
5. She Has Some Acting Experience
Modeling and singing aren't the only talents that Keilah wants to share with the world. She is also into acting. She made her TV debut in 2021 in a TV show called FBI: Most Wanted. Although it wasn't a major role, it was a great way for Keilah Grace to get her foot in the door and work her way towards bigger opportunities.
6. She Also Writes Her Own Songs
We've already established that Keilah Grace is a beast when it comes to performing other people's songs, but she also knows her to write her own. She enjoys writing her own music and it's one of her favorite ways to express herself. In addition to singing and songwriting, Keilah Grace also plays the guitar.
7. She Comes From A Supportive Family
There are some parents out there who would be frustrated if their child chose to focus most of their time and energy on anything other than academics. Keilah is lucky that she has never been in that situation. Her parents are very supportive of her career as an entertainer and they have been by her side every step of the way.
8. She Likes Spending Time Outdoors
Since Keilah Grace is already focusing on pursuing her career, there are a few things she doesn't have in common with other people her age. However, when she isn't busy working she likes to enjoy a lot of the same things as 'regular' teenagers. Being outside is one of her favorite things to do and she enjoys going on hikes and walks.
9. She Likes To Travel
Thanks to her talents, Keilah Grace has gotten the chance to have some cool experiences. She has traveled all over the United States and there's no doubt that she'll be able to add even more places to the list as her career goes. Eventually, Keilah Grace might even become an international star.
10. She's Represented By A Talent Agency
Although some people prefer to try to navigate the industry alone, getting signed to a talent agency is an important step in an entertainer's career. Having the backing of an agency can give a person easier access to a wide variety of opportunities. Although she's still pretty early on in her career, Keilah Grace has already gotten the attention of an agency. She signed with Take 3 Talent in 2021.