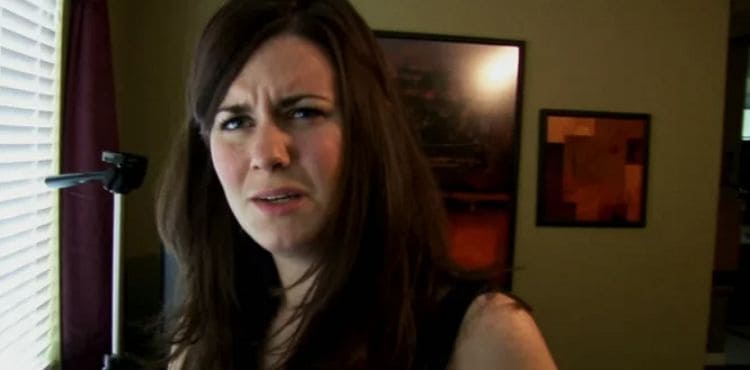 Katie Featherston may not be a household name, but she will always be a part of horror movie history. She got her first big break when she was cast in the first Paranormal Activity movie which was released in 2007. Although the film had a small budget, it was a huge hit at the box office and is now widely considered a classic. Katie went on to reprise her role in the film's sequels. Although she doesn't have many acting credits outside of that, Katie is much more talented than many people realize. With her work ethic and creative abilities, there's no doubt we're going to be seeing a lot more of her. Keep reading to learn 10 things you didn't know about Katie Featherston.
1. She Has Lots of Behind-the-Scenes Experience
Her starring role in the Paranormal Activity movies is what Katie is best known for. However, she has also done a good amount of work from the other side of the camera. Katie is also a writer, director, and producer. Most notably, she directed and produced a TV series called Solace for the Unloved which she also starred in.
2. She's From Texas
Katie was born and raised in Texas and it was there where she initially fell in love with acting. Although it has been several years since she's lived in the Lone Star State, Katie will always have love for Texas. In fact, she proudly represents her home state every chance she gets.
3. She Loves Scary Movies
Being cast in Paranormal Activity wasn't just great for Katie in a professional level, it was also awesome on a personal note. During an interview with People, Katie said, "I love being scared, so [Halloween] is kind of the perfect time of year to have scary movie marathons". Interestingly enough, though, she finds the Paranormal Activity movies too scary to watch.
4. She's A Formally Trained Actress
Oftentimes, people who primarily work in the horror genre aren't taken as seriously as actors who work on other types of projects. However, that is completely unfair. Katie has put just as much effort into her acting career as anyone else. She attended Southern Methodist University where earned a bachelor's degree in acting.
5. She Likes to Travel
Traveling is one of the best ways for people to expand their worldview and learn about other people and cultures. Katie has been fortunate to be in a position that has allowed her to do lots of traveling over the years. In addition to visiting places across the United States, Katie has also gotten to travel to other countries.
6. She's A Dog Person
If you've ever had the pleasure of having a dog, you know that nothing quite compares to the love you receive from a fur baby. All of the dog people out there will be happy to know that Katie is a true dog lover. She has an adorable dog named Harvey who even has his own highlight section on her Instagram profile.
7. She Has A YouTube Channel
Katie started a YouTube channel back in the summer of 2013 and she has used it as a place to post a variety of content. Her channel currently has more than 34,000 views. Unfortunately, however, she hasn't posted any new content in more than four years. It doesn't appear that she has any plans to start posting on the channel again.
8. She's In A Relationship
Katie's career isn't the only area of her life where things have gone well for her. Things are also thriving in her love life. Katie is in a relationship with a man named Joe Boothe. It's unclear exactly how long the couple has been together, but they seem to be doing well.
9. She Is A Harry Potter Fan
Just because Katie is part of the entertainment industry doesn't mean she can't enjoy great stories just like the rest of us. Katie loves Harry Potter and her Instagram profile reveals that she is "100% Hufflepuff". She loves to sport Harry Potter-related gear whenever she gets the chance.
10. She's a Songwriter
Hollywood isn't the only place where Katie's talent shines. She is also a songwriter. While talking to Cry Havoc Theater, Katie said, " I started songwriting four or five years ago, and I worked with a friend in Nashville to release an EP, which was super fun, and all the money I get from that goes to a few charities that I support. But I haven't been writing a ton of songs until lately—until this quarantine happened—and I had all these feelings."
Tell us what's wrong with this post? How could we improve it? :)
Let us improve this post!