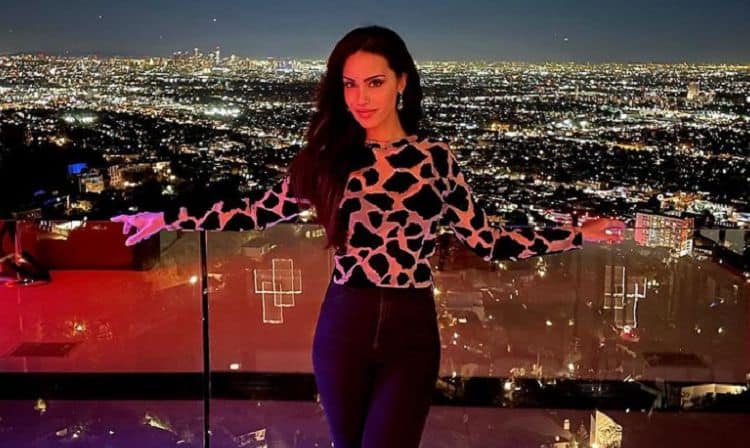 In the years since starting her professional acting journey, things haven't always been easy for Shiva Negar. However, regardless of any obstacles, she's faced, she has always moved forward and her hard work has certainly paid off. In recent years, her career has really started to take off and she has been part of several successful projects. Some of her most well-known credits include SEAL Team and ALT. No matter what kind of project she's working on, Shiva is the kind of actor who always puts on a memorable performance. Her latest role in the TV series The Cleaning Lady has been a great opportunity to show her versatility and share her talent with a large audience. Not only are things going well for Shiva now, but the future is also looking very bright. Keep reading to learn 10 things you didn't know about Shiva Negar.
1. She Started Performing When She Was A Child
Shiva's love for the arts began when she was just a little kid. At an early age, Shiva and her sister were enrolled in music classes where they learned to play the piano. From there, she got involved in theater. What began as a hobby quickly turned into something much more for Shiva and it was clear that she had real talent. While talking to the Persian Observer, Shiva said, "One day in college I walked on to a movie set. They were filming a scene and it just triggered something in me. No one around me was in the industry, however. So it was all new to me." Once she got into the industry, Shiva realized that it was going to be a lot of hard work, but she never let that intimidate her.
2. She Loves Inspiring Others
It goes without saying that the main goal of the entertainment industry is to keep people entertained. However, on a personal level, Shiva hopes to do much more with her talent. She told Voyage LA, "I've always wanted to tell impactful stories of strong female characters. And I'm very grateful that so far I've been able to play such significant empowering roles and will continue to do so." She continued, "I want every role and every story I tell to inspire, to give the audience something to take away, to raise awareness and make a difference. I have a unique and diverse background and I want to use that to be the voice of many women from my background and that part of the world that may not be heard otherwise." So far, I think it's safe to say that Shiva has done a good job of accomplishing her goal.
3. She Studied Psychology
Despite the fact that Shiva fell in love with performing at an early age, acting hasn't always been the only thing she's focused on. This is likely because a career as an actress is often seen as a gamble, so many people feel more comfortable when they know they have something to fall back on. Shiva attended York University in Canada where she earned a degree in psychology. While some people may think that acting and psychology are completely unrelated, that isn't the case. Having a good understanding of psychology can help an actor get into character. After all, being able to understand the psychology of another person is an important aspect of acting. Shiva has also studied event planning and marketing.
4. She Also Likes Telling Stories From Behind The Scenes
At this point in her career, acting has been Shiva's main focus. However, that might not always be the case. She already has some experience on the other side of the camera thanks to her work as a producer, and she plans to do more behind-the-scenes work in the future. During her interview with the Persian Observer, Shiva revealed that she is working on a script telling the story of her life. As her career continues, it'll be interesting to see if she decides to shift her attention to things like writing and producing. No matter what side of the story she's on, though, we know that Shiva is going to bring it to life in the best way possible.
5. She Has Lived In Several Countries
Shiva's life has been an adventure since she was very young. She was born in Iran but raised in Turkey and Canada. She eventually decided to move to the United States in order to take her acting career to the next level. But while being able to live in different countries is often seen as a sign of wealth and status, that wasn't the case for Shiva. She did not come from a wealthy family and her parents struggled financially. She was primarily raised by a single mother and Shiva had to start working when she was just 8 years old. Fortunately, however, she seems to be in a much better financial situation now. The fact that she has lived in different places has also given Shiva a love for traveling. When she isn't busy with work, she enjoys getting to visit and experience different places.
6. She Got Her Start As A Model
Even before Shiva's acting career took off, she was no stranger to being in front of the camera. She started her career as a model when she was just 19 years old. Her first modeling job was the video for Kelly Clarkson's hit single "Behind These Hazel Eyes". The video now has more than 68 million views on YouTube. Although she found a good deal of success in her work as a model, Shiva knew that she didn't want modeling to be a long-term thing. She eventually made the decision to transition into acting which wasn't easy at first. She struggled with being taken seriously and she had to turn down lots of bad opportunities before good things finally started coming her way.
7. She Loves Giving Back To Others
Now that Shiva has made it, it would be very easy for her to disconnect herself from the struggles that 'regular' people face. That, however, is something that Shiva has no interest in doing. Shiva is serious about using her platform as a way to help those in need. She is especially passionate about causes that impact children. She is currently a child sponsor for an organization called Mother Miracle. In the coming years, she will likely align herself with even more charities. As someone who didn't grow up with much, Shiva has a genuine understanding of how beneficial it can be to give back to others.
8. She Was Trained By A Former Navy Seal For Her Role in American Assassin
When preparing for her role in the 2017 movie American Assasin, Shiva had to go through lots of physical training. Part of that included working with former military personal to learn how to properly use weapons. Shiva told Irmo Online, "We had someone who was ex-military and ex-Navy Seal. He took us into this big warehouse while we were shooting in London. We were doing all this hiding behind the walls and other things a professional CIA agent would do. He would teach us on how to hold the gun and to shoot the target. And there's on how to act and react quickly. It's a lot of fun…It's for real. You have a real gun and not a laser tag gun." Even though the training was very strenuous, Shiva had a great time learning new techniques and pushing herself to the limit.
9. She Likes Her Privacy
There are lots of people in the entertainment business who relish every moment of being in the spotlight. In addition to sharing what's going on in their careers, they also enjoy letting the world in on their private lives. While this works for some people in the public eye, it has also backfired for many. Shiva has chosen to take a low-key approach when it comes to her private life and she doesn't share many details about what she has going on outside of work. So far, this seems to be working for her and it seems unlike that she'll ever be one of those celebrities who puts all of her business out there.
10. She Loved Working With Michael Keaton
Shiva's acting career in the United States is just getting started, and she's already gotten the chance to work with some very big names including the legendary Michael Keaton. During her conversation with Irma Online, she opened up about what it was like to work with Keaton. She said, " I've been a big fan. When I've heard I was going to be a part of this project—I was so thrilled. I was so nice to meet him. He was great. He was so awesome. He's fun to be around. He knows when to be serious and he knows when to have fun." In the years to come, there's no doubt that Shiva will be working with even more big stars. In fact, one day she will probably be one of them.
Tell us what's wrong with this post? How could we improve it? :)
Let us improve this post!