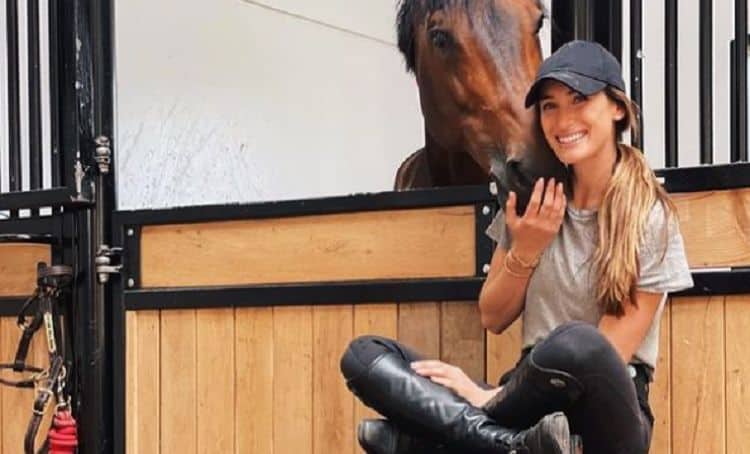 With parents like Bruce Springsteen and Patti Scialfa, most people wouldn't have been surprised if Jessica Springsteen decided on a career in music. However, she has chosen a completely different path, and it's one she's proud to have carved out for herself. As a talented equestrian, Jessica has worked very hard to make a name for herself. So, as you can imagine, she was very excited when she found out she earned a spot on the US Olympic equestrian team for the 2021 games in Tokyo. Although this year's Olympics will be a little different than most, Jessica is still grateful for the opportunity and she's hoping to come home with a gold medal. Continue reading for 10 things you didn't know about Jessica Springsteen.
1. She Grew Up On A Horse Farm
When Jessica was young, her parents made a conscious decision to move Jessica and her brothers out of Los Angeles so they wouldn't grow up surrounded by the paparazzi. Instead, she grew up on a farm in New Jersey which is where she first started riding horses. Although it started as something she just did for fun, she quickly knew that she wanted to get serious about training.
2. She's A Mom
Even though Jessica's horseback riding skills have been getting her a lot of attention lately, she still likes to keep her personal life pretty low-key. One thing we do know, however, is that she is happily married and she is a very proud mother. Her young daughter is truly her pride and joy.
3. She Likes To Travel
Jessica has always been the kind of person who loves having new experiences, and traveling is one of the best ways to do that. Fortunately, horseback riding has given Jessica the chance to travel all over the world to compete. She has even spent time living outside of the United States.
4. She Has Shown Her Support For The Black Lives Matter Movement
Taking a stance on what she believes in doesn't seem to be a problem for Jessica. She has used her social media presence to show her support for the fight to end racism. She even has a link to anti-racist resources in her Instagram bio. This is especially interesting to note because Black Lives Matter paraphernalia has been banned from the Tokyo Olympic games.
5. This Isn't Technically Her First Shot At The Olympics
The 2021 Olympic games will mark the first time Jessica has officially competed in the Olympics, but it's not the first time she has been a part of the team. She was an alternate rider at the 2012 Olympic games in London. Unfortunately, she did not make the team for the 2016 games which were held in Brazil.
6. Her Parents Are Her Biggest Fans
No matter what you want to do in life, there's no better feeling than having the support of your loved ones. Jessica is fortunate to say that she's always had that. Her parents have always been her number one fans and they are looking forward to seeing how she does in Tokyo.
7. She's Passionate About Animal Rights
There are some people out there who believe that riding horses is animal cruelty in itself, but Jessica is dedicated to always keeping her horses' best interest first. During an interview with Parade, Jessica said, "I connected with the ASPCA a few years ago during a competition. They opened my eyes to not only horse cruelty but animal cruelty that goes on in the U.S. There was just so much that I didn't know about. So it's been amazing to work with them and raise awareness."
8. She Was Never Really Interested In Music
As mentioned earlier, there are lots of people who probably assumed that Jessica would try to get into music because of her parents. However, music has never been her thing. She took piano lessons for a while when she was a kid, but it simply wasn't something she genuinely enjoyed. However, she does enjoy listening to music.
9. She's Serious About Self Care
Being a professional athlete can be very demanding, and Jessica has learned the importance of taking time to take care of herself. She told Parade that her self-care activities include going for walks, sleeping, and going for jogs. As her event in the Olympics gets closer and closer, taking that time to check in with herself will be very important.
10. She Studied At Duke
Due to her parents' fame, a lot of things about Jessica's life were different from most people's. Still, she wanted to have a traditional college experience. She attended Duke University where she graduated with a bachelor's degree in psychology in 2014. According to The List, she also considered going to Brown University.
Tell us what's wrong with this post? How could we improve it? :)
Let us improve this post!