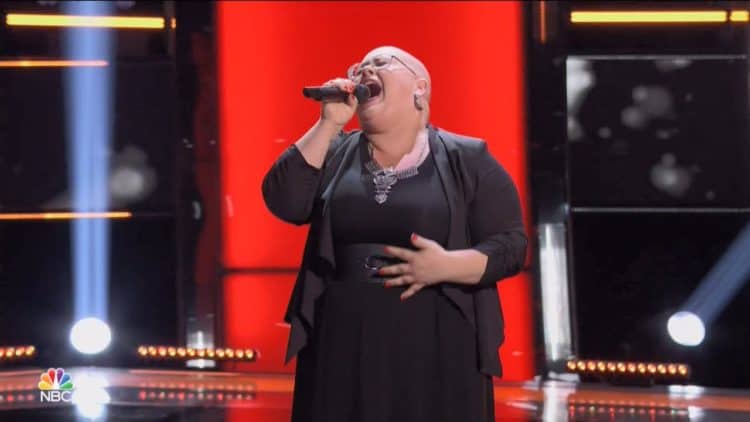 The fall 2021 season of "The Voice," does seem to be the biggest season of all with so many four-chair turns. It does not happen all that often, but when it does – it's the best. While we don't know which season had the most, it feels as if this season might be it following yet another four-chair turn when the talented Ms. Holly Forbes took the stage during her blind audition. She simply floored the judges with her talent and her skill, and everyone wanted to make her their own teammate. Who is she? Let's find out.
1. She is from Kentucky
She's a Kentucky woman, but you'd never know it from her voice. Her sheer talent is amazing, and her version of the famous Elton John's "Rocket Man," had everyone shocked. She is powerful, and she is someone the rest of the talent on the show might want to watch out for.
2. She's a Mom
She's a mama, and she's a proud one. She has two daughters, and we think it is certainly safe to say that she is a good mom who takes a lot of pride in the girls she is raising. They are her everything, and all of her choices and her life decisions are made with their futures and their well-being in mind.
3. She Brought Tears
Ariana Grande was choked up when she turned around. Those of us watching from home were, too. It was an emotionally charged performance, and no one could fight the fact that they were either opening crying watching her, or working very hard to hold back tears as her performance touched so many. We'd dare to go out on a limb and say that there wasn't a person watching the show who didn't feel she deserved to make it onto the team.
4. She's Team Ariana
After initially being fought over by both Ariana Grande and Kelly Clarkson, the insanely talented singer chose to work with Grande. However, there was no lack of trying on behalf of Clarkson. She did everything she could to turn the tables in her favor, but Forbes' mind was made up.
5. Her Daughter Loves Ariana Grande
Her daughter, Violet, is a huge Ariana Grande fan, and she is someone who admires everything that the young singer does and stands for. It is the reason that she chose Grande over the others, and it caused some hilarity to ensue. Kelly Clarkson said that she's cool, too, but she does everything her own daughter wants, so she totally gets it. Blake Shelton said that some kids love sugar, but that doesn't make it good for them, and all was well.
6. She is 30
Holly Forbes is 30, and she's been singing a long time. When she has free time in her life – which may not be often considering she is a mother to two little girls – she works hard to make sure she's singing. She works part-time as a background singer, and there is no reason she should ever be in the background. She deserves to be front and center.
7. She Has a Beautiful Job
When she's not being a mom, when she's not singing in the background, she's at work. She has the most beautiful job as a caregiver. It takes a person with a big heart and a lot of love to provide care for others. She works as a caregiver for those who live with Autism. She is a lovely human.
8. She Loves the Point of The Voice
When Holly Forbes realized that everyone loved her and she was given the biggest opportunity in the world, she was overcome with emotion. The point of this show is one that she loves so much, because it doesn't focus on anything other than talent. No one is judged based on how they look or whether they have superstar looks or vibes. They are judged on sheer talent alone, and that is important to her.
9. She Lost Her Hair
Forbes is bald, and it was not by choice – at least not initially. She suffers from a seizure condition that requires she take medication. She's been taking her seizure meds since childhood, and her medication caused her to lose her hair in large patches. As a result, she began shaving what is left of her hair many years ago, and now she rocks the bald look. And we do mean she rocks it.
10. She Was So Good A Block Was Used
The rules of the show state that a judge has a chance to block another coach from being able to take on a contestant if they want to. Since Grande and John Legend are usually the ones fighting over the same talented contestants, she was quick to hit the block button in time. She hit it just before he was able to turn around, which means that Legend was unable to turn and take her, though the star did
Tell us what's wrong with this post? How could we improve it? :)
Let us improve this post!