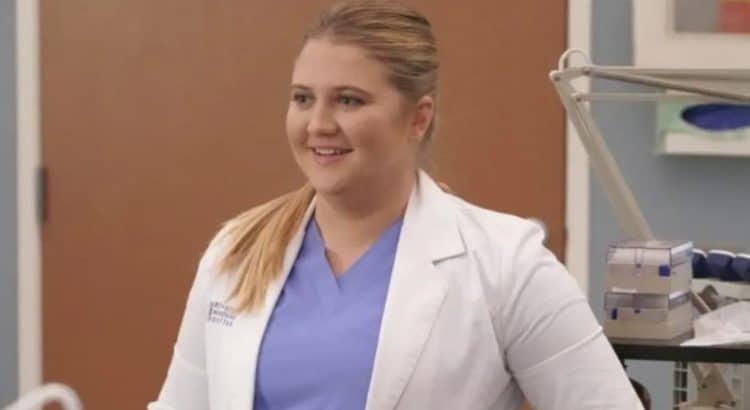 Jaicy Elliot is an up-and-coming actress born in France to French parents. She is known for a few roles on popular TV shows, especially the long-running Grey's Anatomy, but also worked a short time on another, but more behind the scenes. This young actress has a bright future ahead of her with the talent she's already displayed on one of the most popular and longest running TV dramas and if you recognize her as one of the bright young doctors on Grey's Anatomy, there's probably still a lot you don't know, so here are 10 things you didn't know about Jaicy Elliot.
1. Her career started in the theater
It's not uncommon for actors to get their start taking roles in different areas of acting before they land bigger, maybe more permanent roles on shows, or hit the big screen. Elliot has always described her interest and her beginnings as one that is related to the theater. After graduating college, Elliot took a real interest in theater and has an extensive work history in theaters prior to her debut on the popular TV series, Grey's Anatomy.
2. Her first paid role was Grey's Anatomy
Although Elliot was paid for her theater work, Grey's Anatomy is the first, consistently paid acting job she got. She took the role of Taryn Helm, a young intern who had suffered with panic attacks during her childhood, during the show's fourteen and fifteenth season. Later, when the show started another version of the show that brought in a second generation of doctors to focus on, she was asked to come back and take over her same character's role.
3. Her character has a crush on the main character
Many TV shows try to keep story lines up with the latest trending issues going on around us, including sexual orientation and gender identity. Grey's Anatomy has included a similar story line that includes Elliot's character and it surrounds the lead character, Meredith. Elliot's character has kind of a crush on the doctor, and it hasn't been determined if it is really love, or just a strong admiration. But how it will play out, fans will just have to keep watching to see if anything evolves from these feelings.
4. She got to help a teen get a wish come true
Make-A-Wish Foundation teamed up with Disney to help a sick teen get her dream of being a part of her favorite show, Grey's Anatomy. The 17-year old Izzy got to spend a day in Hollywood on the set of the show and meet all the stars, including Elliot and not only did she meet them, but she got to play director of a scene, try on costumes and help with props. It was something extra special to Izzy, since her dream has always been, to be a doctor. Elliot says it was one of the best days of her life to be a part of that.
#5. Worked on The Unwilling
Before jumping in with the other doctors on Grey's Anatomy, Elliot did work with another show, the 2016 thriller known as The Unwilling. She worked in the art department and then got the offer to be a part of the 'six-pack,' and has continued to hold her role on the highly-rated medical trauma show.
6. Not much is known about her parents or family
While a lot of stars will divulge some information about their family or family life, there isn't a whole lot to be found on Elliot's immediate family. There isn't much found on siblings or her parents, or what type of work they do. That being said, since she does have an Instagram account, there are pictures you see that tell the story of her being quite close to her father, Cris Elliot.
7. She owns two residences, one outside the US
Elliot was born and raised in France, and she keeps two residences, one here in the US, and one in France, however, where in France it is, hasn't been disclosed. Her US home residence is in California, obviously an expensive state to live in, but what she must pay to have two homes, and to travel back and forth, must also cost ta pretty penny.
8. She drives a classic Toyota
Apparently Elliot keeps some things on the down-low when it comes to living the life of a celebrity. On her Instagram page, you can see her car she purchased for a very modest $10,000-$15,000 Toyota. Maybe when she really starts climbing the Hollywood payroll ladder, she may turn that Toyota in for something more extravagant, or maybe she will always keep her car spending down to more average automobile makes and models.
9. She's single
You can hunt all over the web to see you if find any pictures exploiting the fact that Elliot is dating anyone, but we don't think you'll find one. Elliot is still new to all that the celebrity lifestyle brings, and that includes having paparazzi following your ever move. And they have been following her in the efforts of trying to see if she can be caught with a guy, but it seems to have gone in vain because it seems quite clear that she is not either dating or married.
10. What does she make per episode?
A lot of fans like to keep up with the stars are making these days and if you don't already know, Elliot is earning about $50,000-$100,000 per episode of Grey's Anatomy. And for this show, she's appeared in about 10 episodes so far. The pay is definitely different than what she was making back in her theater days, which would have been about $1,000-$2,000 per week. That's a big pay raise.