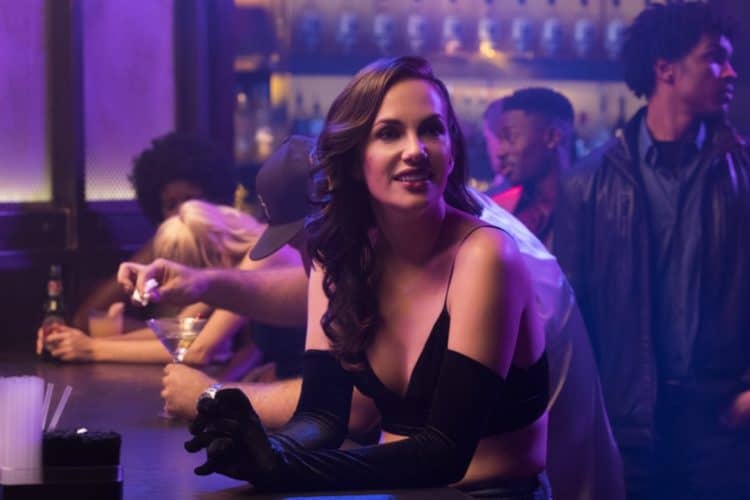 American actress and screenwriter Kate Siegel first hit our screens in the direct-to -video movie, The Curse of the Black Dahlia. Since the film's release in 2007, Kate has enjoyed various roles in TV and film, with her most notable successes being seen in the horror genre. As well as being a talented actress, Kate has proved herself an able writer, with her collaborative projects with husband, Mike Flanagan, showing there's more to this particular actress than meets the eye. Find out more about the rising star with these 10 fast facts.
1. She started her career in theater
Kate (who's full name is Kate Gordon Siegelbaum) was born in Silver Spring, Maryland in 1982. Kate first started performing while studying at St. Andrew's Episcopal School in Potomac. Her experience in the high-school productions sparked her desire to pursue acting further- something she achieved by enrolling in an acting course at the Syracuse University. After graduating from the University in 2004, Kate took the first steps towards her future career by appearing with the Washington Shakespeare Company and the Folger Theater. According to her IMDB profile, she landed her first big theater role in 2008 with a part in a Tennessee Shakespeare Festival production of A Midsummer Night's Dream.
2. She came out as bisexual in 2008
In 2008, Kate starred alongside Ally Sheedy and Ruby Dee in Stream, a movie about three women from different generations who have nothing in common expect their shared habit of visiting the steam room of their neighborhood gym. Kate plays Elizabeth, a lesbian trying to free herself from the stifling grasp of her strict catholic parents. In a case of fiction meeting reality, Kate declared she herself had enjoyed relationships with women in the past. "I self-identify as bi," she revealed during the film's promotional tour.
3. Her daughter's name is inspired by Haunting of Hill House
In 2016, Kate married her partner, director Mike Flanagan. The two have since welcomed two new additions to the family: Cody Paul, who was born in 2016, and Theodora Isabelle Irene, born in 2018. Theodora was named after a character in the Shirley Jackson novel of Haunting of Hill House, the TV version of which Kate was shooting (and Flanagan was directing) at the time of her pregnancy. Filming some of the show's episodes while pregnant proved a challenge for the actress, who admitted to Pop Culture she would often have to interrupt shooting to "go puke in a trashcan."
4. She frequently collaborates with her husband
Kate met her future husband while he was directing her in the 2013 movie Oculus. They subsequently collaborated on the 2016 horror film, Hush, along with the movie version of Stephen King's Gerald's Game, and the hit Netflix series, Haunting of Hill House. Their experience of working together has been smooth sailing all the way, with Flanagan telling Dread Central that the joy of working with Kate was one of the reasons he chose to marry her in the first place. "I think if your relationship can survive three [weeks] of night shoots on a million-dollar budget in a house, marriage should be a piece of cake," he shared.
5. She's starred in a TV commercial
In 2016, Kate appeared in a TV commercial for Stelera, a prescription medication used to treat psoriasis. The commercial features a split screen of Kate, wearing a long sleeved top and an unhappy expression on the one side, and on the other, a tank top and a confident smile. The shot is captioned "Which you are you?… presumably to demonstrate the difference medication can make to the lives of sufferers of the common skin complaint.
6. Her film debut was in The Curse of the Black Dahlia
In 2007, Kate made her film debut in the critically panned horror film, The Curse of the Black Dahlia. The film tells the true story of the Black Dahlia, the infamous unsolved murder of a young actress whose mutilated body was found in a vacant Los Angeles lot in 1947. Kate took the role of marketing executive Jennifer, who leads the storytelling through a series of flashbacks. The film's negative reception didn't deter the fledgling actress from pursuing her acting ambitions, with her next project, Hacia La Oscuridad, following shortly in its wake.
7. Her TV debut was in Ghost Whisperer
Although she's best known for her work in the horror movie genre, the talented actress has also taken on several roles in TV crime series. Her first taste of the small screen came in 2009, when she debuted as Cheryl in Ghost Whisperer, the supernatural drama series following the life of ghost whisperer Melinda Gordon (played by Jennifer Love Hewitt). The following year, Kate returned to the medium with a guest spot on the CBS crime drama series, Numbers. She's subsequently featured in episodes of The Unknown, Castle, Where Would We Be, and Mob City.
8. She landed her biggest TV role in 2018
Kate's most prominent TV role to date is in the Netflix supernatural thriller, The Haunting of Hill House. The project, which coincidentally is directed by Kate's husband, Mike Flanagan, is loosely based on the 1959 book of the same name by horror and mystery writer, Shirley Jackson. The series, which also stars Michael Huisman, Carala Guigino and Henry Thomas, tells the story of a broken family as they confront the horrors of their past and the terrifying events that forced them to leave their old home. The series has garnered much critical acclaim, with a second season set to premier in 2020.
9. She has a Net Worth of $3 Million
Despite only having been active in the industry since 2006, Kate has already racked up a serious amount of cash. Her numerous TV roles and film work has seen her pull in a net worth that estimates to be a very respectable $3 million.
10. She's appeared in several short films
She may have achieved her greatest success in feature-length TV shows and films, but that hasn't stopped Kate trying her hand at a number of shorts. All in all, Kate has appeared in 6 shorts to date, comprising of the critically acclaimed Knocked Down in 2008, Puke in My Mouth in 2009, The Collector in 2012, Dead Room: Origins in 2014, The Program in 2015, and Wine Jabs, also in 2015.
Tell us what's wrong with this post? How could we improve it? :)
Let us improve this post!