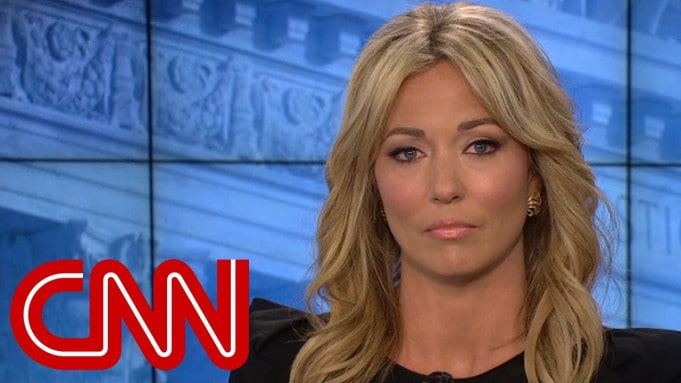 Born on July 12, 1979, Lauren Brooke Baldwin is a well-known American journalist who was born and raised in Atlanta, GA in a middle-class home. Brooke's mother unfortunately died of cancer when Brooke was just 12 years of age, but was a teacher until her passing, and her father worked as a consultant with Deloitte. Baldwin attended the Westminster private schools growing up, and furthered her education by earning her college degree from The University of North Carolina at Chapel Hill. Baldwin has done some pretty impressive work as a journalist; covering major events and stories through the years. She has worked for major news networks and has been awarded and recognized for her work many times over. Whether you are a total "news head,' or just like to catch the big stories that make the headlines, you may have seen this beautiful news anchor delivering a story at some point. If you want to learn more about this highly-rated news anchor, then keep reading to learn 10 things you didn't know about Brooke Baldwin.
1. She has distant cousins in the entertainment business
You probably already had the thought in your mind that the name Baldwin sounded familiar. That's because Brooke Baldwin is related to the famous Baldwin brothers who all work in the entertainment business. According to married biography, the famous Baldwin brothers; William, Stephen, and Alec, are distant cousins of the news anchor and have all spent time on television and the big screen.
2. Studied abroad in Mexico
Baldwin had a double major in college. She graduated college with a degree in both journalism and Spanish from UNC, and while working toward her degrees, she spent time at the Universidad Iberoamericana in Mexico City as a part of her studies in Spanish.
3. She's covered two Presidential Inaugurations
Baldwin has been a well-known journalist and news anchor for some time now; long enough that she has been around for two presidents to take office since moving up the journalism chain. She was part of the news reporting team that covered the Presidential Inauguration for Barack Obama in 2013 in Washington, DC, and just four years later, she returned to cover the Presidential Inauguration for President Donald Trump in January of 2017.
4. She's a regular host on New Year's Eve
It's always an exciting event for celebrities and other media personnel to be a part of the New Year's Eve celebrations. Baldwin has had the honor of being a part of New Year's Eve Live on CNN; hosting the countdown celebration with Anderson Cooper and Andy Cohen, two long-term friends. While Anderson Cooper and Andy Cohen covered the celebrations from New York City's Times Square for ringing in 2020, Baldwin hosted the celebrations happening in Nashville, TN for all those on central time, airing her portion of the show from the Music City Midnight Celebration. According to CNN Press Room, in years past, Baldwin also hosted the show with Kathy Griffin, before Griffin's controversial actions had her removed from the position.
5. She was at the last Space Shuttle Launch
To be able to be a part of something as spectacular as the Space Shuttle launching, is an incredible opportunity. To watch it, is in-fact, is being a part of our country's history. And to be able to report on something that incredible, is certainly something a journalist strives to be able to do at some point in their career. Baldwin got that opportunity, and her coverage wasn't just on any launch of the Space Shuttle, but the 'last' launch. She covered the big event as a co-anchor on CNN, on July 8, 2011, following the events as the Space Shuttle Atlantis (STS-135) launched from the Kennedy Space Center in Florida.
6. She took over anchor job when the host was fired for controversial remarks
Baldwin took the position of contributor on Rick Sanchez's show, Rick's List, which aired on the HLN Network. She signed the contract in 2010 and shortly after, found herself taking over the role as host when the network fired Sanchez for using anti-Semitic remarks during an interview on XM's show, Stand Up With Pete Dominic, according to the source, bijog.com.
7. She supports women in the workplace
Baldwin is the creator and host of a CNN digital series called, American Woman, and Baldwin puts women in the work field in the spotlight. Baldwin designed the series to focus on women who have taken their positions in the own perspective work fields, to new heights; those who have broken through the glass ceiling and have accomplished what many might not anticipate a woman to be capable of.
8. She's been nominated and won awards
Speaking of accomplishments, Baldwin has taken the world of journalism by storm and has done such an outstanding job, that she has earned nominations for awards and has won awards for many different aspects of her work. Baldwin was given a Silver World Medal Award for Best Investigative Report for her documentary, To Catch a Killer, in 2012. Baldwin was also nominated for an Emmy for the special report she did on the protests over the NYC chokehold death of Eric Garner in 2012, just to name a few.
9. She's been featured in Elle Magazine
Magazines often choose highly-recognized people to feature in their magazine to give them the recognition they deserve. Baldwin has definitely impressed the world of journalism and has received a lot of recognition for stories and events she's covered through the years. Elle Magazine is one that took notice by featuring her in a publication in 2016 as being just one of five women correspondents to cover the presidential election that year. That same year, she was also feature in New York's, Downtown, magazine, and these are only a couple magazines you will find Baldwin featured.
10. Got married in May of last year
Baldwin had a lavish wedding last year on May 5th/ The wedding took place at Liberty Farms in Ghent, NY where she married James, Fletcher, whom she had been dating for some time. The two got engaged in the summer of 2017, and in just a year, she had planned a stunning event for the two of them to exchange their vows, including her arrival to the wedding in a white Rolls Royce.
Tell us what's wrong with this post? How could we improve it? :)
Let us improve this post!