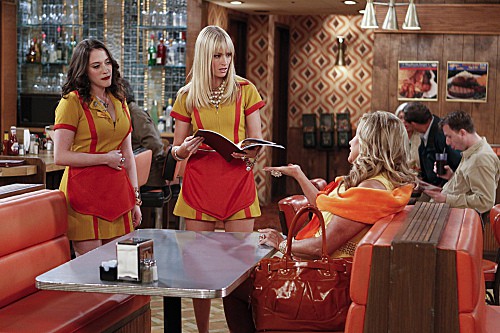 Before we get into the loves and life of Kat Dennings, we want you to know that her and Broke Girls co-star Beth Behrs continue to see each other in real life just about every other day. But Kat has been active, as she is not only a talented actress, but also a screenwriter. There was no shortage of projects or opportunities she could choose from once her "2 Broke Girls" sitcom was cancelled by CBS. Some have been of the movie variety, and one is going to give Kat the opportunity to return to her sitcom status where she is anything but a broke girl.
Lead Role in "Dollface"
She picked up a lead role in a Hulu movie, "Dollface," where the storyline is about how a woman who is dumped by her long term boyfriend decides to move on in a very different way. Instead of looking for romance in all the wrong places, she chooses to go on a journey to find and revive many of her female friendships that were left behind. As anyone who has let years pass without keeping in touch with someone, this is a very challenging scenario.
But that is a movie. We knew it wouldn't be long until Kat would return to television, and in February it was announced she would be accepting one of the leading roles in the new ABC sitcom, "How May We Hate You." A reflection of her character in "2 Broke Girls" Kat will be playing the role of Ellie, who is employed in guest services at a swanky hotel where guests pay more than twice as much for a single night's stay than she does for an entire month's rent. Her co-workers can be just as trying, and the antics of the guests, Ellie, and her co-workers are the recipe for primetime entertainment.
"Dallas and Robo" Animated Comedy
Showing off even more of her versatility and talent, Kat has teamed up with John Cena to produce an eight episode animated comedy, "Dallas and Robo." Kat is the voice of Dallas who accompanies Robo on a trek to make a few bucks by jetting through the galaxy, meeting and fighting rival space truckers and cannibal bikers while living off of vending machine burritos and other things.
Just this past week it was announced that Kat continues to seek out new work and new opportunities, as she is set to co-star with "Billions" star Malin Ackerman in a movie titled "Friendsgiving." Of course, the movie takes place on Thanksgiving (we can presume it will be on the upcoming Thanksgiving-Christmas movie schedule) in the home of Ackerman and Dennings who are a lesbian couple. Not to worry, true to Kat's acting form, this will be a comedy with the Thanksgiving dinner being one of the messier unconventional family affairs held. Dennings plays Abby, who has recently been dumped by a former lover.
Romantically, no new love connections have been created with Kat and anyone else since her breakup last year with Josh Groban, who publicly stated it was a mutually agreed on split. As we can see, she has kept busy working as an actress, but we also found out something of her personal life that is worth a mention.
How's the Yellow Lab Now?
But we can end Kat's recent news by telling you that her beloved yellow Lab is doing fine after surgery (and they say that a dog is man's best friend). Just this month, Spinee, her Lab was taken into the vet hospital to have some very risky surgery done. Though the exact problem has not been revealed, what we do know is that Spinee has come out of the surgery very well and is now facing a medium term recovery period.
No article would be complete without at least one spicy rumor. This is not of the romantic variety, but of Kat being seriously considered to be cast as the next Bond girl. That's right. What often is a career changer for many actresses, there are multiple rumors Kat will be at the side of Daniel Craig in the next movie of the Bond franchise. What is crazy about the rumor is that it has been said she has been offered the role before but turned it down due to prior commitments and scheduling conflicts. Come on Kat! Make the time for this gig!
20 Things You Didn't Know about Kat Dennings
1. Early Years
Kat (full name Katherine Victoria Litwack) is of Russian Jewish descent, and hails from Bryn Mawr, Pennsylvania. As the youngest of five siblings, Kat grew up in a busy, bustling household, headed up by parents, Ellen Schatz, a poet and speech therapist, and Gerald Litwack, a molecular pharmacologist. Kat had a slightly unconventional upbringing, and managed to avoid the social nightmare of high school thanks to her parents decision to home school their offspring. The decision clearly paid off, and Kat graduated school at the young age of 14. After her graduation, the family upped sticks and set up permanent camp in Los Angles.
2. Spooky Coincidence
Kat shares the same birthday as Mary-Kate and Ashley Olsen, who played Bob Saget's daughters in the long running kids TV show, Full House. In a strange coincidence, Kat has also shared the screen with Saget, playing his oldest daughter in 2001's, Raising Dad.
3. First TV Success
After hitting the Los Angles scene, acting roles quickly started to flood in for Kat. Early works included roles on Sex and the City (1998), Raising Dad (2001), the Scream Team (2002) Everwood (2002) and Without a Trace (2002). She also had a minor role in top US medical drama, ER.
4. Move to the Big Screen
Kat's leap from minor TV appearances to big screen success came in 2004, when she was cast in a supporting role in 2004's Raise your Voice. From there, she went on to feature in The 40 Year Old Virgin in 2005, and Big Momma's House 2 in 2006. Her big break came in 2008, when she secured two of her biggest roles to date with The House Bunny and Nick and Norah's infinite Playlist.
5. TV Show Addict
Kat is not just a star of TV shows, she's also a fan of them. Just like the rest of us, Kat loves a cozy night in front of Netflix, and is a die-hard fan of such shows as comic book series, Smallville (2001), animated comedy, South Park (1997), Reality TV show The Osbournes (2002), the classic British sit-com, Absolutely Fabulous (1992), alien drama, Roswell (1999), teen drama, Dawson's Creek (1998), the Aussie soap opera. Neighbors (1985), and comedies, That '70s Show (1998), The Simpsons (1989).
6. Hot Stuff
Since coming to the public eye, Kat has drawn her fair share of admirers. With such classic beauty, it's little wonder she's made so many "hottest celebrity' lists. In 2011, Kat pulled in 16th place on People's magazine's "25 Beauties (and Hotties) at 25". A year later, she doubled her success when she ranked #30 in Ask men's top 99 "most desirable" women of 2012, and #97 on Maxim magazine's Hot 100 Women of 2012 list. In 2013, she won the repeat honor of a place in Ask Men's list of top 99 "most desirable" women.
7.. Video Blogger
Tech savvy Kat blogged from January 2001 until Feb 2010 on her website. She's also tried her hand (with some success) at vlogging on Youtube.
8. Religion
Despite being born into a Jewish family, Kat is not particularly religious, stating in an interview with The Jewish Journal of Greater Los Angles that Judaism "is an important part of my history, but, as a whole, religion is not a part of my life." Kat went on to tell the interviewer that she feels greater affiliations based on culture and ethnicity than on religion. That isn't to say she isn't spiritual… in a 2013 interview with The New York Times, Kat revealed she practices Transcendental Meditation.
9. Relationships
Kat dated classical pop sensation Josh Groban from 2014 to 2016. The pair were bought together by Kat's screen buddy, 2 BrokeGirls co-star, Beth Behrs. Kat told The Ellen DeGeneres Show that… "[Behr's] always talked about how great he is and they've been friends for years, and she thought we were both, you know, nerds," The couple made their first public appearance together at a charity event, The Carousel of Hope Ball. At the ball, Groban sweetly announced ""I'm very lucky my girlfriend has joined me tonight. It's her first time hearing me sing." The couple split in 2016, just as the final season of 2 Broke Girls aired. Sources close to the couple claimed the split was mutual, and that the pair remained friends after their break up.
10. Healthy Finances
Unlike most actors who live a gig-to-gig existence, Kat had the luxury of a 6-season run on CBS's hit comedy, 2 Broke Girls. The show, in which she played down- to- earth waitress, Max Black, didn't just give Kat the benefit of a sizable monthly paycheck, it also guaranteed financial security for life. During the shows first season, the makers sold its re-runs into syndication. The sale constituted the most lucrative deal in TV history, with TBS offering 1.7 million per episode for indefinite airing rights. As both a star and producer of the 138-episode series, Kat's fortunes are well and truly made.
11. 2 Broke Girls Cancellation
In May 2017, 2 Broke Girls was cancelled at the end of its sixth season. The cancellation came as something of a surprise to the show's creators and stars, who weren't aware the final episode of the season would also mark the end of the show. Although the finale did at least see Kat's character achieve some happiness with a much hoped for engagement, most viewers were left unhappy with the premature ending. The show's stars, however, were nothing if not pragmatic, and issued a joint statement in which they claimed ""We are so proud of our time on 2 Broke Girls and of all the things this experience has given us, the most treasured is our lifelong friendship.". Given the grueling nature of TV sitcoms, it's perhaps little wonder that Kat seemed less than distraught than fans at the show's ending. Having starred in 20 episodes per year for 6 years, she was no doubt in need of a much-earned break.
12. Puppet Show Master
According to Kat, her biggest and most underrated achievement to date is the handmade puppet show she created especially for the DVD extras of 2008 film Nick and Norah's Infinite Playlist. In Kat's words 'The director asked me if I wanted to make something for the special features, and I made this insanely elaborate puppet show of the film with paper dolls that I made myself, and I taped it on my little camera,". Kat went on to claim the puppet show, while "so stupid and cute" and "really lo-fi," didn't get the attention it deserved. "It took me a week to make all of the props," she said. "I made all the characters out of paper, and I drew them and colored them in and put glitter on them." The puppet show took a slightly different, and infinitely darker, direction to the film itself, with Kat choosing to end each scene with the characters of Nick and Nora being eaten by a bear… thankfully, her input into the film itself was limited to her acting abilities, rather than her storytelling!
13. The Pilot in Waiting
One of Kat's first castings after the end of 2 Broke Girls came with the Hulu pilot, Dollface, created by Jordan Weiss. In the show, Kat takes the roles of a woman forced to restart her life and re- establish long forgotten friendships after the end of a relationship. With a premise centering on the complexities of female friendships, Dollface shares a lot of common ground with Kat's previous showcase, 2 Broke Girls. However, in a departure from the traditional terrestrial airing of 2 Broke Girls, Dollface will be available only via a streaming service. Whereas 2 Broke Girls was a 3 camera show, Dollface is single camera, and lacks the ubiquitous canned laugher track that 2 Broke Girls was known for. Kat will be the sole headliner of the show (unlike 2 Broke girls, which saw her share equal billing with co-star, Beth Behrs). Dollface has some serious hitters on board, with Veep producer and occasional director Stephanie Laing shooting the pilot, and a producing role for Aussie screen sensation, Margot Robbie. Despite its ace credentials, Dollface has yet to see the light of day, and in February 2018, The Hollywood Reporter advised that Dollface was "still in contention" at Hulu.
14. Voice Over Work
Kat hasn't confined her acting to purely physical roles, and over the years, she's developed an impressive portfolio of voice- over work. In December 2017, we saw (or rather heard) Kat in a fast-forward episode of The Simpsons, in which she played Lisa Simpson's college roommate and fellow musician, Valerie. Kat has also lent her voice to the hit Netflix animation, Big Mouth. In the series, Kat plays Leah, elder sister to the series' main character, Nick Birch (voiced by show co-creator, Nick Kroll). Kat also features in the Youtube Red animation, Dallas and Robo, which chronicles the life of space trucker Dallas (voiced by Kat), and her "warrior-poet" companion, Robo (voiced by John Cena).
15. Drunk History
Kat is a popular face on Comedy Central's comedic- historical hit, Drunk History. Kat has racked up three appearances on the show to date, with her most popular role taking the shape of Canadian suffragette, Gertrude Harding.
16. Friendsgiving
Another potential vehicle for Kat post- 2 Broke Girls is Friendsgiving, a feature film written and directed by Nicol Paone. The film features an almost all-female ensemble, which reflect the film's central theme of strong female friendships. Along with Kat, the all-star lineup includes Malin Akerman (best known for Billions), Chelsea Peretti (from Brooklyn Nine-Nine), Aisha Tyler, Margaret Cho, Fortune Feimster (from The Mindy Project), Wanda Sykes, and the ageless "Dr Quin" herself, Jane Seymour. In the film, Kat plays the recently dumped best friend of Akerman, an actress who's suffered the same romantic fate as Kat. The two join forces to pull their friends (and a few strange stragglers) together for a distinctly unconventional Thanksgiving celebration. The upcoming film would see Kat make a welcome return to our screens in her biggest movie role in over a decade.
17. Marvel Cinematic Universe
In Thor and Thor: The Dark world, Kat plays Darcy Lewis, assistant, friend and intern to Natalie Portman's character, Dr. Jane Foster. Despite her popularity in the role, Kat failed to return to the franchise for its third outing Thor: Ragnarok. She's also notably absent from the Avengers movies. When Cinemablend asked Raganarok screenwriter, Eric Pearson, if he'd thought of including Darcy in his feature film, the answer was a decided "No". The reason for Kat's departure from the franchise has never been explained, so whether there were creative differences on set, or whether the role had simply run its course, is unknown. What is known is that losing out on a place in the Marvel Cinematic Universe must have been a pretty bitter pill to swallow.
18. Net Worth
Thanks to the hefty paycheck from 2 Broke Girls, and a long history in TV and film, Kat has earned herself a pretty fortune. As of 2018, her net worth is judged to be in the region of $12 million. Thanks to the syndication of 2 Broke Girls, we can safely assume this is one fortune that's only set to grow.
19. Awards
Kat isn't just a fan favorite; she's also a firm favorite of the critics. In 2012, Kat won the Crystal Reel Award for Best Actress for her starring role in 'To Write Love on Her Arms'. She also managed to pull in an MTV Movie Award nomination in 2009, a People's Choice Award nomination in 2014, a Satellite Award nomination and a Teen Choice Award nomination.
20. Social Media
Although her "vlogging" days are behind her, Kat still manages to keep fans happy with regular updates on social media. Her tweets have earned her over 1 million followers on Twitter, while her Instagram page boasts more than 2.5M fans. Her Facebook page take up third position in popularity, with just over 600k followers.
Tell us what's wrong with this post? How could we improve it? :)
Let us improve this post!