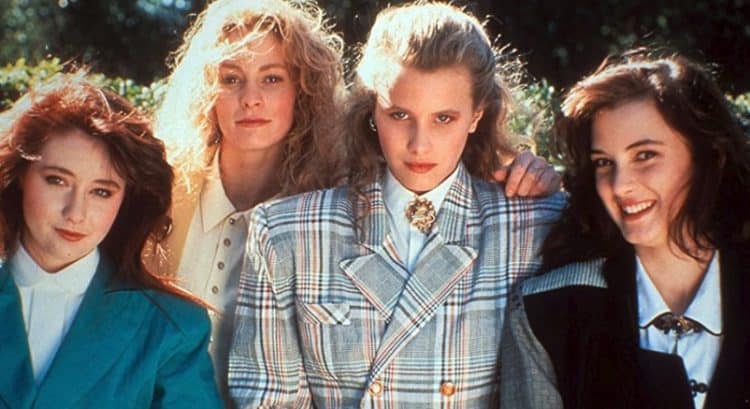 From video store clerk to screenwriter, Daniel Waters created the cult classic while working at "the least cool video store" in Silver Lake. Back in the 1980s when teenage comedies such as The Breakfast Club and Sixteen Candles dominated the genre, Heathers was a film, unlike anything that came out during that time. Dark Comedies were scarce and Winona Ryder's manager actually believed that it would be career suicide if she took the role of Veronica Sawyer. Luckily, Ryder ignored the advice of her manager and gladly took the lead role. In addition to Winona Ryder, the film stars Christian Slater (who beat out Brad Pitt for the role), Shannen Doherty, Lisanne Falk, and Kim Walker. Heathers follows Veronica, who's apart of the most popular clique in high school. The problem? Veronica doesn't enjoy the cruel nature of their lifestyle. When her new boyfriend, J.D. accidentally takes out the ring leader, Heather Chandler, by poisoning her, they make it appear as a suicide. Soon, J.D. convinces Veronica to kill fellow students that he doesn't like, much to her dismay. Eventually, Veronica races against time to stop the murderous psychopath while dealing with the clique's new leader, Heather Duke.
When the film was originally released in 1989, it was met with critical praise, but failed to make bank at the box office. The dark comedy wasn't a total bomb as it made $1.1 million on a production budget of $3 million. However, once the movie hit airwaves on television, Heathers became a cult classic and is still considered one of the best comedies to hit the big screen. So, with dark comedy being nothing new in 2021, is Heathers an overrated cult classic? Or does this insane teenage drama with a twist deserve to be mentioned alongside Fargo or American Psycho? Let's dig deeper into Heathers. First thing's first, there's no denying that the dialogue is the highlight of Heathers. How could you not laugh at the absurdity of lines such as "Did you have a brain tumor for breakfast?" or "Well, f*** me gently with a chainsaw"? The craziest thing about most of the dialogue was that the writer actually picked most of it from his everyday life, namely the latter. Still, the dialogue serves more than just a hilarious bite as it highlights the personalities of each character and underlines the overall tone and message of the film. Besides, who hasn't shouted, "I love my dead gay son!" at a funeral?
Other than the dialogue, the film's message is what really makes Heathers stand out in a good way. Behind the jokes and high body count, it's about wanting to be accepted and how high school can just be a cruel b****. Despite clearly being the antagonist, J.D.'s character highlights the impact suicide can have on one's mental state. J.D. has a strained relationship with his father following his mother's suicide, and the young man has likely tried to follow down the same path a couple of times in his life. J.D. is in pain and is clearly looking to be loved and accepted. Even Heather Chandler has to deal with the pressures of society and wanting to be accepted. She clearly didn't want to have sex with that college guy, but had no choice if she wanted to remain popular. The film surprisingly tackles dark subjects and though this is a black comedy through and through, the message is never lost in translation. Still, the film is more of a cynical satire of the sugary and popular teenage comedies and the movie manages to excel in that aspect as well.
Winona Ryder is perfect as the lead and manages to maintain her likeability despite racking up a body count throughout the film. Of course, that's due to the manipulation of J.D., Sawyer's reaction to her world crumbling down is really what nails home the underlying problem that she's dealing with. Anger, happiness, and pain, Ryder pulls off each of these emotions with ease and manages to say her unique dialogue with the nice confidence that's needed. Her chemistry with Christian Slater is strong and the two actors bounce off each other nicely. Her co-stars, Heather Duke, Heather Chandler, and Heather McNamara all play their parts well. Despite her limited screen time, the late and great Kim Walker delivers some of the best lines in the film because of how convincing the actress says them with ease. Overall, Heathers is a cult classic for a reason. The film won't be everyone's cup of tea. At its heart, this is a black comedy that isn't afraid to rack up the body count and crack jokes about it. However, this is a movie with a meaningful message. So no, Heathers is not an overrated film.