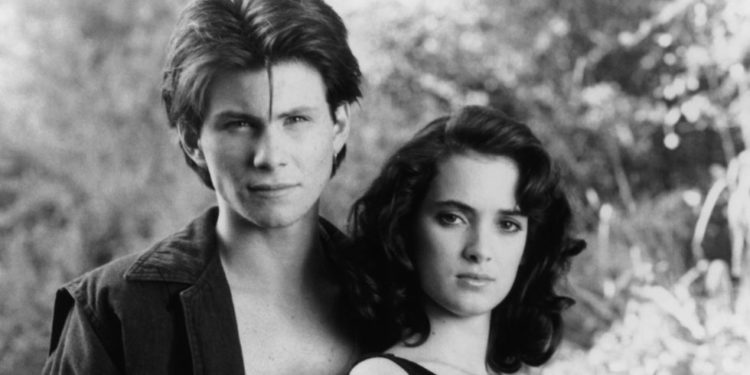 Christian Slater has definitely been known as a heartthrob in the 80s and even into the 90s, but that's kind of where his star started to dim a bit since by the late 90s he was seen less and less on the big screen and a lot more in bit parts and on TV movies that never really went anywhere. He's made an astounding comeback in the last several years if you've been watching and has managed to regain his star status, but his time in the 80s was something that was both building to the crescendo that was the 90s and yet was still enough to make him a memorable character in many movies that he found himself in. In many ways he had the same look throughout many of his movies but at the very least he didn't always have the same act. The same mannerisms maybe, but a different person each time.
Here are some of the movies he starred in back in the 80s.
5. Beyond the Stars – Eric Michaels
To be honest it's kind of hard to see Slater as an intellectual character in any case since he's always seemed to be one of the cool kids that just played it fast and loose. He's always seemed to have some sort of cunning and some intelligence but never seemed like much of a brainy guy. Yet for all that he does play a rather convincing role in this movie as he befriends the thirteenth man on the moon, a guy who no one else believes is worth much of anything since he's pushed just about everyone away. With dreams of being an astronaut one day his character tries to discover just what happened to Sheen's character that ostracized him from the rest of his colleagues.
4. The Name of the Rose – Adso of Melk
A murder mystery among an abbey filled with monks is something you might not fully expect, but it was somewhat of a gripping tale. Though kind of dry and a bit hard to follow at times this story was one that was actually kind of quirky in a way since it used various themes to really highlight what it was trying to get at. Slater was still pretty young in this role and while Sean Connery and the other established actors definitely took center screen most times it was Slater's testimony that ran the entire movie as his character was the narrator of the story, thereby making him the central point of it all.
3. Tucker: The Man and his Dream – Preston Tucker, Jr.
This is what happens when you challenge huge corporations that have had time to build and have thrived on not changing as much as possible. The moment innovation comes into the design and begins to cost money without immediately yielding greater profit the corporations tend to see this as a threat and will gladly squash anyone that decides to say otherwise. Tucker had a dream that would make people realize just what could be possible and what might happen if they decided to believe. Unfortunately big business has been established for so long that the fat cats don't intend to be unseated if they can help it.
2. The Wizard – Nick Woods
While his role in this movie isn't that big it's still meaningful since as Nick he's the elder brother of the young wiz kid that knows how to play a video game better than just about anyone. When Jimmy and Corey run away from home on to travel to LA the family goes after them but somehow can't keep up since Corey and Jimmy prove to be much more resourceful than they thought. Traveling the country they rely heavily on Jimmy's ability to play video games for money, winning bet after bet as Jimmy continually wins. Along the way they meet a young lady that helps them out and becomes an important part of their group as well.
1. Heathers – Jason "J.D." Dean
Is anyone else glad to be out of high school after watching movies like this? Out of the entire bunch that dominate the high school scene, Veronica is the only one that has a heart, though she's still complicit in the murders of a few different people throughout the movie. One might decide to say that the Heathers really got what they had coming to them, as did the jocks that lost their lives, but really and truly J.D. was kind of a nut, not to mention a stone-cold psychopathic killer. To say that the movie was a bit off-balance is putting it kindly, but honestly and truly it's something you can imagine too many young people these days finding rather feasible.
Slater has definitely risen from his own ashes but not in the same force that he once commanded when he was younger. These days he's still famous, but in a much more distinguished way.
Tell us what's wrong with this post? How could we improve it? :)
Let us improve this post!