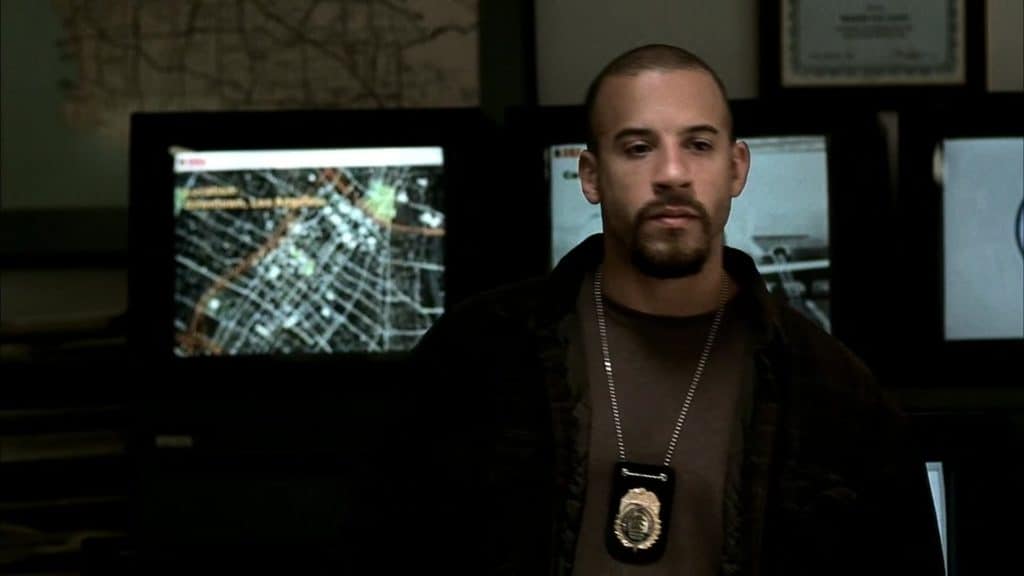 Looking at Vin Diesel's career as Riddick and Dominic Toretto it's not difficult at all to see how a movie like A Man Apart might be overlooked, but it's still a shame that it has been for a while since it's a rather decent movie and one of those that shows that Diesel can actually act when he's given a chance to do something other than talk about cars and his family. The story of Sean Vetter is a pretty straightforward one since he and his partner and friend Demetrius are former gangbangers that became DEA agents that are working along the US/Mexico border in an attempt to stifle the drug trade and take down one of its most notorious bosses, Memo Lucero. In the opening part of the movie, it's established that Sean and Demetrius have helped to track Lucero down and are about to take him down. When the raid happens, Sean does subdue Memo but is told that things are only getting worse. It's not until a little later that we get to find out just how bad it's going to get. When Sean's wife Stacy is shot during a home invasion that was meant to eliminate him as per orders by a new player on the scene, Diablo, Sean is wounded and has to find out that his wife died when he comes to in the hospital.
Suspicion of Memo's hand in this is alleviated when his own family is killed, giving Sean the idea to contact Memo to use his knowledge to harm the people that have harmed them both. Memo makes it clear that the path that Sean wants to take is going to make him into the monster, but Sean is adamant. In the meantime, Sean's demeanor while on the job continues to destabilize as he assaults a dealer named Hollywood Jack, thereby alerting the powers behind Jack that he's sniffing around. There's also the matter of Sean pointing a loaded weapon at a local drug dealer to gain the whereabouts of Jack in the first place. In short, the loss of his wife and his obsession with bringing Diablo to justice begins to cause Sean to unravel as he can't help but remain focused on getting back at Diablo and shutting this new player down for good. When he kills a man during a drug deal for stating how he killed his wife, without knowing that Sean is the cop that was supposed to be executed, the expected happens as he's put on suspension and told to take some time off. One can only assume that someone, as driven as this character, isn't going to do this, and is going to use his various connections in the underworld to go even deeper and make something happen on his own.
When he enlists an old friend known as Big Sexy, Sean is at least comforted when Demetrius shows up to help him out, making it clear that no matter how badly Sean is messing up, he can't let him go down in flames. If nothing else, this is an example of real friendship, no matter that some might state that it's toxic masculinity. Believe it or not, ride or die isn't a toxic concept, it's something that means that a friend will help out as long as they're able. Eventually, Sean and Demetrius are guided back to Hollywood Jack via the same drug dealer that nearly got them killed the last time, and by subduing Jack they eventually find their way to who they think is Diablo. Escaping Mexico with their lives isn't easy, but near the end of the movie, Sean heads south once again, supposedly on his own, to find Memo, who has escaped custody and is revealed to be Diablo.
In a tense standoff between Sean and Memo, it's revealed that Sean has set Memo up as soldiers and DEA agents swarm the scene, finishing the moment the right way as Sean controls himself and allows the agents and soldiers to do their job. Honestly, this movie was a lot better than people might have given it credit for since Diesel really had to act in order to sell the part, and he had to be more than a tough guy to make it work. That's why this movie is impressive, it shows range and it shows a great deal of emotion that a lot of us might think would be easy to show in this case but is a little more complex than some people think. Larenz Tate and most of those in this movie do a great job as supporting actors, but Diesel is to be praised for the fact that he actually can create a character that's believable and isn't as much of a stereotype as a few of his other roles have been.