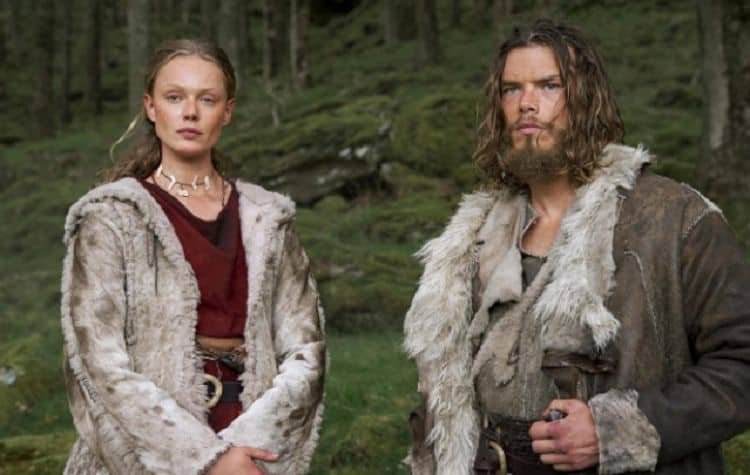 Frida Gustavsson is someone whose face you've probably seen even if you don't know her by name. Now building a strong acting career, Frida got her start in the modeling industry. While some may have doubted her ability to break into the acting world, she has proven that there's more to her than just her looks. Every time Frida steps in front of the camera, she comes ready to put on a great performance. In 2022, she got a big opportunity when she was cast in the Netflix series Vikings: Valhalla. Her role in this show has the potential to open up more doors for her, and her fans are looking forward to seeing what's next. Keep reading to learn 10 things you didn't know about Frida Gustavsson.
1. She's Wanted To Act Since She Was A Kid
Even though Frida started her career as a model, acting was her first love. She told Schon Magazine, "I always was like a little theatre monkey. When I was little I would direct my brothers and make home movies and they'd be my backup dancers. I made my little brother wear a tutu and mime Tom Jones' Sexbomb. I still have the video — the day he gets married, I will show it to him and he will murder me. It was always something that I had in me, but in my early teens, I lost my confidence."
2. She's Modeled For Some of The Biggest Brands in The World
We've already established that Frida began her career as a model, but there are some people out there who may not know how big of a model she was. After being discovered as a teenager while shopping in Ikea, Frida went on to model for big names such as Prada, Marc Jacobs, Fendi, and Alexander McQueen.
3. She Was In The Witcher
Frida doesn't have the longest acting resume at the moment, but she has still gotten to have some great experiences. In 2019, she appeared in an episode of The Witcher as a character named Ma. Even though she was only in one episode, it was still a good way to gain some exposure.
4. She's In A Relationship
For the most part, Frida has been fairly private when it comes to her personal life. What we do know, though, is that she was married to a photographer Hjalmar Rechlin in 2015 although the couple has since divorced. She is currently in a relationship although she hasn't shared much information about her boyfriend.
5. She Wants To Become A Designer
Acting may be Frida's first love, and modeling might be her second passion but there is still something else she would like to explore. She also has dreams of being part of the fashion industry from the other side and doing some designing. Since it's already clear that Frida can excel at anything she puts her mind to,
6. She's Adventurous
If you thought that sitting somewhere looking pretty was how Frida likes to spend her free time, you've got another thing coming. Frida has an adventurous spirit and she looks forward to what every new experience has to offer her. Frida loves doing things like traveling, skiing, and hiking.
7. She Loves Art
Acting isn't the only art form that Frida loves and appreciates. Based on her Instagram profile, it's clear that she also enjoys photography, painting, and architecture. Much of the content on her profile centers around these things and she loves being able to share her favorite pieces with her followers.
8. She's Undergone Formal Acting Training
As mentioned earlier, trying to go from a model to an actress can be a tough transition. In order for Frida to reach her full potential, she knew that she had to put in lots of hard work. She decided to enroll in theater school in order to sharpen her acting skills. Unfortunately, we weren't able to find any information on the school she attended.
9. She Did Some Of Her Stunts In Vikings: Valhalla
When asked how she felt about doing her own stunts, she told Schon Magazine the experience was "amazing". She also added, "The stunt crew started us with the basics. I got a little knife in the beginning and I put all these dots on my apartment walls, like a fake opponent — if anybody walked by they would have thought I was crazy. Then I got a sword, a shield, a spear and learned how to throw some actual punches. It helps the production knowing that the main cast can perform our own stunts, but, of course, the stunt crew that we have are wildly more talented than we are. If there is something incredibly dangerous, like burning, they're gonna step in and save us."
10. She Is A Positive Person
Life is full of obstacles and that's something Frida knows first hand. Even though she has experienced lots of good times, she's also had to deal with plenty of negative experiences. No matter what she deals with, though, she does her best to keep an optimistic outlook on life.