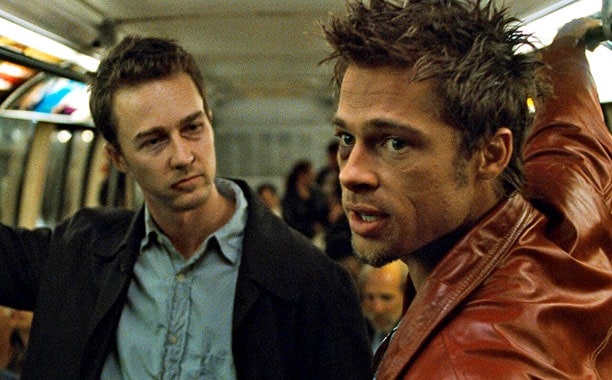 Hollywood heartthrob, Brad Pitt, continues to stay true to his matinee idol status. The actor may soon be entering his senior years already, but he still manages to age like fine wine. Leave it to him to continue serving fashionable looks, while still making us feel giddy like teenage girls with every appearance. It's about time Pitt gives us a Masterclass about growing old gracefully. Here are five swoon-worthy scenes starring the actor:
5. Fight Club
The David Fincher classic was an adaptation of the bestselling novel of the same name by Chuck Palahniuk. It followed an unnamed man, portrayed by Edward Norton (Moonrise Kingdom), who was an insomniac living a mundane and predictable life. Things take on a 180-degree turn when he meets a strange soap salesman, Tyler Durden, portrayed by Pitt, who changes his life in more ways than he could imagine. The duo became partners in crime and went on to form an underground Fight Club, where ordinary men could meet at a bar basement after work and fight each other as a stress reliever. The scene where the Fight Club was in full force was a sight to see. Viewers with a weak stomach for violence could find reprieve in Tyler's ripped and muscular physique that was displayed in all its glory during the fight scenes.
4. Legends of the Fall
The film was a story of family, duty, and unrequited love. It followed the Ludlow family, who was comprised of their patriarch, Colonel William, portrayed by Anthony Hopkins (The Two Popes), and his three sons, Alfred, portrayed by Aidan Quinn (Practical Magic), Samuel, portrayed by Henry Thomas (Doctor Sleep), and Tristan, portrayed by Pitt, whose close-knit relationship was ruined when they all fall for the same woman, Susannah, portrayed by Julia Ormond (Temple Grandin). The scene where Tristan first met Susannah made us feel butterflies in our stomachs. Tristan was captivated by Susannah and was at a loss for words. This made his brothers ridicule him and led to the three of them clowning around. It was one of the more light-hearted scenes in the film that showed the closeness of the family, and gave us the first glimpse of Pitt's rugged handsomeness.
3. Troy
The historical war film chronicled the infamous Trojan War. Pitt portrayed the iconic role of Achilles, the great warrior, who led his army to invade the historical city of Troy. The film felt like a crash course on Greek Mythology that made us understand the elements behind the beginning and end of the decade-long Trojan War. We witnessed Achilles' bravery during the beach battle scene where the Greeks attacked the beach of Troy. It was a gory scene filled with bloodshed and violence, but Pitt certainly stole the show with his skilled moves and tenacity to win the battle. Pitt was the perfect choice to play the role of Achilles, who was proven in history to be more than just a pretty face.
2. Mr. and Mrs. Smith
The controversial romantic action film had Pitt star alongside Angelina Jolie (Eternals), as husband and wife, John and Jane, assassins working for competing agencies, who were assigned to kill each other. This big revelation comprised of the film's main storyline, which was filled with a cat and mouse chase that was both action-packed and romantic at the same time. The scene where the couple danced along to the Tango while confronting each other was sultry and sexy. They were at odds with each other because of their jobs, but their oozing chemistry could still be felt with each dance step. It was not surprising to find out that Pitt and Jolie fell for each other during filming, and became a real-life couple shortly thereafter.
1. Once Upon a Time in Hollywood
It's always a good time when Pitt and critically acclaimed director, Quentin Tarantino, get together. The comedy drama told the story of Rick Dalton, portrayed by Leonardo DiCaprio (The Wolf of Wall Street), a fading actor who was still hoping to get his next big break and his long-time stunt double, Cliff Booth, portrayed by Pitt. The two navigate the evolving film industry and come to terms with reality. The scene where Cliff picked up a female hitchhiker and dropped her off at Spahn Ranch, where he once worked. Aside from reminiscing the good old days, Cliff noticed how the place was occupied by a bunch of hippies, who he suspected was taking advantage of the ranch's owner, George Spahn, portrayed by Bruce Dern (The Hateful Eight). His insistence on checking up on George spites the hippies, which made them hostile and defensive. Cliff showed the hippies how fight scenes are done, as he punched one of them and threatened the others who were out to attack him. Pitt's naturally suave and cool demeanor also fit the role like a glove, giving us another memorable character to look back on.David Fincher