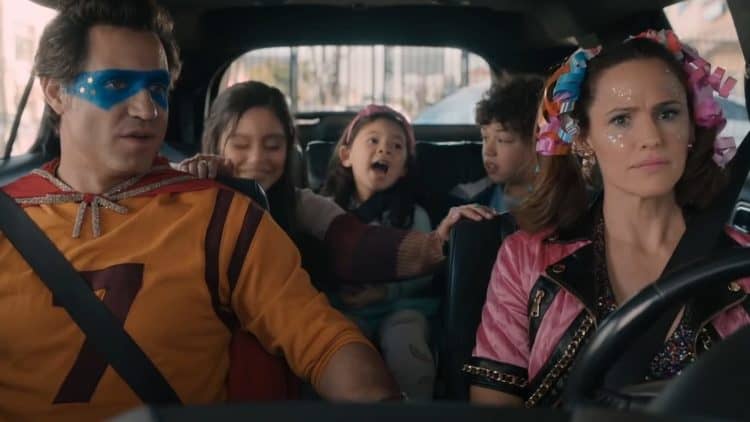 It's almost impossible not to fall for the charm of Jennifer Garner. The Hollywood actress is known for her megawatt smile that goes perfectly well with her bubbly demeanor and versatility as an actress. We've seen her portray a wide variety of roles over the years, and it would be difficult to choose a favorite one. Another thing to love about Garner is the genuineness she exudes. She may be one of the bankable actresses in Hollywood, but she always seems to be grounded and relatable. This might be the very reason why so many people are drawn to her, and can't help but look forward to whatever project she has next. Here are five scenes that prove why Jennifer Garner is America's Sweetheart:
5. 13 Going on 30
The film is easily considered to be one of the most memorable romantic comedies that Garner has starred in. It followed the life of Jenna Rink, portrayed by Garner, a 13-year-old girl who wants nothing more than be part of the popular clique in school. She tries her best to fit in, but ends up getting humiliated. This pushes Jenna to wish that she could fast forward her life and be 30 years old instead. Lo and behold, her wish came true with a little help from some magic dust. The scene where a 30-year-old Jenna was reunited with her childhood friend Matt Flamhaff, portrayed by Mark Ruffalo (The Avengers), felt nostalgic and heartwarming. Matt was a photographer, while Jenna worked for a fashion magazine. The two get the opportunity to work together when Jenna asked Matt to help her with a photoshoot. It felt like the good old days when the two characters enjoyed each other's company immensely.
4. Daredevil
Garner proved that she could be both an action star and leading lady at the same time in the superhero film. Ben Affleck (Gone Girl) played the role of Matt Murdock, a blind lawyer by day and a masked vigilante named Daredevil by night. Garner starred alongside him as his feisty love interest, Elektra Natchios, who is highly trained in martial arts. Matt and Elektra's relationship did not start off smoothly. The scene where Matt was insistent on getting to know Elektra more ended up in a fight scene that felt more romantic than confrontational. Garner impressed us with her action skills, and showed us that she could elevate her girl next door image by being both sultry and sweet.
3. Valentine's Day
The romantic comedy featured an all-star ensemble cast with different storylines that somehow intersected in the end. It was fascinating to witness the different facets of love and how Valentine's Day is celebrated by different types of people. Garner portrayed the role of Julia, an elementary school teacher who falls in love with Dr. Harrison Copeland, portrayed by Patrick Dempsey (Grey's Anatomy), a cardiothoracic surgeon who turned out to be a married man. Being heartbroken on Valentine's Day must be one of the worst feelings ever, and Julia celebrated this with some of her friends who also despised the cheesy commercialized holiday. Julia also found a shoulder to cry on in her best friend, Reed Bennett, portrayed by Ashton Kutcher (No Strings Attached). The scene where the two finally realize that they have developed feelings for each other felt so real and authentic. They reacted the way two old friends would, and made fun of the initial awkwardness of the situation. Garner portrays her romantic comedy characters to a T, and this film is no exception.
2. Miracles from Heaven
Our tear ducts went on overdrive while watching the Christian drama. The film recounted the true story of Anna, portrayed by Kylie Rogers (The Whispers), a young girl who gets miraculously cured of a life-threatening disease. Garner effectively portrayed the character of Christy, the mom of Anna. Garner has remained to be a hands-on mom despite her celebrity status. Her nurturing and motherly side was perfectly depicted in the film, which made the inspiring story even more touching. The scene where Anna innocently asked if why God has not healed her from her disease yet tugged on our heartstrings. Christy was the perfect support system who assured her daughter of God's unconditional love. We could easily imagine Garner being the same loving and caring mother to her children.
1. Yes Day
Another film where Garner took her role as a mom to heart was in this comedy drama, which was about the kids living their wildest dreams by getting their parents to agree to a "Yes Day", or a day where parents are only allowed to say yes to their children's wildest requests. Garner portrayed the role of Torres family matriarch, Allison while Edgar Ramirez (The 355) played the role of her better half, Carlos. The scene where Allison and Carlos have no choice but to give in to their children's whims during a trip to the car wash turned out to be one chaotic and fun adventure. The family ended up drenched and squeaky clean from an unforgettable bonding moment. Garner naturally exudes humor and fun, and this was evident throughout the entire movie that was successful enough to land a sequel.
Tell us what's wrong with this post? How could we improve it? :)
Let us improve this post!