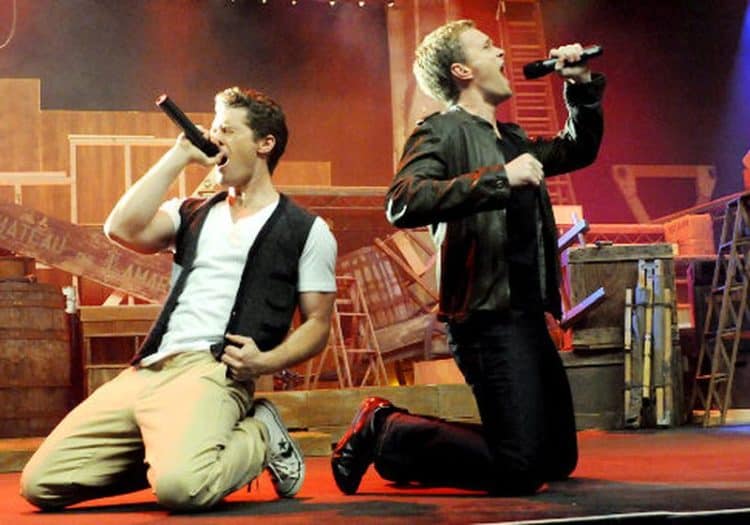 There was a time when songs were covered into show tunes almost weekly, thanks to Fox network's musical comedy drama, Glee. It's mind blowing to discover that the show's cast members have performed over 700 songs during its six-season reign. The series followed the members of the New Directions, the glee club of McKinley High School that was composed of an interesting variety of very different students. There were the misfits, the wallflowers, the school jocks with a hidden penchant for singing, as well as the cheerleaders who acted like the queen bees of the school. The glee club was a place of refuge for these students where they were free to showcase their talents and belt out tunes that expressed their current state of mind. The episodes were made even more colorful by the guest stars that made an impact, one way or another, to the journey of the New Directions. Here are five of the most memorable stars who guested on the series:
5. Gwyneth Paltrow
Who could forget about Holly Holiday? Paltrow portrayed the recurring role of a multilingual substitute teacher whom the New Directions quickly warmed up to and grew smitten with. Paltrow's sultry style and cool vocal pipes gave way to memorable performances, such as the time Holly and the glee club got together to cover CeeLo Green's Forget You. Holly was a fresh face who taught the uptight glee club kids how to let loose and just have fun. Her character was humorous yet insightful, and was a nice addition to the storyline. Paltrow has been known for her diverse portrayals over the years, and Holly was no exception.
4. Kristin Chenoweth
The Broadway legend played the recurring role of April Rhodes, a former student of McKinley High School, and also an ex-schoolmate of the glee club's moderator, Will Schuester, portrayed by Matthew Morrison (What to Expect When You're Expecting). April was a firecracker of a character, with a gripping back story. April was an aspiring singer who dropped out of high school to pursue her dreams of being on Broadway. Unfortunately, these dreams were shattered after she got pregnant with twins. She gave the babies up for adoption with an attempt to get another shot at Broadway, but this turned to moot too. April becomes an alcoholic, who Will encourages to get sober. Chenoweth's powerful cover of Liza Minnelli's Maybe This Time was a testament to Chenoweth's vocal prowess and a treat for all of us Broadway fans.
3. John Stamos
America' favorite Uncle Jessie guest starred on Glee as Carl Howell, a dentist who became a love interest of Emma Pillsbury, portrayed by Jayma Mays (Red Eye), who was Will has romantic feelings for since the earlier seasons of the series. Stamos showcased his musicality in the series by his electrifying version of Whatever Happened to Saturday Night from The Rocky Horror Show. Stamos' short but sweet arrival on the show created tension in Emma and Will's blossoming relationship. Both characters did not stray away much from their comfort zone, so it was entertaining to watch a love triangle form, albeit temporarily. He was a worthy rival, and one that brought spice and flair to the ordinary and mundane life in McKinley High School.
2. Idina Menzel
Another Broadway icon who graced the Glee sound stage was Menzel, who portrayed the controversial role of Shelby Corcoran, a former coach of the New Directions' show choir rivals, the The Troubletones and Vocal Adrenaline. She was also revealed to be the biological mother of one of the show's lead cast members, Rachel Berry, portrayed by Lea Michele (Scream Queens), who was raised by her two gay fathers instead. Menzel performed a number of memorable song numbers in the series, but one of the most heartfelt is the duet she had with Rachel's character wherein they sang the West Side Story original song, Somewhere. This goosebump-inducing performance felt like a mother and daughter reunion that we do not mind witnessing over and over again.
1. Neil Patrick Harris
Harris portrayed the role of Bryan Ryan, a former McKinley High School glee club star and old rival of Will Schuester, whose fall from grace made him a bitter person with a lot of resentment. His reappearance became a threat to the New Directions, as Bryan was out to wreak havoc to the glee club that once played a big role in his life. Bryan set out to cut school funding and get rid of the glee club, who he blames for ruining his life. Bryan and Will rehash their old rivalry, and battled it on the McKinley High School's stage once again with a compelling cover of Aerosmith's Dream On. Bryan's arrival also served as an eye-opener for Will, who realized that he was willing to do everything to protect his glee club from getting disbanded.