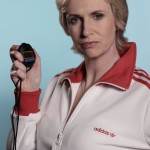 Sue's co-directing the Glee club with Will now, after the drug fiasco from last week. Like divorced parents, they're both fighting for the favor of the kids. It doesn't help that Sue's doing her best to pit the kids against each other. Sue and Will are each directing a separate song for sectionals. Sue handpicks a special "Sue's Kids" of all the minority students (including gay kid and wheels), which turns out to be almost the entire Glee club. She picks "Hate on Me" as their song and advocates Pop 'N' Lock and Mariah Hands. The war begins. Sue steals the piano and sheet music. Will flunks all Sue's non-Glee Cheerios, rendering them academically ineligible. It turns out most of them are illiterate, so it wasn't a stretch. The fight escalates to screaming in the middle of practice. The club is not impressed with the mess Sue's made of the club and storm out. Sue steps down as director, but wants to stay on as consigliere.
Finn/Quinn/Puck/Terri baby drama continues. Quinn gets her sonogram (while wearing her cheerleading uniform) and discovers it's a girl. Finn goes with her, and Will adorably escorts them since Finn was too freaked out to drive. Finn commiserates with Will about having all the worry and none of the control. Will demands that he join Terri at her next doctor's appointment and even schedules her next one with her OB/GYN. Terri and Kendra make a visit to blackmail Dr. Woo. He fakes the sonogram for Terri. Will is so moved by the images of his baby girl and cries. Terri keeps digging herself deeper and deeper.
Meanwhile, Finn wants to name the baby Drizzle. Quinn freaks out because she's not keeping the baby and doesn't want Finn's input in any of the decisions. Also, that's a horrible name. Rachel, in an attempt to keep stories about Quinn's pregnancyand Rachel's love for Finn off his blog, gives a pair of panties to Jacob. She gets Finn's gratitude, which seems to make it worth it, even if it's horribly creepy. Quinn takes notice of the blossoming chemistry between Rachel and Finn and does not approve. It doesn't help that Finn and Rachel are all over each other while they practice their sectionals number day and night. Quinn takes Puck and one of the Cheerios down with her and they run to Sue's team. Quinn threatens her, but Rachel warns Quinn that as soon as Sue finds out about the baby, Glee is all she'll have. That's exactly what happens when Sue finds Rachel's granny panties in Jacob's locker and forces him to spill. Quinn is devastated as the news hits Jacob's blog and Finn holds her sobbing in the hallway.
RobotChickenSlushieWatch: No slushie throwing this evening, but there was a soda toss by Sue. Good news, though, slushies next week!
Your Music for the Evening
"Hate on Me" featuring Mercedes and the rest of the minority crew.
"Ride With Me" mostly-acapella and live as a adorable ensemble impromptu Glee number
"No Air" with Rachel and Quinn shooting sparks at eacho other like the 4th of July. This one is my download of the week.
"Hanging On" as Quinn's frustrated plea to Finn
"Keep Holding On" feat. Rachel and Finn as a plea to Quinn to stick it out after her pregnancy makes the blogosphere