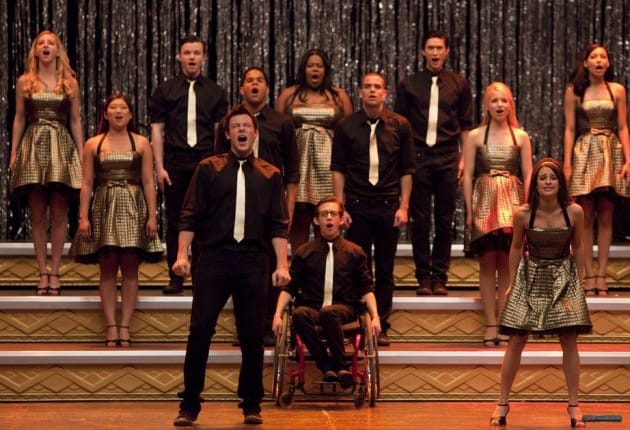 A week from today, Glee will begin its sixth and final season on FOX, airing the first two of its last 13 episodes. It's been a very up-and-down journey for the musical series since it debuted in 2009. When it first premiered, Glee was hailed as one of the best new shows of the year, as critics and viewers fell in love with how fun and different the series was. There truly wasn't anything else like it on TV that first year.
Although Glee has lost that type of critical acclaim (and many, many viewers along with it) throughout its most recent seasons, there's no denying that the show, for a time, was a pop culture phenomenon, and before it starts its swan song next Friday (Jan, 9, at 8 p.m. on FOX), we here at TVOvermind will be taking a look back at the series, its legacy, and its best episodes. These are the best episodes from Glee Season 1. Make sure to check back in next week, when we'll have the best episodes from the second, third, fourth, and fifth seasons as well.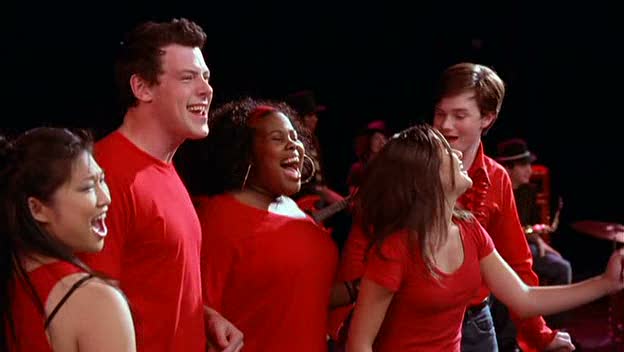 "Pilot"
As far as pilot episodes go, I don't think you get much better than Glee's. The series does a fantastic job of introducing us to all the main characters, from Matthew Morrison's inspiring teacher, Will Schuester, to Cory Monteith's conflicted jock, Finn Hudson, and, of course, Lea Michele's overly ambitious Rachel Berry. We immediately understand that this is a heightened reality that the show exists in (especially anytime Jane Lynch's Sue Sylvester opens her mouth and slings an insult at Will or one of the kids), but the emotion, the desire to be loved, to be "something special," as Rachel puts it, is authentic and palpable. Plus, I still get goosebumps every time "Don't Stop Believin'" starts near the episode's end.

"Preggers"
"Preggers" is an incredibly important episode in Glee's first season, and it's not just because it kicks off the "Quinn is pregnant" storyline, which has complications for her, Terri, Finn, Puck, and Will. No, this was an important episode of the show because it illustrated that Glee could do relationships, specifically ones between parents and their children, incredibly well. One of the best scenes in the entire episode are when Finn comes to Will, crying, not sure of what he's going to do about Quinn's pregnancy, and just crumbles into his teacher's arms. Then later, we're treated to another standout, when Kurt, no longer wanting to lie anymore to his father, Burt, but more importantly, himself, comes out as gay to him. Both scenes were instrumental in constructing these father-son relationships (even if Will is only a surrogate father to Finn) and remain some of the best moments of the series.

"Wheels"
Like "Preggers," "Wheels" isn't as funny or song-filled as some of the other episodes in Glee Season 1 (although it does feature the awesome "Defying Gravity" diva-off between Rachel and Kurt). However, "Wheels" knocks its more serious moments out of the park. Kurt confesses to his dad that he blew his audition in order to save him from the ridicule of having a gay son, because he loves his dad more than he loves being a star. Then we also meet Sue's mentally-challenged sister, Jean, for the first time in a scene that I still makes me tear every time I watch it. "Wheels" is the episode that solidified Kurt as a main character in the series (and made his and Burt's relationship a focal point of the show) and humanized Sue, turning the character from a one-liner delivery machine into someone who actually resembled a real person.

"Sectionals"
Do I even need to explain this choice? "Sectionals" was the culmination of Glee's first 13 episodes (the best string of episodes the show ever produced), and it gave us New Directions coming together as a team to perform in their first competition, Will and Emma's first kiss (the episode-ending "My Life Would Suck Without You" montage is still one of my favorite things Glee has ever done), and Lea Michele's show-stopping performance of "Don't Rain On My Parade." What more could you want?

"Dream On"
When I initially watched "Dream On" back in 2010, I didn't love the episode as much as other people seemed to, but over the years, after re-watching it a few times, I've grown to really admire how well it handles all three of its major storylines involving Artie, Will, and Rachel. There's a type of sweet sadness to the whole episode (and it's reflected in the final musical number, "Dream Little Dream of Me") that can be found in the very best and most poignant moments of Glee, and Neil Patrick Harris's guest-starring turn as Will's old nemesis, Bryan Ryan, is so much fun.

"Journey"
"Journey" may be my favorite episode of Glee, even if it's not the show's best episode overall ("Journey," despite all its highlights, is a very busy episode that may juggle one too many plots and characters). But even if "Journey" feels a little overstuffed at times, it's overstuffed with great moments. Every single emotional scene, from Will's breakdown in the car to Rachel and Finn's exchange of "I love you" to Quinn giving birth to Beth to the tear-filled performance of "To Sir With Love," is pretty spectacular, and the final scene, with the entire glee club together one last time in the choir room, was the perfect way for Glee to cap a manic, messy, but ultimately quite marvelous first season.
Which episodes from Glee's first season do you think are the best? Comment below and let us know.
Photos via FOX