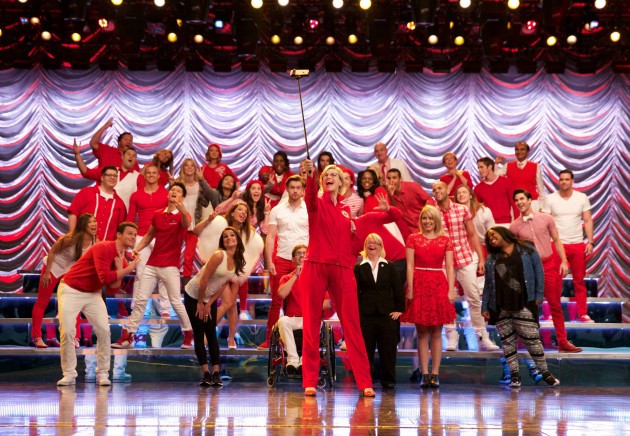 When Glee premiered back in 2009, it immediately became my favorite show on television. At the time, there was absolutely nothing like it on TV, and in a lot ways, there hasn't been anything like it since. While the songs, jokes, and the show's unrelenting energy made Glee must-watch TV, the show's best attribute was its overwhelming sense of acceptance and love. This was a series that didn't just celebrate differences; it encouraged its characters and its audience to be true to themselves, no matter what that meant.
For me personally, Glee was a savior of a show. It debuted when I was 17 years old and a senior in high school, and while my life was filled with great opportunities and loved ones to support me, I still struggled to believe in and accept myself, to find confidence in who I was and who I could be. I had a hard time believing that anyone really cared about me and that I had anything to offer this world, especially as the uncertainty of college approached. But Glee came into my life, and it was filled with a lovable group of underdogs that helped me see that I had value, that I was and could be, as cheesy as it sounds, "something special." Glee was here for me in a way that no one and nothing else was; it lifted my spirits after long, difficult days and gave me something to look forward to every week, an hour in which I didn't have to stress about my worries and could instead cherish the music, characters, and the joy that came across the screen.
Over the course of its six seasons, Glee hasn't always been the show that I fell in love with in 2009. Particularly over the past couple of seasons, there have been quite a few times where I have hardly recognized the series, and throughout its run, Glee has gifted us with some amazing episodes, some awful ones, and a lot that were in between. Still, though, when Glee was its best, there was, in my opinion, nothing better on television over the past six years, and tonight's two-hour series finale was a reminder of just how much of a treasure this series has been, through its high points and its lows.
Tonight's finale, which was, in fact, two episodes, titled "2009" and "Dreams Come True," did a terrific job at honoring Glee's past while also propelling our characters into the future and towards their deserved happy endings. The first hour flash backed to the glee club's origins, showing us Rachel, Kurt, Mercedes, Artie, and Tina before they all became members of New Directions and emphasizing just how invisible all of them felt before they were a part of the group that they would soon call family. Through a mix of voiceovers and past scenes that we had never seen before (Rachel and Kurt's magnificent "Popular" duet, Rachel visiting Mercedes' church, Artie and Tina signing up for glee club because of a dare), we were re-shown just how lost so many of Glee's characters were before Will helped bring them together. Witnessing all these new moments that we didn't know existed (and watching other ones we had seen before through new perspectives) was a fantastic way of reminding us why and how these kids came to love each other so much: through glee club, they found friends, acceptance, and, above all, a home outside of home.
"2009" didn't simply act as a new spin on the "clip show" episode; it better informed our understanding of these people that we thought we already knew so well. We saw how Rachel wasn't simply the diva but also the one who was encouraging others to join the club, wanting to see their talents shine (just as long as they didn't outshine hers, of course). We watched as Kurt and Burt began to form one of the greatest father-son relationships ever on television, as, thanks in large part to an ultimatum from his dad, Kurt was able to find his "team" by joining glee club. And we also experienced Mercedes' worries about not being good enough, and how the words of her mother ("Stars have a way of finding each other") helped incite and encourage her competitive nature, which played a big part in how she eventually achieved her successful musical career.
Best of all, in my opinion, "2009" honored Cory Monteith's presence on Glee and proved just how important Finn was to the club. The scene in which Kurt, Rachel, and the others decide whether or not to vote him out illustrated, yet again, just how kind and good of a person Finn was and why he was the perfect leader for New Directions, and it also reaffirmed how the club is a place of inclusion–a group of love and acceptance in which people believe in one another instead of tearing each other down. And then, if all that wasn't enough, the episode ends with the performance that started it all: "Don't Stop Believin'," which, in that moment, back in the pilot, was what inspired Will to stay and now, in Glee's penultimate episode, serves as a touching reminder about how and why this series captivated so many people.
If "2009" was all about why we fell in love with these characters to begin with, then the second hour of Glee's finale, "Dreams Come True," was about what these characters deserved. The episode opens with Will, supported by Rachel, Kurt, and Blaine, winning the 2015 Nationals with the latest group of New Directions, and it's a victory that jumpstarts a new phase of Will's career, as the superintendent informs him that McKinley High is being turned into an arts school and that he wants Will to be the principal.
After six years of watching Will do his very best to help and inspire every single kid he could, his promotion is incredibly rewarding, not because of the power he holds or the raise he probably gets, but because it provides him with the platform to do even more good. He creates three glee clubs at McKinley (with Sam now serving as coach for the New Directions) and says farewell and thank you to all of his students, new and old, by performing "Teach Your Children," and it's a perfect sendoff to the consistently great (well, most of the time, anyway) teacher that Will was.
But Will's not alone in his happy ending: Mercedes also reveals that she'll be the opening act for Beyonce's world tour; Sue reunites and reconciles with Becky (in a scene that surprisingly made me tear up more than anything else) before, five years later, becoming vice president; and Kurt and Blaine remain happy together in New York, doing their best to be their own versions of Will by preaching acceptance and spreading love to kids in schools (and they do it in "Dreams Come True" through a wonderful cover of "Daydream Believer").
And while everyone's ending is quite satisfying, it was watching Rachel perform "This Time" before (again, five years later) winning Best Actress at the Tony Awards that was the most gratifying for me. As someone who has connected most with the characters of Rachel and Finn throughout Glee's six seasons, seeing her stroll throughout the halls of McKinley, remembering just how important her years there were, before finally achieving her dreams (and giving that wonderful, wonderful speech–I especially loved how she dedicated it to Will) was tremendous, and it brought tears to my eyes.
However, Rachel's speech was the only beginning of my crying (sorry guys, but these emotions are too raw for me to be overly professional at the moment), as the final scene of "Dreams Come True," which took place in 2020, saw Sue bringing together members of New Directions from the past and present, along with Will, Emma, Beiste, Carol, Burt, Figgins, and even Terri, to explain how she now, after all these years, finally understood the importance of what "glee" is and to also dedicate the auditorium in honor of Finn, renaming it the "Finn Hudson Auditorium."
Of course, there needed to be one last musical number left, as everyone from Will to Rachel to Santana to Jake to Karofsky to Becky to Sue to Emma, hopped on stage to sing "I Lived," and even though it wasn't the ending that Glee was supposed to have (most fans know that the original final scene was Rachel returning to the choir room to reunite with Finn, who was now coaching the New Directions), I still loved it all the same. And I loved it because even though it wasn't the ending the show was technically supposed to have, it still represented what that original scene between Rachel and Finn was all about: that hope, acceptance, and love could create something truly magical–that they could create a home.
Thanks for being a home to me for the past six years, Glee, and for helping me to understand, as Rachel so perfectly said, that "Being a part of something special does not make you special. Something is special because you are a part of it." This show was special, and I will miss it.
Other thoughts:
– Artie and Tina are together in the future, and that makes me super-duper happy.
– Loved that we got one more classic "Buttchin" from Sue during her and Will's duet of "The Winner Takes It All."
– Darren Criss wrote "This Time," the final song that Lea Michele sang as Rachel on Glee, and it certainly lived up to all the hype it was getting. Thanks so much to Criss for writing a song that captured everything that I and so many other fans felt about Glee.
– I thought Glee did a fantastic job of honoring Finn and Cory Monteith in this two-hour finale (although I personally wish that Rachel had mentioned him during her Tony speech, but I did love how she looked up at his photo during "This Time"). It was fitting that the final shot of the series had a photo of Cory in it. Finn, along with Rachel, truly was the heart and soul of Glee.
– So many great Will and Emma scenes during this two-hour finale. All of their moments reminded me of why I rooted for them so hard to get together back during Glee's first season. Their love and support for one another inspires each of them to be the best that they can be. Plus, Emma always gives Will the best pep talks.
– Now that Blaine and Kurt are married, Sue calls them "Porcelain and Mrs. Porcelain," and that is beyond perfect.
– Along with her Tony win, it's so wonderful to see Rachel happy with someone in her life, and I'm okay with that someone being Jesse. Also, the fact that she's Kurt and Blaine's surrogate is all kinds of awesome.
– Sam and Mercedes didn't end up together in "Dreams Come True," but due to the mentioning of Sam's constant texting of her, I have hope that they, one day, got back together.
– After having watched the Glee pilot earlier today, "2009" was an even more emotional episode than I thought it was going to be. I'll never forget how I felt six years ago when I watched "Don't Stop Believin'" for the first time. I've never felt so connected to a television show in my entire life. It was, as dramatic as it sounds, life-changing for me.
– I'll probably have some more thoughts on the finale and Glee as a whole that I'll publish sometime next week, but for right now, I just want to say thank you to the cast and crew of the show for giving us such an incredible series, one that was hard to love at times but always worth the rough moments to get to the best ones, which as I said before, were some of the best that any show on TV over the past six years has had to offer. And also, thank you to anyone and everyone who has ever read, shared, or commented on any of my Glee reviews over the past two years. It's been such a pleasure to write about one of my favorite shows of all-time.
– "Glee is about opening yourself up to joy." "See the world not as it is, but as it should be." Don't ever stop believing.
What did you think of Glee's series finale? Did you love it, or did you want more from the show's final episode?
[Photo via FOX]
Tell us what's wrong with this post? How could we improve it? :)
Let us improve this post!