This Friday, Jan. 9, Glee will begin its sixth and final season on FOX, airing the first two of its last 13 episodes. It's been a very up-and-down journey for the musical series since it debuted in 2009, as the show has gone from a commercial (and critical) hit to an afterthought on most viewers' minds. However, even though Glee has lost its wide-ranging appeal in its most recent seasons, there's no denying that the show, for a time at least, was a pop culture phenomenon, and before it starts its swan song on Friday (it will air back-to-back episodes, beginning at 8 p.m. on FOX), we here at TVOvermind will be taking a look back at the series, its legacy, and its greatest episodes. After giving you our top choices for episodes from Glee's first and second seasons, these are the best episodes from Glee Season 3. Make sure to check back in tomorrow and on Thursday, as we'll have the best episodes from the fourth and fifth seasons as well.

"The First Time"
Although Glee has been incredibly unrealistic countless times throughout its run (which is to be expected–it is a musical set in a very heightened high school reality), it has, for the most part, nailed the authentic moments of high school emotion, specifically in regard to romance. That's why it's not surprising that "The First Time," an episode that dealt with the first times that both Finn and Rachel and Kurt and Blaine slept with one another, worked incredibly well. "The Firs Time" explores the temptations and desires of teenagers in a realistic way, while also underscoring the most important factor when you're deciding to be intimate with someone: that you trust them, that you feel safe with them, and that you love them.

"Yes/No"
I know some people don't love this episode as much as I do, but I thought it did a fantastic job of doing what Glee does best: giving us big, cinematic romantic moments. From Sam and Mercedes' "Summer Nights" duet to the girls' performance of "The First Time Ever I Saw Your Face," "Yes/No" is filled with memorable musical numbers. Yet it's not the music that makes the episode so memorable, but the two proposals (and the speeches given with them) from Will to Emma and Finn to Rachel. After two and a half years of watching these couples going through all of their highs and lows, hwow could you not cheer?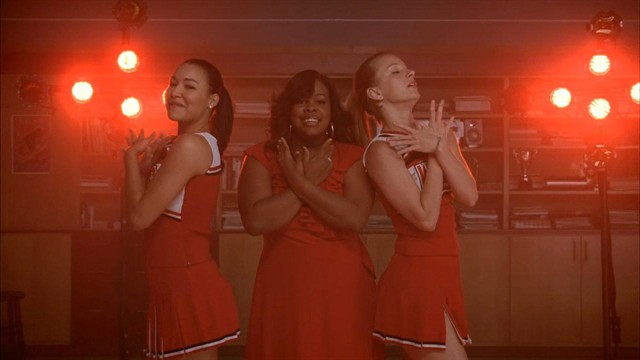 "Saturday Night Glee-ver"
As time went on, Glee's tribute episodes continued to dip in quality (although, as a huge Fleetwood Mac, I'll defend "Rumours" forever). However, that wasn't the case with "Saturday Night Glee-ver," which somehow managed to use songs from the Saturday Night Fever soundtrack to tell three compelling stories about Finn, Santana, and Mercedes as they struggled to decide on what they wanted to do after graduation. For the first time since the Madonna episode back in Season 1, this felt like a tribute episode that structured the songs around the storylines and not the other way around.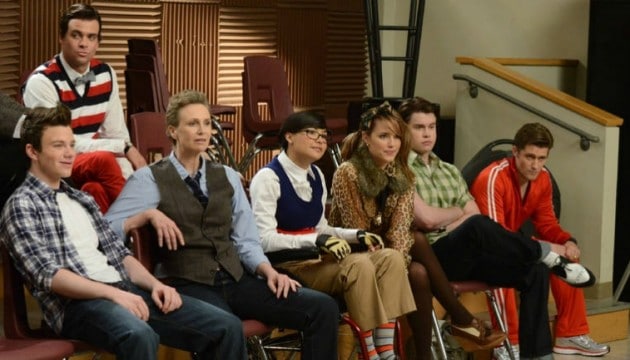 "Props"
Oh man, can we just talk about how fun "Props" is? I could have had an entire episode (or two) of the cast playing different characters in Tina's weird, alternate universe, and I wouldn't have complained. And even when "Props" moves away from its more silly material, it nails the more dramatic parts of the episode, with Coach Beiste mentoring Puck and Rachel convincing Whoopi Goldberg's Carmen Tibideaux to come watch them perform at Nationals.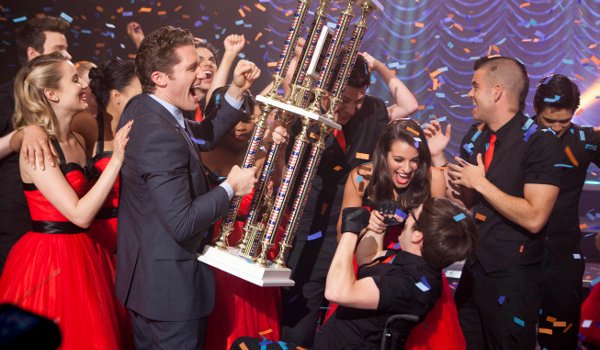 "Nationals"
When it originally aired, "Nationals" was the penultimate episode of Glee's third season, and it immediately followed "Props" as the second installment of a special two-hour block. However, that didn't less the effectiveness of "Nationals," which is a culmination of everything that Glee the show and the glee club itself had been working towards for three years. The New Directions win Nationals, find acceptance and love at school, and honor Mr. Schue as the Teacher of the Year (and screw you naysayers who believe he didn't deserve it). This an emotional triumphant of an episode, and in some ways, part of me wishes Glee had ended right then and there.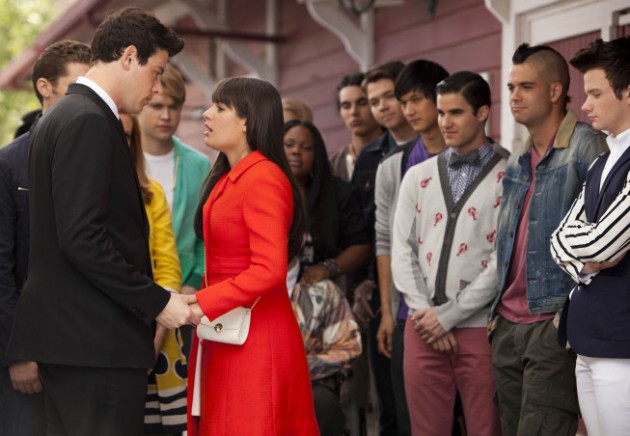 "Goodbye"
But if Glee had ended with "Nationals," then we wouldn't have gotten the wonderful and beautiful season finale that is "Goodbye." Part clip show (as we see Rachel, Artie, and co. performing "Sit Down, You're Rocking the Boat" again, the first number they performed together back in Glee's pilot), part huge leap forward, "Goodbye" is as realistic, sad, and compelling as Glee has ever gotten, especially in those final few scenes with Finn and Rachel. Cory Monteith and Lea Michele do Emmy-worthy work in "Goodbye," and they elevate the episode from greatness to, as Rachel Berry herself would say, "something special."
[Photos via FOX]