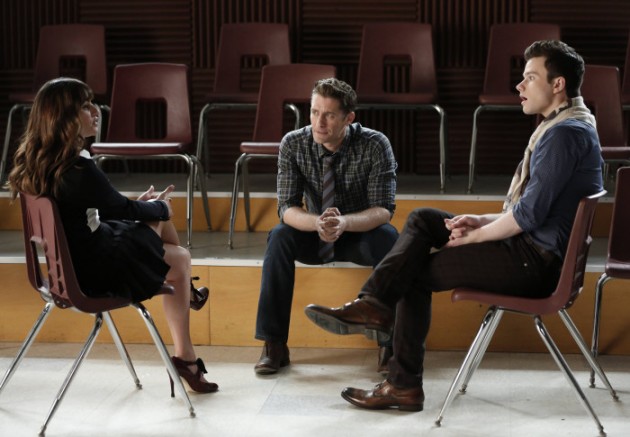 Maybe I'm just a sucker for episodes that have parties in Rachel's basement (ah, "Blame It on the Alcohol"–remember how fun Season 2 was, guys?), but this was probably the most I've enjoyed Glee this final season since the two-hour premiere. Sure, it was a little preachy and that transgender choir at the end was ridiculously, over-the-top big (although I did like how Will explained that he and Unique had been gathering members for it all week), but "Transitioning" struck the nice balance for me of the sweet, honest, and just plain fun Glee I used to love and the weekly PSA delivery system it has become in recent years.
As the title would suggest, this entire episode of Glee was about people transitioning through life, specifically Rachel's transition from childhood to adulthood by leaving her old house, Will's transition from being content with coaching Vocal Adrenaline to realizing that it just wasn't the right place for him, and Coach Sheldon Beiste's transition into a man. For the most part, all three of these stories worked well.
Let's start first with Beiste. If you remember back to my review of "Jagged Little Tapestry," I wasn't a huge fan of Glee's decision to have Beiste transition into a man, and honestly, I'm still not sure if it totally works for me on a character level. However, I'm happy to see Glee giving attention to the transgender community, and even more importantly, I'm happy that we got some insight into Sheldon and what he hopes for in life. Particularly, the conversation between him and Unique in the locker room was fantastic, as we got to hear what Sheldon really wants–to just be one of the guys, to be treated normally, which really stems from what Beiste has always wanted in life: love, acceptance, and inclusion. That exchange between the two of them made Beiste's decision from Episode 3 much more believable to me.
However, what I still can't buy into and believe is the relationship between Sam and Rachel, although I will admit that his speech to her while they were in her bedroom was very well-written (sounded like something Finn would say, so it makes sense that Sam would say it since they're essentially using him as a Finn stand-in during this final season). As I stated in last week's review, Sam just isn't much of a character; he's more of a bunch of different ideas thrown together that Chord Overstreet attempts to act out, as he goes from wildly dumb to incredibly insightful in the matter of one scene, than any type of real person,. Honestly, I think I'd be much happier to see Kurt having these conversations with Rachel, since it feels like the two best friends, who have been inseparable for so many seasons, haven't had a real scene together in weeks.
All in all, though, the glee club's party for Rachel was a lot of fun (I particularly enjoyed Mercedes and Roderick's performance of "All About That Bass"), and the scrapbook of pictures that turned into actual clips from Glee past seasons was a nice touch. They acted as a collection of Glee's greatest hits and a reminder of what has always kept us tuning into this show, even when it was at its worst: the characters.
Finally, Will made the big decision to quit Vocal Adrenaline this week and join Rachel and Kurt's team as an adviser to New Directions, and I'd agree that it was the best call for both him and for the series. There was definitely a story there, about Will reforming Carmel High and making VA into something that was both formidable but also a family; however, the writers made the Vocal Adrenaline characters (particularly Clint, since he was the only one who ever had lines) so incredibly cartoonish and wickedly insufferable that there was no possible way they could be redeemed.
Plus, this is a storyline that has been building organically since the first episode of this season, as we've seen Will continue to butt heads with his students and miss the loving, family-esque aspect of New Directions, so it was nice to see some payoff here. Additionally, Will and Emma's (yes, actual Emma–Jayma Mays was in this episode, not some stand-in like in last week's) scene where she told him that it's even more important to be principled when you have children, because you're setting an example for them, was a great reminder of why these two work so well as a couple–they make each other better and always give one another amazing advice (like back in Season 1–oh how I miss those days).
So was "Transitioning" perfect? Not, not in the slightest, but it made me smile and sucked me in so that I wasn't staring angrily at my computer screen while trying to take notes (something that can be said about Glee's last three episodes). And to be honest, I'm considering any episode in this final season that does that a huge success.
Other thoughts:
– Kurt and Blaine sing a great duet together at Rachel's party, and then reflect on their past. "Baby It's Cold Outside" and Jeremiah, the Gap kid, were brought up–so many Season 2 callbacks tonight–which leads to Blaine kissing Kurt and then breaking up with Karofsky. Of course, though, now that Dave's out of the picture, Harry Hamlin's Walter is an obstacle, because you know, why not just stretch out the wait for the inevitable Kurt/Blaine reunion as long as we can?
– Also, how cool was Dave's reaction to finding out what happened between Blaine and Kurt? Guy's come a long way since he was first introduced on the show.
– That was Gary Grubbs (or as I know him best, Bullit from The O.C.) as the Vocal Adrenaline backer at the beginning of the episode. Always good seeing him on TV.
– No pictures of Finn in Rachel's scrapbook? That's BS, Glee, and you know it.
– I know it was a joke in the episode about how this week's lesson was about Rachel and not about the new kids, but can we seriously have some more time with them in the coming weeks? They were one of the most exciting new aspects about this final season when it first started.
– Next week is Brittany and Santana's wedding, which should be fun, especially with a lot of the originals coming back again. I'm expecting the typical brand of Glee craziness.
What did everyone else think about last night's episode?
[Photo via FOX]