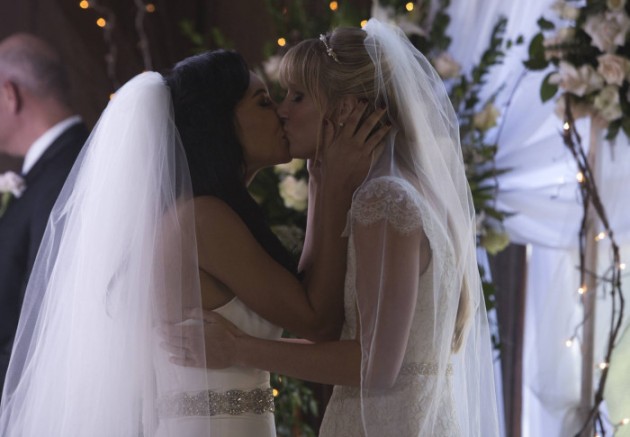 "A Wedding" is pure fan service for Glee viewers that have stuck with the series this long and been fans of either Santana and Brittany and Kurt and Blaine, as both couples end up getting married in a double-wedding officiated by Burt (it's always nice to Mike O'Malley back on this show). However, as the fan service that it is, "A Wedding" still has its some good moments, even if they're not fully earned, and I probably laughed more at this episode than I have at any Season 6 installment so far so that counts for something.
Before I get into what worked in tonight's Glee, let's get the big issue out of the way first: Kurt and Blaine. The pair don't really earn their happy ending as much as their forced into it by Brittany and Sue. All season long, the Glee writers have used Sue and others as the mouthpieces for fans that want to see Kurt and Blaine together (and for the record, I'm all for their romance), but it becomes really insulting to the two characters when you essentially have them pushed into marrying each other, after Kurt has just spontaneously broken up with Walter less than twenty minutes earlier.
Between this episode and "The Hurt Locker" two-parter, the Glee writers have robbed Kurt and Blaine's reconnection of the emotional impact it should have. Everything feels written between the two of them; nothing's organic, which is a shame, because they used to be one the best parts of the show. It's similar to what I've been saying all season regarding Sam and Rachel: there's no problem with the idea of these characters getting together, but the execution of it totally fails, ensuring that everything just feels unnatural and unearned–it's honestly a little disrespectful to the fans that have wanted Kurt and Blaine to get married since they first met back in Season 2.
But aside from that one glaring issue, most of "A Wedding" is fun fluff, with a little substance thrown in. Burt's speech is heartfelt (if a little preachy), and the cross-cutting between the couples exchanging vows works well on both a technical and emotional level. And there's also a whole lot of singing and dancing and Ken Jeong being hilarious (I rated this episode up one more star purely for Jeong's speech and Artie's performance of "Hey Ya").
However, the shining moment of "A Wedding" is in Santana's scene with her abuela, who is brought to the wedding by Sue of all people. It's the most honest and real scene in the entire episode, and it's Glee at its best, when the show is able to put away its politics and self-aware sense of humor and just have its characters act like actual human beings. The series doesn't have Santana or her abuela serve as a mouthpiece for its creators' views; instead, the two of them interact and speak to each other like a real grandmother and granddaughter would, understanding that they may not agree on some things but that they agree on the most important thing: that family comes above all else.
It's in scenes like that, or the one between Artie and Tina near the end of the episode (which treats Tina like an actual character again for the first time in forever, and not just a punchline), that have kept me watching Glee throughout the years, even when the show has been at its worst. Here's hoping we get a lot more moments like them in these final five episodes.
Other thoughts:
– Where was Quinn in this episode? Her absence wasn't even mentioned, which was completely ridiculous. She's always been one of Brittany and Santana's best friends.
– Always great to have Burt and Carole back on Glee. Mike O'Malley and Romy Rosemont are the best.
– Was also nice to have Gloria Estefan and Ivonne Coll back as Santana's mother and grandmother. And Estefan even got a chance to sing!
– Brittany dad's speech was the funniest part of the episode for me, but I literally laugh at anything Ken Jeong does.
– Puck dancing with Blaine's obviously drunk mom was also pretty hilarious, though.
– Harry Shum Jr. was really great in his scenes with Jenna Ushkowitz tonight. I hope this isn't the last we've seen of Mike Chang, but if it was, Shum made sure his character went out on a high note.
What did everyone else think about tonight's episode of Glee?
[Photo via FOX]