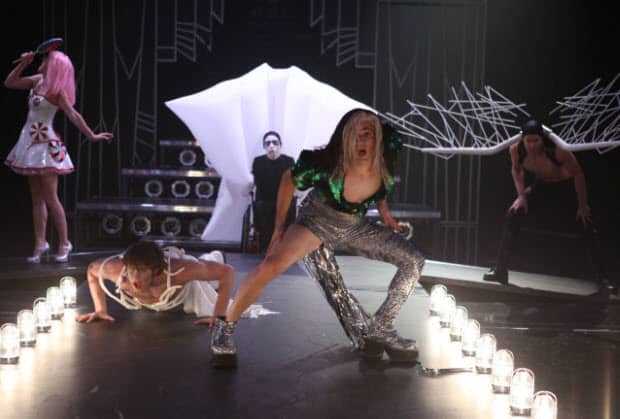 Glee returned from its hiatus last night with an episode as silly its title ("A Katy or A Gaga") would suggest. However, even though I have major issues with several of the storylines from last night (Would Jake really cheat on Marley? Why should I be invested in Sam's pursuit of Penny?), I think the overall poppy, fun-filled vibe of the episode (plus all of the stuff that happened in New York) may have won me over. It's either that or maybe I'm still on a high after Glee's absolutely fantastic and mesmerizing cover of "Wide Awake."
Getting back to the episode as a whole, Glee has really seemed to have found its groove when it comes to the New York side of things. While last season was mostly filled with giving Rachel and Kurt forgettable love interests (Brody and Adam who?) instead of significant, character-building storylines, the series seems to have corrected that in some ways. For example, I love the fact that Rachel is now working hard on a Broadway show, doing her best to be the very best that she can be in Funny Girl. While I would love to see more of her rehearsals and practices for the role (and I expect we will explore this area more in the future, at least I really hope we do), the fact that she has her own plot that does not revolve around a love interest and that does not directly involve Santana and Kurt is great.
Furthermore, Kurt and Santana's stories have also picked up this season. Despite the fact that I gave the biggest eye roll ever when Kurt and Blaine got engaged, the grounding of Kurt's romantic life leaves him open to many storyline avenues, and the one that the Glee writers have chosen (Kurt attempting to gather a band together in New York) is an interesting new option for the series and also provides it an excuse to allow Rachel, Kurt, and Santana to give fantastic performances in their loft all the time while also contributing to their central story arc.
Additionally, Santana's relationship with Demi Levato's Dani is giving her a character a fresh spin as well. Instead of being forced to defend Brittany's stupid antics over and over again, Santana in a more mature, stable, and reciprocal romantic relationship ensures that she can do more with her life (like landing the spot in the commercial or joining Kurt's band) and, simply put, is just a new, good look on Santana as a character.
While Glee seems to be settling in more with its New York storylines, on the Ohio side of things, the series needs to improve quickly. I may be one of the few fans out there that actually feels connected to characters like Marley, Jake, Ryder, and Kitty; however, if these newer, younger characters are not given better material but instead are forced to deal with under developed or out of character storylines, then there is really no hope that the McKinley part of Glee will get any better.
During last night's episode of Glee, one of the two central storylines focused on the issues with Marley and Jake's relationship (he wants to be more physical with her than she is comfortable with), eventually ending with what appears to be Jake cheating on Marley with the insufferable new cheerleader, Bree. I'm completely okay if Glee wants to continue exploring the difficult and always present topic of sex in teenage relationships, specifically between Marley and Jake as characters, but I wish the show did not feel the need to sacrifice Jake's character and make him cheat in order to create unnecessary drama. We've been here before with Quinn and Finn and Rachel and Puck during seasons one and two, and none of these instances left the characters better off than how they were before and always felt out of character for me (well, aside from Quinn cheating because that was kind of a trademark of hers).
Similarly, I'm more than cool if Glee wants to give Sam a new romantic option in Penny, the young school nurse. However, I need the show to develop this plot more and show why the connection between these two is truly palpable if I am to have any interest. Simply having Penny say that she is into Skrillex and Nine Inch Nails near the beginning of the episode only to disregard this information twenty minutes later so that she and Sam can kiss and get together is just not good storytelling.
Glee needs to find a solid creative balance between its two worlds in order for the series to become as fun, quirky, but also emotionally powerful as it once was. While "A Katy or A Gaga" had enough New York awesomeness, solid performances, and sheer insanity for me to enjoy it despite many storytelling missteps, I really hope that at some point during this season that I can watch an episode of Glee and love it for all of the reasons that I used to.
Other thoughts:
– I still can't get over that performance of "Wide Awake" and have listened to it almost ten times since. Bravo, Glee. Bravo.
– I've never been a huge Adam Lambert fan, but I actually did enjoy his performance as Elliott (I refuse to refer to him as Starchild). His acting wasn't too terrible, and his rendition of "Marry the Night" was pretty killer.
– Even though I didn't like or believe that Jake would cheat on Marley with Bree, I did love the moment during the episode ending performance of "Roar" when he broke character and sadly looked at her as she walked into the auditorium. It kind of felt like the Glee of season one for a second there.
– Something else that kind of felt so much like season one of Glee that I couldn't help but smile at it: Sue and Will going back and forth at each other in the choir room. I'm actually kind of excited about it, even if we've seen it a million times before.
– "I don't think he plans that much ahead. I'm pretty sure he makes up these rand-o lessons a split second before he writes them on the board."- Kitty, explaining how the writers came up with the idea for this ridiculous episode.
– "This practice of referring to oneself as a Katy or a Gaga – the glee club will be doing this the entire week?" "It's super annoying, right?" "It is the most annoying thing they've ever done."
What did everyone else think of last night's episode of Glee?
[Photo via Beth Dubber/FOX]