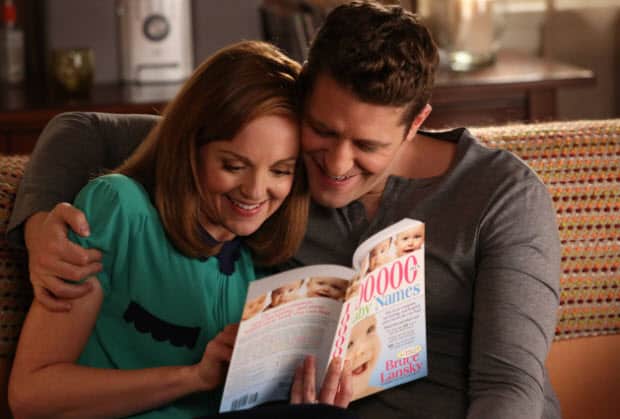 One of my weaknesses when it came to Glee in its early seasons was that I was almost always willing to forgive an episode's faults when it blew me away with a big musical number at the end. That final performance of "Hold On" at the end of "Trio"? Awesome. But everything that came before it? A very mixed bag of great, good, and blah.
Let's start with the "blah" parts first, which were pretty much anything that included Blaine, Tina, and Sam. Unlike last week's awesome "Frenemies," which focused on the past and present friendship of Artie and Tina (and made Tina feel like an actual real person again), "Trio" attempts to get us misty eyed by having the annoying duo of Sam and Blaine, along with Tina in her re-instated caricature form, have a school lock-in and discuss how all the things they do now in high school will be their lasts.
Sam, Blaine, and Tina have all been mainstay characters on Glee for a while, but the reason why none of this lock-in stuff works is because none of the three have had the attention, detail, or focus put on them like the graduating seniors of season three did. Finn, Rachel, Santana, and Kurt, and even characters like Puck, Quinn, and Mercedes, had multiple episodes (heck, pretty much the entire season) dedicated to how they would deal with graduation and where they would end up afterwards. To try and do this for Tina, Blaine, and Sam (also, wait to exclude Artie, Glee) in one hour feels shallow and hollow. It's a half-hearted, last ditch attempt to get us to connect with these characters that have never had as much depth as Glee's main ones, which is exemplified by the trio's ham-fisted rendition of "Don't You Forget About Me," as Glee tries to channel the feelings that so many have for The Breakfast Club into three characters that John Hughes himself would never touch.
While I honestly felt nothing, as Sam, Blaine, and Tina discussed how different things would be after high school and tried to capture the importance of every final moment they spent in McKinley, Santana and Rachel's conversation (before it is interrupted by One Three Hill, the new trio singing group of Kurt, Elliott, and Dani) in which they reflected on high school was nicely handled. You could see some of the ice between the two former friends begin to thaw, even as they traded insults back and forth, and I'm glad that Glee is realistically (at least by its own standards) dealing with this enormous fight by carrying it over multiple episodes. Rachel and Santana are definitely in a better place than where we left them last week (although if we could have more musical performances like "Gloria," I'd encourage Glee to keep these two fighting with each other permanently), but they are still by no means back to being where they were before the big Funny Girl blowout.
Finally, the most pleasant surprise of "Trio" for me was Emma and Will's storyline, as the two of them decided it was time to start a family and try to conceive a baby. For those who do not know, this is likely Jayma May's final appearance on Glee (at least until the series finale), and I think the series treated her and her relationship with Will with respect and care. The couple's performance of "Danny's Song," set to a montage of them spending the night together, was sweet and romantic in a way that Glee hasn't been in a while, and with the show's 100th episode only two weeks away, it was a nice reminder of the show's early (and what many would call best) days, when one of the most important storylines was whether Will would leave Terri and realize that Emma was the one for him.
As the final notes of "Hold On" ended and we were left with the scene of Emma telling Will that she was pregnant, I couldn't help but smile. "Trio" was by no means a great episode of Glee, and it was definitely a disappointment compared to the awesomeness of last week's "Frenemies." However, sometimes life is all about how you finish something, and with "Trio," Glee totally sticks the landing.
Other thoughts:
– MVP of this episode is Kitty. After Unique makes another annoying comment, Kitty turns and asks, "Why does everything you say have to sound like that?" Guys, I think Kitty's my new favorite character.
– Rachel's now living with Elliott, but I'm pretty sure this was just the Glee writers' best excuse to have Lea Michele duet with Adam Lambert. In all fairness, though, "Barracuda" was pretty stellar.
– If this is indeed the last time Jayma Mays is on Glee, I want to thank her for always being such a bright, positive presence on the show. I loved her portrayal of Emma from the series' inception and was happy for any and all moments that we got to spend with her.
– Next week is Nationals in Los Angeles, and Amber Riley, Mike O'Malley, and Rosy Rosemont will all be guest starring. I'm pretty excited.
What did everyone else think of last night's episode of Glee?
[Photo via Mike Yarish/FOX]