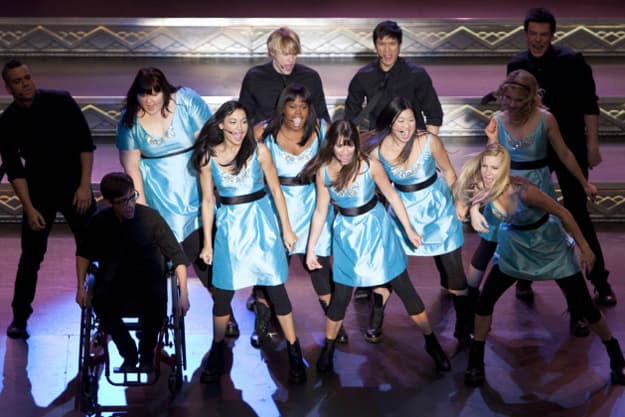 This Friday, Jan. 9, Glee will begin its sixth and final season on FOX, airing the first two of its last 13 episodes. It's been a very up-and-down journey for the musical series since it debuted in 2009, as the show has gone from a commercial (and critical) hit to an afterthought on most viewers' minds. However, even though Glee has lost its wide-ranging appeal in its most recent seasons, there's no denying that the show, for a time at least, was a pop culture phenomenon, and before it starts its swan song on Friday (it will air back-to-back episodes, beginning at 8 p.m. on FOX), we here at TVOvermind will be taking a look back at the series, its legacy, and its greatest episodes. After giving you our top choices for episodes from Glee's first season on Friday, these are the best episodes from Glee Season 2. Make sure to check back in tomorrow and for the rest of this week, as we'll have the best episodes from the third, fourth, and fifth seasons as well.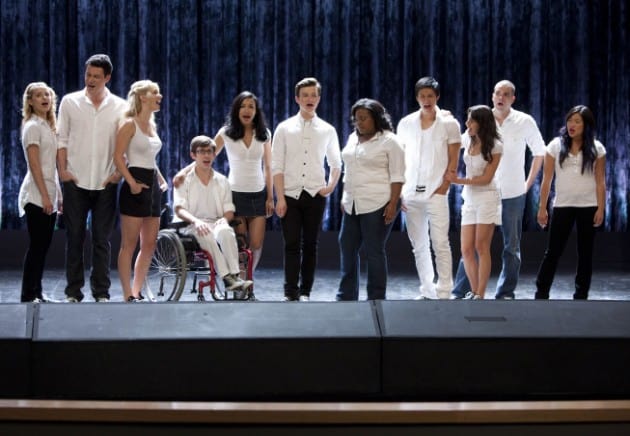 "Grilled Cheesus"
Although "Grilled Cheesus" was one of Glee's "issue episodes," where the show would focus on a specific topic (this time: religion) and explore it through different characters' storylines, this was one of the show's better attempts at tackling a serious subject. Glee was able to provide laughs from Finn's belief in the almighty "Grilled Cheesus," which allowed for the football team to win and for him to get to second base with Rachel. However, the episode was at its best when it was dealing with Kurt and Burt's relationship, as Kurt struggles to find faith in anything when his dad falls into a coma after suffering a severe heart attack. Chris Colfer has never been better than in his performance of "I Want to Hold Your Hand" and, later in the episode, when he tells his father that he doesn't believe in God but he believes in the two of them.

"Duets"
After the heaviness of "Grilled Cheesus," Glee let itself have fun again with "Duets," which gave us some different character combinations (Santana and Mercedes, Quinn and Sam, Brittany and Artie–two of these pairings end up becoming actual couples) and some great, great music (there's really not a bad song in the episode, aside from maybe "Sing," and it's not really supposed to be all that good). Plus, "Duets" kick-starts Rachel and Kurt's friendship with their episode-ending performance of "Happy Days Are Here Again/Get Happy," and it has Rachel and Finn scheming and their hilarious duet of "With You I'm Born Again." How can you not love it?

"A Very Glee Christmas"
When it was first announced that there would be a Christmas episode in Glee Season 2, I remember dreading it, but it actually ended up being one of my favorite episodes of the season. Sure, it's over-the-top (this is Glee we're talking about), especially with Sue as the Grinch and Brittany believing that three different people are Santa (even when Coach Beiste pulls her beard down). But "A Very Glee Christmas" is also the quintessential Glee episode; it's packed with romance, optimism, and even a little sadness, all the things the show has handled pretty well throughout its run. Not to mention, it gives us one of the best Finn and Rachel duets in the show's history, with the two of them singing "Last Christmas" together as they shop for a new Christmas tree.

"Silly Love Songs"
From Christmas to Valentine's Day, "Silly Love Songs" is another great example of what Glee can do when it gets to move away from"theme of the week" or artist tribute episodes and gets to focus on the relationships between its characters, and there's no relationships that Glee has more fun dealing with than romantic ones (hence why a Valentine's Day episode is so good). "Silly Love Songs" provides some nice movement for many of the show's romances: Finn and Quinn kiss again, Finn and Rachel have their nurse's office conversation (which leads to the best performance of the episode, "Firework"), Kurt pretty much lays out his feelings for Blaine, and Puck and Lauren grow closer. Also, Santana gets to cause chaos by giving Finn mono, and Naya Rivera is just excellent (as she always is) for the whole episode.

"Original Song"
Let me admit something right now: Rachel Berry has been and continues to be my favorite character on Glee. I not only find Lea Michele to be a stellar actress with an amazing singing voice, but I also truly think that Rachel is the most compelling character on the series, as all she wants, on a most basic level, is to be loved and accepted. How can anyone not relate to that? "Original Song" puts that desire of Rachel's into focus here, as she performs her own song, "Get It Right," at Regionals and encourages the rest of the group into writing the follow-up number, "Loser Like Me." When Rachel's given the MVP statue at the end "Original Song," it doesn't just feel earned for everything she's done in the episode but for everything we've seen her go through during the show's run up until to that point. It's one of my all-time favorite moments from the series, and Lea Michele acts the heck out it. Also, Kurt and Blaine kiss and become a couple, which was, and still is, pretty awesome.

"New York"
There are parts of "New York" that feel a little rushed, specifically Quinn's emotional therapy via a haircut and Will's decision to dash his dreams of Broadway stardom. However, the episode stands out as one of Season 2's best because of what it does so well: allowing the members of the glee club a chance to live out their dreams, before quickly and quietly crushing them. From Kurt and Rachel's performance of "For Good" to Finn and Rachel's dream date, everything in the first half of "New York" feels like a "too good to be true" movie before the reality of everyone's situations (the glee club doesn't crack the top ten list, graduation is next year, etc.) smacks them over the head. Plus, what can I say? I'm a huge fan of "Pretending," and the Superman kiss (that came with its own cape), and of Finn and Rachel's library conversation ("Was it worth it for you?" "Yeah). When a Glee episode has that many standout moments, for me, it has to be one of the show's best.
Photos via FOX