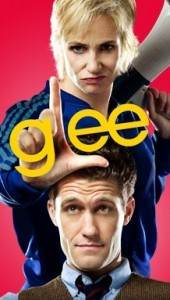 I cannot stop watching Glee, the new show by the creator of Nip/Tuck (Ryan Murphy). It's simply infectious. The show is essentially about the popularity hierarchy of high school, but with a rocking soundtrack.
Will Schuester (played by Broadway veteran Matthew Morrison) is a Spanish teacher who takes over the Glee club from a disgraced and fired teacher. His wife, Terri (played by the surprisingly hilarious Jessalyn Gilsig) is a spoiled, materialistic, craft-addicted part-time saleslady.
Jane Lynch plays Sue Sylvester, the head coach of the cheerleaders (aka 'Cheerios'). She's over-dramatic, pushy and absolutely hysterical (sample line during cheerleader practice: You think this is hard? Try being water-boarded. THAT'S hard). Sue is haughty on account of the fact that her cheerleaders have appeared on Fox sports, which also means the principal is willing to bend over backwards for her and her squad. Of course, she clashes with Will over the social positioning of the Glee club (according to her, they have none).
Emma Pillsbury (played by Jayma Mays) is the adorable and sweet, though germaphobic, guidance counselor, who harbors a secret crush on the married Will. She agrees to help him chaperone the Glee club activities and, at the end of the pilot episode when Will tries to quit being a teacher, she makes him realize his real passion for music and the club.
The student members of the Glee club are, predictably, social misfits. But they're all equally endearing and talented, so it doesn't really matter if it's formulaic. Lea Michele (also a Broadway veteran) plays Rachel Berry, a neurotic Tracy Flick character (from the movie Election) who is spoiled by her two gay fathers. She's also incredibly talented and a very good singer.
Then you've got Kurt Hummel (Chris Colfer), the gay singer who is into Marc Jacobs and designer clothes, Arty Abrams (Kevin McHale), who is a small wheelchair-bound kid who gets picked on a lot, Tina Cohen-Chang (Jenna Ushkowitz) and Mercedes Jones (Amber Riley), who likens herself to Beyonce, but actually has a Jennifer Hudson-type voice, which is certainly nothing to be ashamed of. Together, these kids sing really well, but Will is aware of the fact that Rachel needs a strong male lead in the club.
Enter Finn Hudson (Cory Monteith), the star quarterback and all-around popular kid, who also happens to be a closet singer. Will blackmails him into joining the club and Rachel, of course, takes an instant liking to him. Naturally, Finn is dating the head cheerleader Quinn Fabray (Dianna Agron), who also happens to be celibate but incredibly mean-spirited. I'm going to assume that Rachel and Finn bond over their love of music and Quinn is not going to be very happy about this.
Fox chose to air the pilot episode of Glee in May, after an episode of American Idol. The show is then on hiatus until September 16. It's a risky move, but in my case it paid off. I love this show. There's several big musical numbers in the first episode alone, include a choral version of Amy Winehouse's 'Rehab', sung by an amazing choir that's a direct competitor of our beloved Glee club.
Other numbers include 'You're the One that I Want'from Grease, 'On My Own'from Les Miserables and, less predictably, a choral version of 'Don't Stop Believin"by Journey. Les Mis AND Journey in one episode? It's like the show can't fail!
I simply adore this show. I'm a huge fan of musical theater, so I can imagine that those who aren't might not like it very much. But the show is also hilarious and touching and makes people remember exactly why they hated cliques in high school. I personally cannot wait until the show returns in the Fall. In fact, I'm going to go watch the pilot again (for the tenth time) right now.
Glee returns to Fox on September 16, 2009. You can catch the pilot episode on the Fox.com website all summer long.