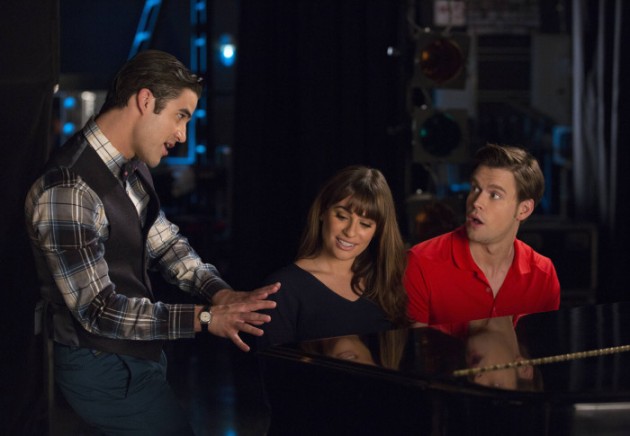 By the time the first commercial break of "The Hurt Locker, Part One" hit, I knew we were in store for an awful episode of Glee. Maybe I got a little too optimistic after the quality resurgence in the first two weeks of this final season?
"The Hurt Locker, Part One" is written by Glee co-creator Ian Brennan, who, early in the show's run, produced some of the series quirkiest and funniest episodes. Throughout the past couple seasons, though, Brennan's installments of Glee have gotten only more and more ridiculous, somehow reaching new absurd of levels in the consistently absurd reality that Glee's characters exist in.
Even worse than all the crazy, however, is just how emotionless everything in "The Hurt Locker, Part One" is, from Sue's sudden passionate devotion to Kurt and Blaine's relationship to Sam's hypnotized seduction of Rachel (words I never thought I would type in my life). It's a random, disjointed hour in which things just happen not due to any sense of character or story but because the writers want Sue's stupid, over-the-top plan to work and for Jane Lynch to have the opportunity to give insult-filled monologue after insult-filled monologue. It's Glee at its most snarky and soulless, and it all gets old incredibly quickly.
I understand that most of Sue's rambling tirades are Glee poking fun at itself and all the ridiculous storylines and forgettable characters that have come and gone throughout the series run. I will admit to laughing when she brought up essentially non-existent glee club members like Matt, Joe, and Rory and at her line about how Will "tears up faster than a gay jihadi in sandstorm." But being self-aware and having a good sense of humor about your show's past does not equate to good television and does not excuse you from wasting an entire episode that ignores everything we know about the show's characters and gives us useless, unnecessary plot after useless, unnecessary plot.
Take Rachel and Sam's "romance" (if we can even call it that). Sue somehow hypnotizes Sam, because the writers, over the past couple of seasons, have decided to make him the new Brittany, AKA the show's most brainless character, and gets him to not only seduce Rachel but also cause a rift between her and Will. If Rachel and Sam had actually been given proper build-up and if Glee's writers had actually showed some sort of thought and care about Rachel's feelings in this situation (would Sue, as psychotic as she is, really be cruel enough to try to break Rachel's heart after everything she went through with Finn?), I still wouldn't care for this storyline, as it appears that the series is trying to essentially make Sam into Finn 2.0, but at least it wouldn't leave as bad of a taste in my mouth as it does right now.
Similarly, the writers are selling Will's character, and his relationship with Rachel, short by making him believe Sam's claims without even giving Rachel a call to see what actually happened. As competitive and ambitious as Rachel is, would Will, who I would argue knows her better than anyone on the show at this point, really think that she was capable of doing this? I don't buy that for one second.
And then there's everything that's going on between Kurt, Blaine, and Karofsky, which still doesn't feel natural or earned. This week Sue's the puppeteer pulling the strings, as she unleashes a bear cub into Blaine and Karofsky's apartment and ensures that all of Karofsky's exes show up at the couple's date at Breadstix, all in attempt to help Kurt and Blaine get back together. Still, even, if Sue wasn't the one orchestrating the events, there would still be a genuineness lacking in this whole plot, as Karofsky has transformed from the actual character he was in Glee's second and third seasons into merely a roadblock in Kurt and Blaine's eventual reunion.
Even though Glee is not what it used to be in its early years, "The Hurt Locker, Part One" is still a very disappointing hour for the series, one that doesn't even give us any good music aside from Rachel and Sam's duet of Vanessa Carlton's "A Thousand Miles." Here's hoping next week's "Part Two" can repair some of the creative damage inflected in tonight's episode, although I have to admit that any and all of my optimism about Glee and this final season is quickly starting to disappear.
What did everyone else think of tonight's episode of Glee?
[Photo via FOX]