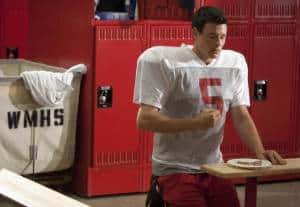 This week's Glee presented a theme that is often very polemic and overly argued about. Religion is always a touchy subject, especially when there's so much prejudice and religious intolerance in the world. However, 'Grilled Cheesus'pleasantly surprised me, giving everyone a chance to speak up for their beliefs and at the same time respecting every religion presented.
By the end of the episode, I was crying like a baby, but not because of the religious theme. Kurt's storyline hit a little too close to home as I was in his shoes just a couple of months ago and I know exactly what he was going through. Kudos to Chris Colfer, who did an amazing job through the entire episode and really pulled at my heartstrings with his rendition of 'I want to hold your hand'by The Beatles.
What prompted the Glee Club into discussing religion and spirituality was that Finn found an image of Jesus on his grilled cheese sandwich, which he immediately understood as divine intervention in his life. When he told the club that he was feeling very religious lately, a discussion about everyone's beliefs issued.
Finn starts praying for his beloved Grilled Cheesus and everything he asks for starts to happen, to the point that he starts to think that the sandwich has real powers. One of the graces he received was that he gets his position as quarterback back, when Sam gets hurt during the game because of something Finn suggested he should do. He freaks out and goes to Emma to talk about the powers of Grilled Cheesus, but she reasons with him that nothing that happened to him had any divine intervention and he finally comes to sense, performing 'Losing my Religion'by R.E.M.
The other subplot of the episode was that Kurt's dad had a heart attack and fell into a coma. Kurt is heartbroken, but doesn't want anyone praying for his father because he doesn't believe in God and thinks they're just wasting their time. Throughout the episode, we see Kurt struggling to accept his friends'help and comfort, simply because he doesn't believe in anything. Mercedes eventually helps him understand that no matter what people believe in, they're really just trying to help a friend in need and that's what is truly important.
Songs performed in 'Grilled Cheesus':
Bridge Over Troubled Water by Simon & Garfunkel
I Look To You by Whitney Houston
I Want To Hold Your Hand by The Beatles
One Of Us by Joan Osbourne
Only The Good Die Young by Billy Joel
Papa Can You Hear Me by Yentl
Overall, this episode gets a B+.