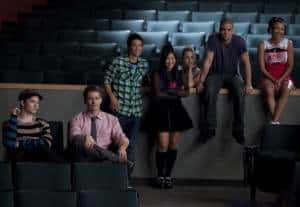 Season 2 of Glee premieres on September 21, but today I was a very lucky girl and got an opportunity to watch the premiere episode early (don't hate me!). The real question is whether the second season measures up to the expectations set by the first season of Fox's new hit show.
The answer is yes…and no. But primarily yes. The premiere episode isn't as memorable as the Madonna episode, but it gets the season going in a humorous manner. We're thrust right back into a new year at McKinley High, with new relationships, characters and routines. I'm going to do my best not to give outright spoilers here, but let me wet your appetites for more.
Introducing…Season 2!

The first four minutes of the new season are flat-out hilarious. We're brought up to speed on what happened over the summer – Quinn's recovery from the baby drama, Rachel and Finn's new relationship, Brittany's summer escapades – in a manner that you'll want to see as the opening recap for every new episode. Like with the previous season, the ultimate goal – Nationals this time – is set up from moment one. The team will eventually head to New York to complete with other glee clubs and try to take the title this year.
White Boys CAN Rap?
The location of Nationals is the cue for a rousing outdoor performance of 'Empire State of Mind', proving that the gang's still got it. Arnie, Finn and Puck rap their way through the song as Mercedes lends her soulful voice to the chorus and you can see a promo for the new season here with shots of the performance. The New Directions dance routines, which grew in frequency and complexity over the first season, are just getting better.
New Kids on the Block
One background character is gone. 'Transferred'Will announces to the group, which is the reason the club needs to recruit. Enter our three new recurring characters for season 2. The first is the new football coach, Coach Beiste, who's presence leads to the cutting of Will and Sue's respective budgets, prompting them to team in a match that you'll both love and hate at the same time. Jane Lynch, fresh off her recent and well-deserved Emmy win, is back in true Sue Sylvester fashion – sarcastic, hilarious and nasty. I'm not sure whether we'll see Coach Tanaka again and while I like Beiste, I hope we do.
Our two new singers are Charice (playing Sunshine) and Chord Overstreet (playing Sam). Charice's voice is a sensation. I'm not going to comment too much on her acting ability because she doesn't do a lot this episode (preferring to grace us with a few fabulous performances), but that girl has a set of pipes on her. Naturally, self-centered star in the making Rachel is threatened. Chord, meanwhile, is sporting a Justin Beiber hairdo and is recruited by Finn, who wants to take the newest McKinley student under his wing and bring him into glee club.
Noticeably absent in the premiere are Emma and Terri, but judging by the recent promos, I suspect we'll be seeing them soon enough.

Singing and Dancing and Storylines…Oh My!
The episode isn't overwhelmed with musical numbers and I'm fairly certain I heard they're not giong to be doing as many per episode this year as they did last year. This is OK, because it gives the plot a chance to grow, as it often took a back seat last year. The appearance of these new characters and the new relationships among certain group members will give us an opportunity to get deeper storylines that don't focus on fake pregnancies.
All I can ask is for more Santana and Brittany. Because their appearances and lines during this episode were as memorable and awesome as always. Rumor has it episode 2.02 will feature more Brittany – as well as Britney Spears!
The Bottom Line
While the season 2 premiere isn't necessarily up there in the top 5 episodes ever of Glee, it IS a fun, fresh and fantastic way to start off a new season of one of my favorite shows. And keep an eye out for the first meeting between Lea Michele and Charice – when the two of them battle with song it's an impressive (and funny) sight to see. A.
Glee season 2 premieres on Fox on September 21.
Email me: clarissa @ tvovermind.com