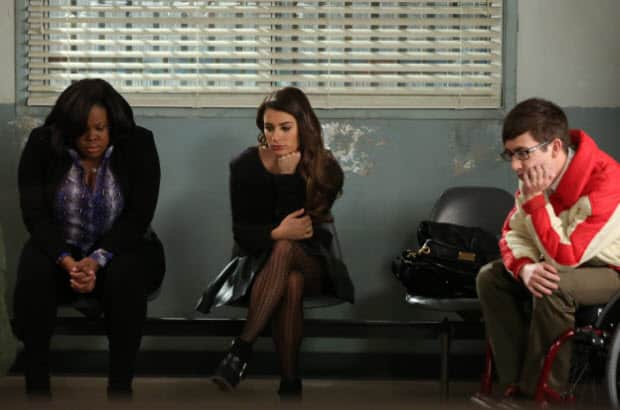 The central theme of last night's episode of Glee, "Bash," the second New York-centric entry in this new model for the series, was all about making the hard choices in life and taking risks. Whether these decisions are relationship-based (see Mercedes and Sam getting together), career-based (Rachel choosing to drop out of NYADA), or selfless, instinctual acts of bravery (Kurt coming to the rescue of a fellow gay man who being beaten by a group of guys only to wind up in the hospital himself), they appear to hold a lot more weight than anything inside the choir room ever did. The actions taken by characters in the past on Glee could always be wiped away by a big group number at episode's end or by an inspiring speech from Will. Here, in New York, however, Rachel, Kurt, and company are alone to face the real world (or at least Glee's interpretation of it) by themselves, and as "Bash" continues to reinforce, these adult decisions will have adult consequences, whether they are good or bad.
This new outlook for Glee holds some real promise if the series sticks to its guns. Even though I've loved seeing Rachel succeed with Funny Girl (full disclosure: she's my favorite character on the show), I really would like to see how she deals with the fallout if the show doesn't do as well as she had hoped. With NYADA no longer there as a place that can provide her with an education, a place that can help ground her, where would Rachel go if her Broadway dreams were dashed and she was left with nothing because of her brash, erratic choices? In a way, by doing this, Glee could reestablish Rachel's underdog status, but instead of it being about boyfriends and solos, like it was in high school, the stakes are suddenly much higher.
Even though Rachel's decision may have the greatest impact in the future, Glee makes sure that Kurt's choice to come to the aid of the victim of yet another hate crime (which is, at the very least, partially instigated by Rachel and his fight, where she claims that he never takes any risks) is felt immediately. Kurt ends up in the hospital with pretty sevee injuries, and although he's back out in the world, performing at his NYADA mid-winter critique, by episode's end, it's the emotional scars that are left upon him, his friends, and the always perfect Burt that hold this storyline together. The montage of reaction shots from the rest of the characters hearing about Kurt (which is perfectly shot with obstructed views of their faces) and Kurt's conversation with Burt are what truly sell what could have been yet another PSA, "after school special" story. However, the camerawork, performances, and sheer honesty of the writing ensure that this is a story about Kurt's journey as much as it is a glimpse into the sad reality of the uptick in hate crimes against gay individuals in New York.
Finally, on a somewhat lighter note, Mercedes and Sam's decision to get together happens both too quickly but also just at the right time. Part of me would have loved to see the Glee writers drag the tension between the two of them out more, while also rebuilding the relationship that they used to possess, since it's been more than a season since we've really seen them interacting and felt that spark. However, I was happy to see that Glee gave the two of them a legitimate reason to question their relationship, basing in it in the fear of how Mercedes's potential fans would react to her dating a white guy. While I'm not 100% sure that this concern is something that's a main focus in the real world music industry, it was smart of Glee to pit Mercedes's feelings for Sam up against something she values just as much (her career), instead of falling into the trap of convoluted and manufactured drama.
Overall, "Bash" was a pretty solid second chapter to this new, New York-based version of Glee. The series is still trying to find its footing and still needs to better establish the supporting characters (can we please give Artie some more screen time and a real storyline, please?). However, minor complaints aside, "Bash" was a more confident, assured version of Glee than we saw last week, and that's a definitely a step in the right direction.
Other thoughts:
– I really dug all of the music in the episode but was especially a fan of the original song, "Colour Blind," that Mercedes sang and of Rachel and Blaine's "Broadway Baby" duet.
– Seeing Burt Hummel again and getting another Burt and Kurt scene after what has felt like ages was a real treat. Mike O'Malley, as always, was pure perfection, as he conveyed Burt's mix of anger, fear, and pride with the simplest movement of his mouth or look in his eyes. Not to mention, O'Malley always brings out Chris Colfer's acting A-game.
– That whole scene when Sam met Mercedes recording friends was pretty cringe-worthy and not in the funny way. However, I think Sam's absolutely fantastic and terrifically awkward Matthew McConaughey, Wolf of Wall Street chest bumping may have saved the whole thing for me.
What did everyone else think of last night's episode of Glee?
[Photo via Mike Yarish/FOX]