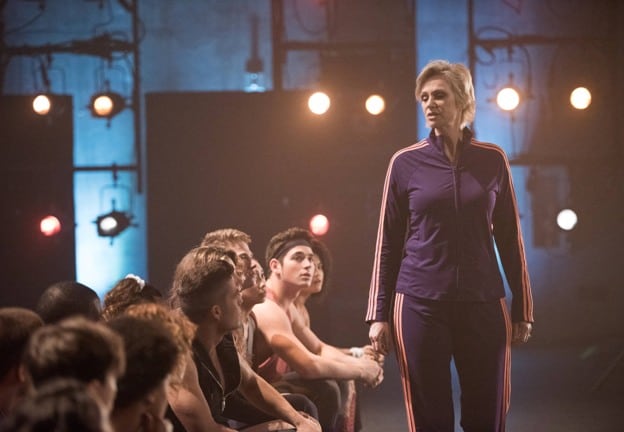 Back during Glee's first season (particularly in its initial 13-episode run), Sue Sylvester was, undeniably, the show's MVP. Critics praised Jane Lynch's performance, which would win her an Emmy later that year, and fans would endlessly quote Sue, who would deliver memorable line after memorable line each episode, making you laugh no matter how cruel or nasty she was being.
However, in later seasons (including this final one), Sue has become one Glee's greatest weaknesses, as the show's writers have continued to push the character, who was already pretty cartoonish when she debuted, to new nonsensical and absurd caricature-like levels. While Lynch is still a lot of fun to watch (no one quite delivers an insult-filled monologue like her, not even Naya Rivera), her performance hasn't been able to elevate the very lackluster material she's been given throughout Glee's fourth, fifth, and now sixth seasons.
For a while, it looked like tonight's episode, "The Rise and Fall of Sue Sylvester," was going to be Glee's great attempt to repair the character of Sue, to try to humanize her (again), or make her at least somewhat more grounded for the show's final three episodes. That may have been an impossible feat, but we'll never know if it could have been done or not because the episode abandons any efforts to do something interesting with Sue's character halfway through the hour, when Sue leaves her interview with Geraldo Riveera (via punching him the face, of course), has a rushed reunion with her mother (Carol Burnett), and then proceeds to immediately become the coach of Vocal Adrenaline after one musical montage.
And even though Sue's final destination is perfectly fine (her as the coach of Vocal Adrenaline makes perfect sense with her type of attitude and teaching methods and is something that I wish Glee had tried in earlier seasons, or at least earlier in this final season so it didn't feel so rushed), it's her journey to getting there that's ultimately a drag. What should be a showcase episode for Jane Lynch's talents and for the character that, at one point in time, was a cultural icon instead feels like another half-hearted effort from Glee, with the series just going through the motions yet again. Even Will and Sue's outrageously weird (those wigs, man) but tremendously fun (Brad returned to play the organ!) duet of Europe's "The Final Countdown" can't save it–a larger-than-life character like Sue Sylvester is spotlighted in a lackluster episode that fails to show the important developments, like why Becky has suddenly turned on Sue, and only tells us these things.
Sue's storyline isn't the only one in "The Rise and Fall of Sue Sylvester" that's missing its core, though. Rachel's difficult decision between NYADA and Broadway loses a lot of dramatic weight since we neither see her meeting with Carmen Tibideaux nor hear the pair's phone call; instead we're told what Carmen says and does (I know this was probably just due to Whoopi Goldberg's availability to shoot scenes, but the point remains the same), and while Lea Michele does a heck of a job at selling Rachel's inner conflict, the story lacks spark (not to mention any type of resolution, although I'm sure we'll see more developments in these final three episodes).
Completing the trifecta of missing scenes in tonight's Glee is the lack of any footage showing Dalton Academy burning down, which we are again told about happening and then told (not shown) by the Warblers how much their school means to them. My issue isn't with the convenience of the storyline (which Glee acknowledges and mocks, using Sue as the writers' mouthpiece again), but that it's mostly focused on what the Warblers and what they want instead of Jane, who decided to leave Dalton because of the Warblers' sexist attitudes and has every right not feel comfortable performing with them. This was a real chance for Glee to dig into Jane's character more and provide Samantha Marie Ware with a chance to show off her acting chops (we know the girl can sing–my God, what a voice), but all we're given is another contrived way for the glee club to have twelve members so that they're eligible to perform at Sectionals.
My complaints aside, I still had fun watching tonight's episode. Geraldo's whole interview with Sue (which not only featured the appearance of Michael Bolton but also the reappearances of Rod and Andrea) was absurd and goofy fun. Plus, it's really good to see Glee focus again on Rachel and her goals to return to New York, which haven't been explored much in recent episodes.
Still, though, while "The Rise and Fall of Sue Sylvester" certainly had its moments, I still want (and hope for) more from Glee in its final hours, as what's missing more than ever from the series, more than coherent plots or genuine character development, is the heart that the show has always displayed, even in some of its worst installments. Here's hoping Glee can somehow find that heart for its final three episodes.
Other thoughts:
– The opening and closing performances tonight were fantastic. I'm a sucker for "Rather Be" (I seriously have an unhealthy amount of love for that song), and while there certainly wasn't proper build-up for the type of emotional moment the writers were trying for with the episode-ending rendition of "Rise" (an original song written by Glee star Darren Criss), everyone's voices still sounded really good.
– Kitty continues to be my favorite thing about this season, as she tells her fellow glee club members that there's a good chance they might not be rehearsing today as soon as Will and Sue being to squabble and then has the perfect response to a Warbler later in the episode. "Women love these," he says, talking about the Warbler blazers. "Do they?" Kitty asks him. More of Becca Tobin on TV, please.
– My one issue with Sue being the coach of Vocal Adrenaline (aside from the rush development of the storyline): Glee did the same exact thing with her back in Season 2 when she became the director for Aural Intensity.
– Jesse is returning next week. I'm all for more Jonathan Groff on my TV, so I'm pretty excited.
What did everyone else think about tonight's episode of Glee?
[Photo via FOX]