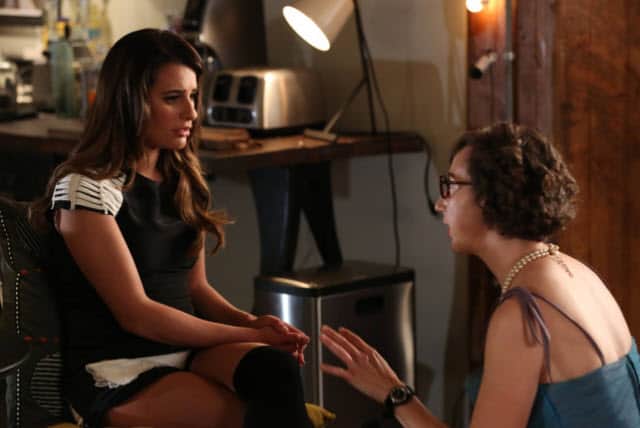 It's really sad to put it this way, but this season of Glee was pretty much doomed from the start. Cory Monteith's passing holds so much more importance than simply the loss of Finn on Glee. However, there's no denying that without having Finn this year, the other core component of the series' heart along with Rachel, Glee lost whatever little bit of magic it had left. More specifically, it lost that underdog quality that we all loved about it from the show's pilot–that powerful message of dedication, struggle, and resolve.
Without Finn's storyline (as he was the one character that the Glee writers had apparently no qualms about saying "no" to), Glee never regained its center and never showed us the struggle, all the ups and downs, of how one achieves their dreams. Instead, the show's writers handed out successes like they were candy at Halloween: Mercedes gets a nationwide tour, Sam becomes a model, Blaine gains notoriety and fame from a wealthy New York socialite, and Rachel ends up with a TV pilot based on her life, even though she's barely been starring in Funny Girl for two months.
While no one should want these characters to outright fail, we do want to see the struggle because that's the most compelling part of the story, that's the relatable, underdog journey that all people can cling to. I didn't feel anything when Rachel found out about her TV pilot last night, because first, Rachel's dream has always been Broadway, never TV, but more importantly, because it came so easier to her. At least the role of Fanny Brice had been something that she had been striving for since high school, or one could argue even before then.
The same could be said for not just Rachel but virtually every other main character. When did we see Blaine work dedicatedly enough to receive June's praises? When did we watch as Mercedes went from LA back-up singer to up-and-coming pop diva? When did witness the determination and drive of Sam when it came to his modeling career? The answer is simple: we didn't. Glee found itself so enamored with the end result–the final prize–of all its characters' dreams that it forgot to give us a reason to care about whether any of them succeed or not.
If there's any overriding theme to take away from this season, and perhaps last season as well, it's what Rachel says near the episode's conclusion, right before the awesome celebratory performance of "Pompeii." She tells everyone (well, everyone except for Santana because she's written out of the episode here, even though Brittany returns, and who knows if Naya Rivera will ever be coming back to Glee) how she wouldn't have been able to get through this year without them. After losing Finn and the glee club, she couldn't lose any of them–it's not her career but her friends that matter most to her.
If the idea of friendship and family is the message that Glee wants to leave us with, which is something I'm all in favor for, then the series needs to become less goal-oriented and career-driven and find a way back to the more personal and intimate stories of earlier seasons. Glee needs to forget about the intricacies of Broadway or the logistics of a nationwide music tour and focus on what makes this group of unusual individuals such good friends besides the fact that they all were in the same glee club.
I'm optimistic about Glee heading into its final season, only because the ending to this finale, which as I said before, concludes with that tremendous performance of "Pompeii," sends all the characters across the country. Rachel is heading to LA, Mercedes and Brittany are on tour together, Sam's back in Lima, and Kurt, Blaine, and Artie remain in New York. There are so many avenues that Glee can explore when it returns for season six, and it's exciting. However, with whatever new dynamics the final season brings, I'm hopeful that the series can refocus and find its heart again through the stories of these individuals as friends and family to one another. Hopefully, the final season of Glee can mix together the old and the new and create something that even Rachel Berry herself would call "something special."
Other thoughts:
– The original script that Mary Halloran writes for Rachel is truly horrendous but it's also a hysterical, over-the-top parody of Girls and I loved every minute of it. Especially Rachel's "coffee rave."
– Sam and Mercedes broke up. Sadly, I can't say I'm too invested in them as a couple, but I really thought the writers did a nice job handling how the pair ended things. It was very mature and realistic.
– Kurt and Blaine are still together, despite Blaine lying to Kurt again–I'm not surprised.
– I dug most of the music in this episode but, as I've said twice already, "Pompeii" was the true standout. Such an amazing note to end this very rough season on. I also loved "Glitter In The Air"–Lea Michele was absolutely stunning in that scene.
– And that's a wrap on the fifth season of Glee! Thanks to everyone who has read and commented on these reviews throughout the year. Even though I may seem overly harsh or critical of Glee sometimes, it's only because I love the show so much (its first season is still my all-time favorite season of TV). The start date for season six hasn't been announced yet (probably being held to midseason by FOX), but I'll definitely be back here to cover Glee's swan song. I'm really excited and hopeful for what the series' creators have in store.
What did everyone else think about last night's season finale of Glee? Did you like this season as a whole?
[Photo via FOX]
Tell us what's wrong with this post? How could we improve it? :)
Let us improve this post!