Oh, Glee, how I have missed you so!
Season 2 kicked off with that Jacob kid — the one with the huge '˜fro and glasses — interviewing Glee Club members for his blog about Glee. He walked around the school, camera in hand, talking to every member about how they responded to everyone saying Glee Club sucked. It all culminated in Kurt getting pissed off and telling the camera that it takes guts to sing in front of an audience, so if they wanted to say things about them, they should say it to their faces and not hide behind anonymous comments.
And then he got slushied. Bad. It was hilarious.
Meanwhile, Mr. Schue is worried that no one is signing up to join New Directions and Sue Sylvester, always the helpful friend, comforted him saying she didn't even have to work hard to ruin Glee Club anymore; Will was doing it just fine all on his own.
I love her. She's the greatest character ever.
Then she announces Principal Figgins is expecting them in his office. When they get there, Figgins tells them that their budget will have to be cut 10% short. Each. Will argues that they're barely making it as it is, with less 10% they won't be able to do much with the club. Sue, on the other hand, goes ballistic and tells the Principal he's crazy to cut off 10% from the Cheerios. Figgins justifies that the money is going to the football team because they've got a new coach: Shannon Beiste, a very large woman.
Sue tells her to back the hell off and that that was her turf. Figgins sides with Coach Beiste and reaffirms that their budget will be cut. Will and Sue decide to form an alliance to bring Beiste down, which is just very weird to watch, you know, the two of them working together.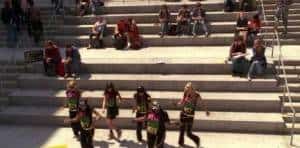 Back at New Directions, Will tells the gang that they need new members. Since Matt transferred, they've only got eleven members and they need at least twelve to compete. The problem is, since they placed third in Regionals, everyone still thinks they're losers and wants nothing to do with Glee Club. Mr. Schue says Nationals will be in New York this year and they're going to work hard and make it there. The first step is to come up with a contemporary number, a song that the kids at school can relate to. So they decide to perform at school, in front of everyone, to show their fellow students how cool Glee Club can be. In order to do that, they sing Empire State of Mind, by Jay-Z and Alicia Keys, and it's really, really cool.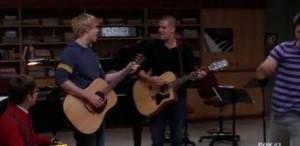 However, as amazing the performance was for us viewers, most of the students couldn't care less. Except two. An exchange student from the Philippines and a new guy. Later, Finn finds out the new guy can really sing and decides to corner him at the first chance he gets. So when Artie comes to Finn for help — because Tina dumped him for Mike Chang and he wants her back — Finn says he will help him, but first Artie has to help him get Sam Evans, the new guy, to join the club. They talk it out with Sam and convince him to go to the Auditorium to meet the rest of the guys. They ask if he can sing something and he sings Billionaire by Travis McCoy and Bruno Mars and when the guys join in, it becomes another really great performance.
Continues on the next page