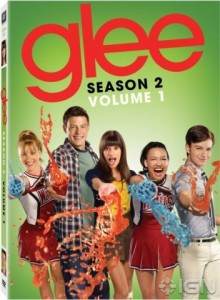 Earlier this week, Fox Home Entertainment released the first half of Glee's second season on Blu-ray and DVD.
Here's what I think is the problem with Glee: it's the most tonally-challenged show on television. It's not really sure what it wants to be. Sometimes it's a comedy, other times it's a drama, other times it's a public service message, but it's always a musical show.
The fact is that the show doesn't always know how to blend all of these different aspects together as successfully as other shows are able to do, and when it picks which aspects to feature in a given episode, it has a tendency to go overboard. There are also times, such as with the Rocky Horror Picture Show episode, that it has a tendency to have no story at all throughout the episode (or have the most ridiculous storyline), thus rendering everything between the individual performances (as spectacular as they are) somewhat pointless.
I like Glee. I watch it every week, even though I've been disappointed many times, particularly during its second season. I actually really liked the season 2 premiere episode, with its funny documentary-style opening sequence and the introduction of Charice as a rival to Rachel. Then frustrations set in. Mr. Shue's character seems to act differently in each episode. I thought the Britney Spears episode was terrible and was frustrated that such a terrific character like Brittany got featured in an episode that did nothing to showcase why she's such a hilarious character.
Despite this, there are bright moments in season 2. I love John Stamos and his character, and seeing him perform in the Rocky Horror episode was a treat. I adore the addition of Darren Criss as Blaine. I find that he's incredibly talented as a singer and I love his interactions with Kurt. And I didn't hate all of the episodes. I particularly liked the episode 'Furt', where Kurt's father and Finn's mother got married. I found that episode to be a nice blend of comedy and heart.
Glee needs to figure out how to bring consistency to its storylines and characters before frustrations mount. All of the pieces are right there at its fingertips. It has an incredibly talented cast that brought on some great new characters in its second season. It has a great deal of popularity, but not a lot of goodwill. My hope is that it can turn itself around and remind me why I fell in love with it in the first place.
DVD Special Features
I think the DVD boxset for Glee Season 2: Volume 1 is great. The "Glee Music Jukebox" on each disc allows you to view only the musical numbers for each episode. There's also a behind the scenes look at the making of the Rocky Horror episode, with interviews with various cast members and producers. That particular disc also has a bonus Rocky Horror song: 'Planet, Schmanet, Janet'.
The 'Getting Waxed with Jane Lynch'shows the cool process that Madame Tussauds went through to create a wax sculpture of her character. The 'Wit of Brittany'is a cute featurette that just features Brittany's best lines. Finally, there's a 15 minute compilation of the Glee panel at Comic Con 2010.
Bottom Line
Glee could be better, but even when it's not great, it's still a terrific musical show. True Glee fans will want to get their hands on this DVD set for the performances alone.