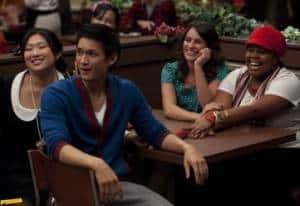 It's no secret that this season hasn't been as stellar as Glee's freshman year. There have been complaints that they are focusing more on getting super famous guest stars than actually developing plots and characters and I actually agree with that. We are halfway through season 2 and I still hadn't felt that spark that got me into the show last year.
Then I watched the screener for the upcoming Valentine's episode 'Silly Love Songs', scheduled to air this Tuesday, February 8th, at 8pm on FOX.
It's Valentine's Day at McKinley High and Mr. Schue sets an assignment for the Glee Club: They are supposed to partner up and sing the song they find most romantic. Meanwhile, Finn decides to set up a kissing booth at school, claiming it will be to help the Glee Club, but he has his own ulterior reasons.
It wasn't the best episode ever, but it reminded me why I even started to watch this show in the first place. For the first time this season they chose to focus on the characters and it actually grabbed my attention. The music numbers were all great — I especially enjoyed Rachel's rendition of 'Fireworks'by Katy Perry — but for once they weren't the highlight of the episode for me.
I am not going to delve too much into the story because I know there are people who run away screaming from spoilers, but I'll tell you this much: 'Silly Love Songs'works and it reminded me a lot of season 1 with all that high school drama and crushes and heartbreaks.
What I can tease about is that you'll see Puck in a completely different light, an old romance is rekindled causing serious repercussions on all involved, and we get to see more of the secondary characters.
Buckle up, Gleeks. You are in for quite a ride.