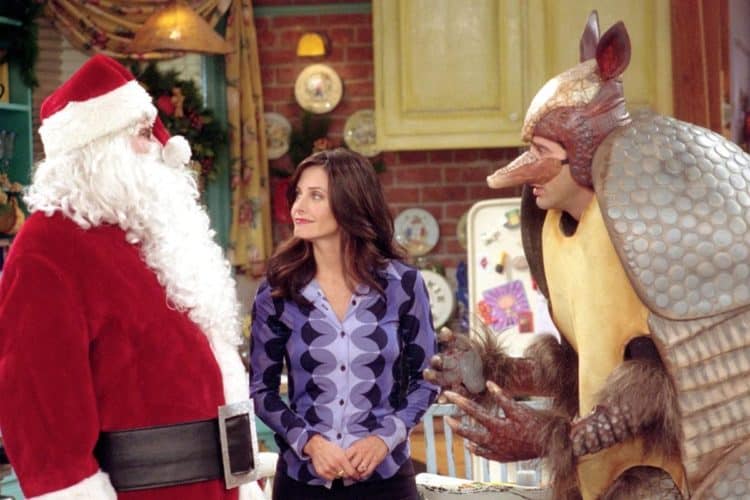 "Oh, Christmas isn't just a day. It's a frame of mind." Kris Kringle Miracle on 34th Street (1947). This great quote talks about keeping the beauty and joy of the holiday season all year long. Who says you can't celebrate in July or March or whenever you need a jolt of holiday goodness or even realness. Because we all know that the holidays as festive as they can be are stressful and chaotic, which is fertile ground for comedic greatness. Here are 20 comedic holiday television episodes for when you need some holiday cheer or just a good laugh.
Ted Lasso, Carol of the Bells – Season 2 Episode 4
This Christmas episode was added to the season because Apple wanted 2 additional episodes that the writers of the show had not initially planned for. Lucky us. Keeley and Roy's plans to have a sexy Christmas are put on hold when Roy's niece, Phoebe, needs to stay with them while her mom is at work. She is in a bad mood because a boy in her class wrote that her breath smells in a Christmas card. Uncle Roy fixes her admittedly bad breath by knocking on doors until he finds a dentist. He even make sure that mean boy apologizes. Higgins plans to spend Christmas with his family. He always opens up his home to players who are far away from home. Normally not many come. This year however is very different with many players including Sam and Dani showing up. It is a full, happy house. Ted had planned to spend Christmas on zoom with his son but that ended early. He is watching It's A Wonderful Life when Rebecca shows up and takes him on her goodwill adventure. Together Ted and Rebecca act as Elves handing out gifts to those in need. The night ends with Rebecca and Ted serenading the Higgins party with "Christmas (Baby Please Come Home)."
Golden Girls, Twas the Nightmare Before Christmas – Season 2 Episode 11
Blanche is about to get lucky with Santa when the rest of the girls come home. Dorothy says she is sad because she thinks all Christmas is about is shopping. The girls plan a dinner with homemade gifts to cheer her up before they travel for the holiday. A highlight is a homemade calendar called The Men of Blanche's Boudoir. Blanche and Dorothy are waiting in the lobbying of Rose's Grief Centre for her when a lonely man dressed as Santa holds them hostage. The girl's brainstorm on ways to tackle him. Sophia comes in and saves the day. She takes the gun off of him revealing it is a toy. The girls can make their flights to be with family. They rushed to the gates only to learn their flights were grounded due to bad weather. They go to a diner to console themselves over not being with family for the holidays. A staff member says he thought they were family which cheers them right up. They watch the diner so the staff member can be with his own family on the holiday, just like them.
I Love Lucy, The "I Love Lucy" Christmas Show – Season 6 Episode 27
Lucy and Ricky are so thankful to be parents now. Little Ricky is a blessing. They are celebrating the holiday with Fred and Ethel Mertze and remembering how they got to this moment like how Lucy told Ricky she was pregnant. This is the first time a flashback was used on a television show. All four dress like Santa for Little Ricky on Christmas morning but are surprised when there is a fifth Santa. He turns out to be the real deal but is gone when everyone catches on.
The Mary Tyler Moore Show, Christmas and the Hard-Luck Kid II – Season 1 Episode 14
Even though Mary is ultimately "going to make it after all," she also has her own share of Christmas drama. She planned to drive home on Christmas Eve to spend Christmas Day with her parents but finds out she is scheduled to work instead. She decides to make the most of Christmas Eve with Rhoda but instead takes Fred's shift so he can spend Christmas Eve with his family.
New Girl, LAXmas – Season 4 Episode 11
Jess, Nick, Cece, Winston, Schmit, and Coach are all getting away to spend time with family this holiday season. Well . . . all except Coach who is going on a solo Hawaii trip. Jess gets nervous and insecure when her boyfriend Ryan sends a picture of his London castle. She tells him her flight was canceled and goes to spend Christmas alone. Cece and Schmit enjoy the first class lounge. Winston and Nick get bumped to standby. Jess tries to help but the grumpy airline employee won't help. Jess later friends him in the bar and he offers to fly her anywhere. She uses this favor to help Nick and Winston. When Nick and Winston find out that Jess is not going to London, they rally the gang to leave the airport to convince Jess to go to London. Jess does get on a plane but unfortunately so does Ryan. He ends up in Los Angeles and Jess is in London.
Will and Grace, A Little Christmas Queer – Season 8 Episode 9
Will, Grace, and Jack are celebrating Christmas and Hanukkah (for Grace) with Will's mom Marilyn, brother Sam, and nephew Jordie. Jordie wants to put on a Christmas show but Will discourages it because he does not think his Mom will approve of another gay person in the family. To his surprise his mom is supportive. Sam is being cold to Grace because of their previous fling. When she calls him out on it, he admits to being vulnerable and afraid of being newly divorced. Grace says she feels the same.
Family Matters, It's Beginning To Look A Lot Like Urkel – Season 4 Episode 10
Laura is excited to give her mother Harriette an expensive Christmas ornament she bought her. Steve shows up to give Laura a ride home. Laura tells Steve to get lost because her brother Eddie is coming. Steve does not listen and tries to help Laura with her bags. In the process of this, he breaks the ornament. Laura is livid and yells at Steve. She says she wished he knew what it was like to be her. In a reversal of this, Laura's guardian angel, Tyrone P. "Ty" Jackson, shows up and has Laura experience what it is like to be Steve. After that experience, Laura has a change of heart and wishes she was nicer to Steve. Her wish is granted and Angel Ty earns his wings.
The Fresh Prince of Bel Air, Christmas Show – Season 2 Episode 13
The Banks Family and Will are meeting up with Vivian's sisters and Geoffrey at a ski resort to celebrate the holidays. The adults go out to the lounge for some grown up fun. While they are away a stranger asks to use the phone. He turns out to be a robber, steals everything, and ties up the kids. The adults come home to the tied up kids. They report the robbery and end up giving Christmas gifts from the heart. The sheriff returns the physical presents later that day.
Fresh Off the Boat, The Real Santa – Season 2 Episode 10
Jessica loves to celebrate the holidays but thinks the whole Santa thing could be upgraded. She goes to elaborate means to help convince Evan that Santa is a super smart Chinese man who loves math and science. She hopes this will help him connect to his culture and inspire him to study hard. She even coaches Santa to make sure he is ready for Evan's questions. The other kids, Eddie and Emery, hunt for the perfect gift for mom.
Black-ish, Black Santa/White Christmas — Season 1, Episode 10
Dre decides that his office needs a black Santa this year. He decides he is the right man to fill out the red suit and boots. The head of HR was suppose to do it though. Dre, as Santa, forgets the presents. Bow and Ruby compete to see who is going to make Christmas dinner. Ultimately though they team up to at least make it look like they made the big feast.
Diff'rent Strokes, Santa's Helper – Season 5 Episode 12
Arnold befriends and attempts to help out a street corner Santa Claus. Unfortunately, this Santa is up to no good. He takes advantage of the situation and robs the Drummonds.
How I Met Your Mother, How Lily Stole Christmas, Season 2 Episode 11
Ted plans to spend Christmas with the gang at his place. His plans are disrupted when Lily finds an old answering machine when she is decorating and hears Ted call her a bad name. Lily is angry and takes down all the Christmas decorations. When telling Robin and Barney, who is sick, all about it Ted realizes he should apologize. He goes to Lily's apartment to do so but they end up getting into another argument. He ends up with his cousin for Christmas. Marshall gives Lily a easy bake oven, which she always wanted. When Marshall tells her Ted was the one with her gift idea, the gang heads to cousin Stacey's to rescue Ted for Christmas.
Sanford and Son, Ebenezer Sanford Season 5 Episode 12
This special Christmas episode of Sanford and Son is Christmas Carol themed. Everyone is trying to get grumpy Fred in the Christmas spirit. It is not until he has a dream with the ghosts of Christmas Past, Present, and Future that the message takes hold. Marc Copage plays young Fredsie.
Schitt$ Creek, Merry Christmas, Johnny Rose – Season 4 Episode 13
On Christmas Eve Eve, Johnny dreams of past Christmas parties and wants to have one just like old times. Except it is not old times any more. He tries to organize the family but that is like herding cats. Alexis does not understand what it means to be in charge of the guest list. She and Ted also won't be attending. David refuses to provide Christmas items such as decorations because those are for paying customers. Johnny realizes this Christmas will be different but that is okay.
The Office, A Benihana Christmas – Season 3 Episode 10
Michael is sad because his girlfriend Carol dumped him after he photoshopped himself into one of her family photos taking the place of her ex. Andy, Michael, Jim, and Dwight go to Benihana to cheer up Michael. At the office, rival parties compete: Angela's and Karen and Pam's. They eventually merge. Andy and Michael show up with waitresses from Benihana as dates. Pam and Jim are clearly not over each other.
Taxi, A Full House For Christmas -Season 1 Episode 13
Louie is mad at his brother Nick who is visiting from Las Vegas. Louis thinks that Nick does not spend enough time with their mother. In an attempt to get back at him, he organizes a poker game. He even bankrolls Alex.
Arrested Development, Afternoon Delight Season 2 Episode 6
Michael and George Michael have a holiday tradition to fix the banana stand after teenagers vandalize it but this year George Michael is too busy with his girlfriend Ann. G.O.B. is excited for the office party because he wrongly assumes his employees love him. Lindsay plans on getting a date at the party but G.O.B. has told his employee's to leave her alone. Buster is suppose to be at in the Army but did quite make it there. The song "Afternoon Delight" may sound innocent but the Bluth family learns it is not.
The Mindy Project, Christmas Party Sex Trap – Season 2 Episode 11
Mindy has a new crush on Cliff. In order to get closer to him, Mindy and her co-workers throw a gluten free, alcohol free holiday party. Mindy plans to flirt with another guy to make Cliff jealous, perform a sexy version of "Santa Baby" and then head outside to get some air. None of this goes according to plan and Mindy ends up alone on the balcony. Mindy and Danny do however share a special moment.
Friends, The One With the Holiday Armadillo – Season 7, Episode 10
Ross learns his son Ben will be with him for the holiday. Ross is worried Ben does not know even about his Jewish roots and decides Ben will not be seeing Santa like he is used to. Ross eventually gives in to the Santa idea but it is too late to rent a Santa suit. Instead he invents Santa's friend the Holiday Armadillo. The Holiday Armadillo teaches Ben all about Hanukkah. Chandler shows up as Santa. Joey shows up as Superman. The rest of the gang shows up to support Ross and Ben's holiday antics.
Frasier, Merry Christmas, Mrs. Moskowitz Season 6 Episode 10
While out shopping for a menorah for his son Frederick, Frasier tries to sneakily buy a sweater for Roz who is with him. She catches him but Frasier is saved by a lovely older woman who claims she is buying it. Frasier is grateful to this woman and asks how he can repay her. She suggests taking her daughter, Faye, out on a date. Frasier agrees and is pleasantly surprised at how much Faye and he hit it off. When Faye stops by unannounced with her Mom, Frasier discovers that Mom thought he was Jewish because of the menorah. While this isn't as issue for Faye, it is for her Mom. Frasier agrees to play along and pretend to be Jewish. Niles and Martin agree to help. It is a hard act to keep up and all sorts of mishaps such as Eddie, Martin's dog, showing up in a Santa costume make great comedy.
Tell us what's wrong with this post? How could we improve it? :)
Let us improve this post!