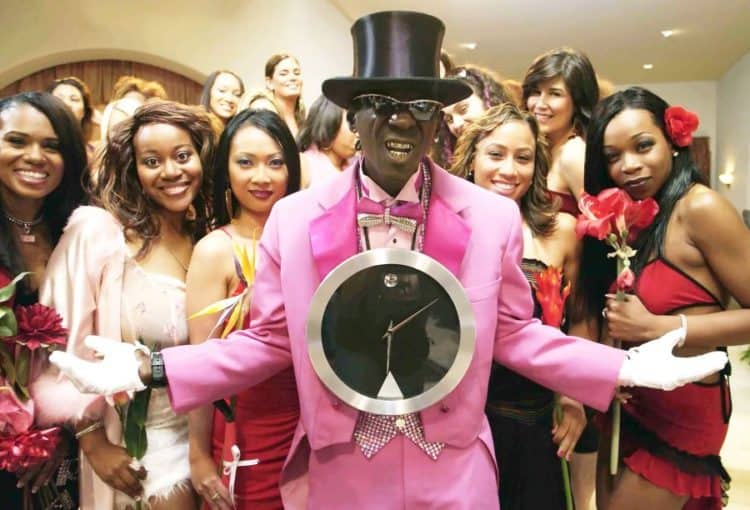 Ah, the 2000s. A time when TV was watched on cable and reality television was a one-way ticket to fame, much like going viral is today. This was the decade which brought us Keeping Up With The Kardashians, The Real Housewives, and Jersey Shore. Not all reality television was as successful in sustaining its run, but nonetheless entertained and encaptured us at the time they aired. Let's take a look into yester-decade and remember some of our favorite reality shows from 2k.
1. Flavor of Love with Flava Flav
Season 1 of Flavor of Love premiered on VH1 on January 1st, 2006. You might recall the iconic clock necklaces and viking helmets worn by its star, Flava Flav. As a rapper and former member of the group Public Enemy, Flava Flav had already made a name for himself in the entertainment industry and on reality TV. He starred in Strange Love and Surreal Life prior to Flavor of Love. Both of the former shows followed his relationship with his girlfriend, Bridgette Nielsen. After the two split, Flava Flav went on to one of VH1's most popular reality shows, Flavor of Love.
Flavor of Love was formatted similar to the Bachelor. It started off with twenty women and Flav eliminated each of them until he chose the woman he most wanted to start a relationship with.
Tiffany Pollard, or "New York" as she had been nicknamed by Flav, was one of the outstanding personalities on season 1. New York lost at the final elimination on both season 1 and season 2 of Flavor of Love. After her participation in Flavor of Love, Tiffany Pollard got her own reality show following the same format called I Love New York. Flavor of Love had three seasons which aired from 2006-2008. Flav did not settle down with any of the women, including the winners, from any season. Flavor of Love was notorious for its outlandish catfights and soapy drama. Some of the contestants from the first two seasons were picked to be on the spin-off reality series Flavor of Love Girls: Charm School where the women compete in challenges which require proper etiquette. The final winner won a $50,000 prize and the title Charm School Queen.
2. Rock of Love with Bret Michaels
Following the success and popularity of Flavor of Love, VH1 kickstarted a similar series for rockstar Bret Michaels, lead singer of the band Poison. In the same format as Flavor of Love, Rock of Love starts with twenty-five women and Michaels eliminates one woman each week until he is left with the one he is most interested in starting a relationship with. The show was extremely successful and some of the most exuberant women from its three seasons went on to VH1's Rock of Love: Charm School and another spin-off show, I Love Money alongside some of the cast of Flavor of Love.
Rock of Love debuted on July 15th, 2007. Its three seasons were full of conflict and turmoil amongst the women competing to be Michaels' girlfriend. The most well known competitors were Lacey Conner, Heather Chadwell, Daisy De La Hoya, Kristy Joe Muller, Megan Hauserman, and of course season 3's "Blond-tourage" Ashley Klarich and Farrah Shelton. Daisy De La Hoya and Megan Hauserman got their own spin-offs following Rock of Love season 2; Daisy of Love and Megan Wants a Millionaire.
Ultimately Michaels did not have successful relationships with any of the winners or contestants from any three seasons of Rock of Love. The only woman he shared a true connection with was Kristy Joe Muller of season two. You might remember her as the centerfold who was "still legally married." Michaels did not eliminate Muller, rather her hectic relationship back home was what made her quit Rock of Love season 2. One of the producers of the show recently admitted in an interview that Muller was the only woman from any of the three seasons that Michaels felt more than a physical connection to.
3. Pretty Wild
Pretty Wild aired on E! on March 14, 2010. The series followed the social lives of sisters Alexis and Gabby Neiers and their friend Tess Taylor. Andrea Arlington, the mother of Alexis and Gabby Neiers, starred on the show alongside her daughters. The series only aired for one season, as Alexis Neiers was sentenced to six-months in Los Angeles County Jail for felony burglary in June 2010. Prior to the filming of Pretty Wild, Alexis Neiers was part of a teenage group of burglars known as the "Bling Ring." The group broke into and stole clothing, shoes, jewelry, and other valuable items from homes of the rich and famous around Los Angeles.
They broke into the homes of Paris Hilton, Lindsay Lohan, and Rachel Bilson among other celebrities. The story of the Bling Ring appeared in a Vanity Fair article headlined "The Suspect Wore Louboutins" by Nancy Jo Sales. One of the most memorable scenes in Pretty Wild was Alexis Neiers leaving Sales a recorded message in response to the article, which she had to retake multiple times due to her mother's interruptive outbursts. Although Pretty Wild aired only for one season, there was a film called The Bling Ring which came out in 2013. The film is based on the article by Nancy Jo Sales and portrays Emma Watson as Alexis Neiers, named "Nicki" in the movie and Taissa Farmiga as Tess Taylor a.k.a "Sam" on screen.
4. The Girls Next Door
This series highlights the lives of Hugh Hefner's girlfriends living in the Playboy Mansion. Hefner and other celebrities were often featured on the show alongside notorious Playmates Holly Madison, Kendra Wilkinson, and Bridget Marquardt. The show aired on E! from August 7th, 2005 until August 8th, 2010.
The first five seasons of the show were centered around Madison, Wilkinson, and Marquardt. The series delved into the parties and behind the scenes lives of the Playmates featuring events such as the Midsummer Night's Dream party, Operation Playmate, behind the scenes of test shoots, and the day-to-day life inside the mansion. Eventually all three of the women ended their relationships with Hefner before the filming of the sixth season. The sixth season of the show starred Hefner's new girlfriends, Kristina and Karissa Shannon, and Crystal Harris. The Girls Next Door inspired multiple spin-offs including Holly's World, Kendra, and Kendra on Top.
5. Viva La Bam and Wildboyz
Each of these reality series were spin-offs from MTV's Jackass. You probably remember Jackass which featured extreme pranks and stunts performed by its ten stars with the aim of gauging the public's reaction. Jackass starred Johnny Knoxville, Brandon "Bam" Margera, Steve-O, Chris Pontius, Ryan Dunn, Dave England, Ehren McGheney, Preston Lacy, and Jason "Wee-Man" Acuna. Jackass ran from 2000 until 2002 and although controversial, it was highly successful with many spin-off shows and feature films such as Jackass: The Movie, Jackass Number Two, Jackass 3D and Jackass Forever said to release later this year.
La Bam follows Bam Margera's crazy day-to-day stunts, pranks, and hijinks mainly in his hometown of West Chester, Pennsylvania although occasionally shooting in different cities across the country and some international locales. Viva La Bam premiered on MTV in 2003 and aired for five seasons until the show ended in 2005. The show features Bam's parents, Phil and April, his uncle Don Vito, fellow Jackass star Ryan Dunn, and many of Bam's friends including Raab Himself, Rake Yohn, Brandon DiCamillo, and Brandon Novak. Johnny Knoxville, Tony Hawk, Sean Penn, Billy Idol, Bob Burnquist, and The Dudesons also made appearances on Viva La Bam.
Wildboyz was another spin-off from MTV's Jackass starring Steve-O and Chris Pontius. The series follows the two Jackass stars around the world partaking in dangerous stunts with animals, interacting with the natives, and learning about the culture of each location. Many of the stunts with the animals on Wildboyz were extremely dangerous as Steve-O and Pontius were untrained. One of its better known scenes had Pontius and Steve-O attract a great white shark and then jump into the water while dressed as seals. Wildboyz also made its debut on MTV in 2003 and ran for four seasons until its final episode in 2006.
Tell us what's wrong with this post? How could we improve it? :)
Let us improve this post!