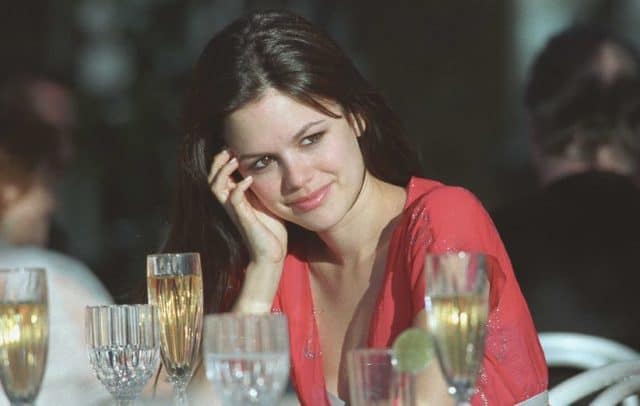 There are obviously quite a few people in Hollywood that are well known and there just as many if not more that aren't really all that well known. Rachel Bilson has a great number of fans from her time on the O.C., but in terms of movies and other appearances it tends to be that she attracts people but not in the kind of numbers that other actors do. She's been fortunate enough to have a stable and fulfilling career that she loves thus far and is comfortable with where she's at. Being a star after all is a great thing for those that enjoy their work and are constantly motivated to get one part after another and do their very best so that they can entertain the masses and be considered a big celebrity. As far as her career goes at this moment Rachel is holding steady and doing what she can to keep on getting roles, so things are good.
Here are a few things that people might not have known about her.
10. She's an LA Lakers fan.
It turns out there a lot of Lakers fans that are celebrities as it's a popular thing to be Lakers fan when you happen to inhabit or visit the city that often. Some people have been fans for years upon years, while others might have come to fan base later but no less devoted. Rachel has been Lakers fan for quite some time now.
9. Rachel has a thing for vintage shoes and purses.
Some people happen to like the older styles and the elegance they exhibit over the newer and more fashionable trends. Rachel tends to enjoy having a vintage style since there are many people that happen to think that those items from fashions of decades past are quite alluring and hearken back to a very interesting time.
8. In order to regain hand to eye coordination after an accident she learned how to play the piano.
First off any injury that messes up your hand to eye coordination doesn't sound all that pleasant, but then when you think about it there are a lot of activities that could be used to gain that type of coordination. Even typing could do the trick, but playing the piano is a good choice since it helped her to learn another skill.
7. She auditioned for the part of Rapunzel in Tangled.
Obviously she lost out to Mandy Moore, and this would have likely been a big boost to her career since Tangled went on to be one of the more popular Disney movies to come out in its time period. But the one thing that might have differentiated the two women would be that Mandy Moore could sing, and it's uncertain as to whether Rachel could have matched that talent.
She's been on again/off again with Hayden up until 2017, but the one thing that keeps them within each other's orbit will be their child since a lot of parents, no matter if they like on another or not, will at least make the effort to be civil for their child.
5. She tends to play character's that are her opposite when she takes on a role.
In real life Rachel is actually a very nice person, but in a lot of films and TV shows that she's starred in she has played rather negative and mean character. She does like the fact that she can revert back to her nice self when she's done as it leaves everyone in a much calmer mood.
4. Rachel is the youngest in her family.
As such you can imagine that she was spoiled quite often and got what she wanted. At least today however she knows how to go out and get what she wants, as she was given the drive and ambition to go out and make things happen for herself.
3. She refuses to do nude scenes in movies.
This seems to be based on a moral and ethical level that she won't budge from since she really doesn't want to do nude scenes in movies. Some people don't mind, others will compromise, but those of the same mind as Rachel usually don't change their mind. It can cause some of them to lose out on certain roles but if they want to keep their principles they'll find something else.
2. Rachel was involved in a head-on collision when she was 14.
She has a scar over one eye to prove it, but she was unconscious for 4 days as a result. It's enough to say that she's probably grateful to be alive after such an accident.
1. She dropped out of college to go into acting.
Some people will condemn this and others will condone it since for some people school is a great way to get ahead in life, while for others it's kind of a waste since they might spend too much time and money on something they don't intend to use later on in life.
You might not know much about her, but she is a talented actress.
Tell us what's wrong with this post? How could we improve it? :)
Let us improve this post!