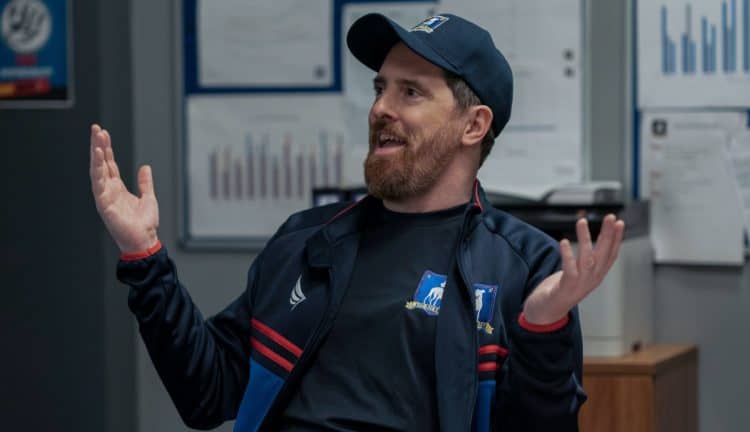 Love it or hate it the Coach Beard Ted Lasso episode entitled Beard After Hours gave us an inside look at the man behind the man, Coach Beard. To understand its place in the season and why it seems a bit out of place one first has to understand some basic Ted Lasso history and background information. Apple TV's Ted Lasso struck the optimist zeitgeist the world was desperately craving when it came out in August of 2020. The world was grappling with the Covid 19 pandemic and also facing a radical racial awakening in the wake of George Fllyod's murder. The show's hopeful and optimistic message struck a chord with streaming audiences. It was based on an ad campaign for NBC Sports released in August 2013 when NBC got the rights to broadcast the Premier League on the other side of the Atlantic Ocean. In 2015 with the encouragement of his partner at the time, Olivia Wilde, Sudeikis thought there might be more to explore with the character of Ted. Sudeikis and his writing partners Joe Kelly and Brendan Hunt (who plays Coach Beard) wrote a pilot and season outlines in about a week. In 2017 Bill Lawrence, Cougar Town and Scrubs creator, would come on board as a co-creator. Ted Lasso's basic plot centers around an American football coach (Ted Lasso) hired to coach a British soccer (football) team. Ted may not know British football but he knows how to work with people. One of the unsung heroes in this equation is Ted's right hand man, Coach Beard played by Brendan Hunt.
Coach Beard, played by Brendan Hunt, is an elusive figure who always has Ted's back. He does not seem to mind being the person behind the scenes who makes the boss look good. The facts the audience know about him can be summed up in one sentence: he's a great friend, chess player, and has a rocky relationship with Jane. The few words he does speak are wise but succinct. Brendan Hunt, the man behind Coach Beard, wears many hats on Ted Lasso. He is a co-creator, actor, and writer. Hunt says Coach Beard's reserved nature is intentional and told Vanity Fair: "We have to be very judicious about what we show because what's fun about him is how mysterious he is. We might dance a little closer to the borderline on that. But that will always be the tension. We have to keep him close to the vest." So why did the writers decide to give the audience an inside look into one night of Coach Beard's life? The answer has a lot to do with Apple TV's episode order. The writers of Ted Lasso originally meticulously outlined a ten season arc. Then Apple TV executives came back and asked for 12 episodes. The writers were faced with a dilemma of sorts. How to add two episodes in without compromising the storyline. The solution was to add the Christmas episode and the Coach Beard episode. These episodes would not further the plot but would allow us a deeper look into the peripheral characters' lives.
The number of episodes in a typical television season has changed over time. In the past, network shows typically ran from September to April and could have as many as 39 episodes a season. Many factors such as the rise of streaming and British television's influence have made way for shorter, more story focused seasons. The Coach Beard episode is polarizing. One typically loves it or hates it. It does make for good discussion. For example what does it mean that Coach Beard looses his keys all episode? Is there a deeper meaning? The episode is enjoyable to watch and an excellent vehicle to let actor Brendan Hunt shine in. One gets to see an inside look at Coach Beard, who is mysterious and out of the limelight most of the time. One learns Coach Beard fears he is not a good enough Coach and has deep insecurities. His relationship with Jane is toxic but Beard is aware. One also gets to see another side of the boys from the pub, Baz, Jeremy and Paul. It is nice to see them beyond yelling at football games on television. The most heart warming part of the episode is when Coach Beard lets them on the pitch to have their own private football playtime. The downside to this episode is one does not get their weekly Ted fix. Since this show is being released an episode at a time, this can be disappointing. One has to wonder how this episode would hold up in a binge-situation. Time will tell how Beard After Hours holds up. Coach Beard will be a character that audiences keep analyzing and discussing for a long time. And that is certainly something.
Tell us what's wrong with this post? How could we improve it? :)
Let us improve this post!