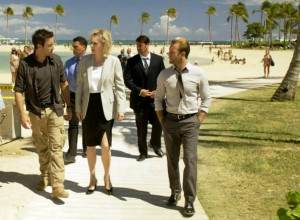 Aloha, viewers! After launching our Hawaii Five-O coverage with a recap of the pilot, I'm back with a review of this week's hour. Different space, same verbose analysis. Promise.
So, where were we? Steve had just formed his crack task force under the supervision of Governor Jameson, and their first assignment was to bust up a smuggling ring, not to mention avenge the murder of Steve's dad. (Speaking of, I've finally realized why Steve's dad looked familiar to me – that's William Sadler, who played the Worst Father Ever, Carlton Fog, on Traveler. He also appeared on Alex O'Loughlin's previous series, Three Rivers. There's your useless trivia for today.) This week, in an episode co-written by the creator of Day Break (#7 on my list of best swiftly-cancelled TV shows) and directed by a longtime 24 director, they're rescuing an ex-NSA agent and trying to prevent a breach of national security. Sort of a step up in the "threats to be tackled" department.
The show isn't reinventing the wheel – this episode's main story feels like an imitation of Live Free or Die Hard minus the powerful presence of Timothy Olyphant – but it's still an entertaining hour of television.While technology plays a huge part in this particular hour, it doesn't get bogged down in flashy visuals or jargon that would go over most viewers' heads. A scene in which Steve, Danny and Chin Ho are stuck in an elevator with a family of tourists is unexpected, laugh-out-loud and yet somehow doesn't ruin the tension of what follows. The show also gives us insight into the characters' heads and personal lives, but it comes out through and during the course of the cases, not with forced moments or plotlines as it would on most series. I liken this to Law & Order if that series had a little more character development involved.
It's good to see that the banter between Steve and Danny hasn't missed a beat from the pilot; it's obviously and deservedly going to be a huge part of the show. Alex O'Loughlin and Scott Caan play well off each other, and the show is wise to build itself around that chemistry. We still see the differences in their characters – Danny decides to interrogate a suspect with a fire hose and an explanation of dialysis, while Steve would rather put pressure on his bullet wound and then hang him off the roof as Danny yells at him for it – but at the end of the day, they're still partners, and effective ones at that.
There's a similarly gelling relationship between Chin Ho and Kono, with less banter but more bonding between them, and we see that come out as Kono readies for her police academy graduation. Daniel Dae Kim and Grace Park are entirely believable as family, and they're not pushed aside in favor of their more known counterparts, either. Park gets a meaty fight sequence to sink her teeeth into here (even if I mildly roll my eyes at the fact that it ends in a pool, but no more so than the fact that there's an earlier moment of O'Loughlin coming up out of the water a la Daniel Craig in Casino Royale), and proves more than capable. One of the nice touches I've noticed about this show is that no one is pigeonholed into expected roles as they are on most crime dramas. There's not "the token tech geek" or "the token antisocial guy." The characters fulfill different roles depending on the needs of the story.
As anyone who's seen Lilo & Stitch can tell you, "ohana" means family, and this episode not only centers around the victim and his family, but also sees our protagonists develop as a sort of psuedo-family of their own, something each of them are lacking to a degree. In that sense, "Ohana" delivers both as an hour of entertainment, and a further embellishing hour of character development with an underlying theme to be contemplated. That's pretty much all one can ask for in a television series, and I look forward to seeing where this one takes us. I think Leonard Freeman would appreciate the effort.