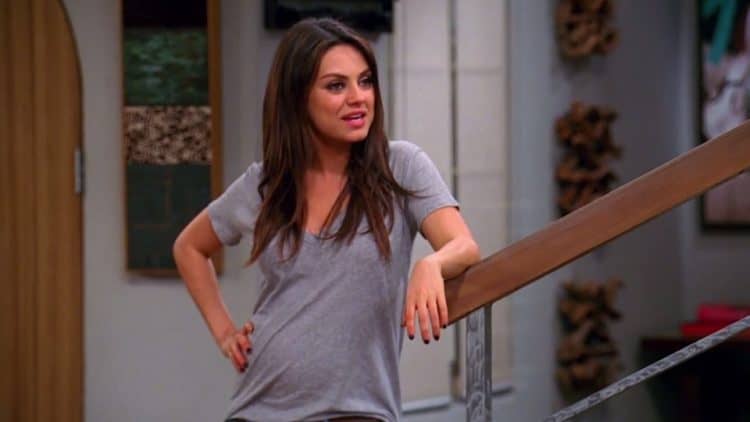 Two and a Half Men had quite the lineup of female guest stars making their way in and out of the show. Most of them stuck around for only an episode or two and although each of them was essential to the storyline of these particular episodes, not many fans missed them when they vanished into thin air. And then there were those guest stars who came and created such an impression — either due to the celebrity quotient attached to their name, their acting prowess, or simply, the way their roles were written for them — that we all wanted more. Now, although it's difficult to pick and choose from the really long lineup of female guest stars who had been a part of Two and a Half Men at some point or the other, here we are with a list that you will all agree with.
10. Katherine LaNasa
Very few people could stand up to Evelyn Harper and give her tough competition as far as attitude went. Berta was surely one of them, getting the last word in each time, although it did seem like Evelyn backed off only to make it look like she was the bigger person each time something like this went down. Well, it turns out there were quite a few others who stood up to the powerful Evelyn Harper, and one of them was Lydia, played by Katherine LaNasa. Playing Evelyn's doppelganger to the hilt, including everything from her overpowering demeanor to the way she dressed up in those business suits, it seemed that everyone could see through Lydia's resemblance with Evelyn except for Charlie. In denial mode throughout most of the episode, this one made for quite a few laughs. But what really caught the audience's attention was the way Evelyn and Lydia reacted to one another when they finally came face to face. The odd vibes were a thrill to watch and we really wish the character of Lydia had popped by more often if only to give Evelyn a taste of her own medicine!
9. Megan Fox
Few actresses out there can turn heads the way Megan Fox does, and this proved to be true yet again when she appeared on Two and a Half Men as Prudence, Berta's granddaughter. Getting both Charlie and Alan lusting after her, until they learned the possible repercussions and decided to keep a safe distance, what really took the cake was Jake falling for the beautiful Prudence and following her everywhere. The episode was quite the enjoyable one and we are sure Prudence could have made an entrance a few more times to add some interesting twists to the tale. With Berta's constant nagging and worrying and just the hotness quotient that no one else but Megan Fox could bring on to screens big and small, we sure wish Prudence the hottie came over to Charlie's Malibu beachfront house more often!
8. Lucy Lawless
One of the best episodes on Two and a Half Men was Charlie and Alan playing the roles of a gay couple. Weird and just so wrong on so many levels and for so many reasons, we guess it was these quirky adventures that made the show even more enjoyable. Well, while Alan's commitment to the chance of playing a gay partner to Charlie was easily the highlight of this story, what took the cake was Charlie's extreme struggle with resisting the hotness that Lucy Lawless, playing the character of Pamela, brought to the screen. Putting on the act of the ex-wife of the gay ad executive for whom Charlie was playing out this entire charade, Pamela sure made quite an impression. She made the torture Charlie was going through absolutely believable and the scene where she takes her top off in the changing room was easily the best one. Charlie's expressions were indeed priceless! Well, we really wish the storyline made some more place for a few more of these torturous sequences. We sure wouldn't have complained if it was even strewn across a few more episodes across a few more seasons!
7. Teri Hatcher
Judith is one of the most difficult people in Alan Harper's life, with the caustic behavior of his ex-wife and Jake's mom spilling into Charlie's life every now and then too. Well, we can't really blame her for the open hatred she has for Charlie when you know that the hedonistic ways of this man even spoiled her wedding day! Viewers had often seen the mention of Judith's sister who Charlie had had a coatroom romp with during Judith and Alan's reception. Well, it wasn't long before the hot Teri Hatcher came along into one of the episodes of Two and a Half Men as Liz, Judith's hot sister. The episode, with Liz paying extra attention to a now single Alan and Charlie's wonderment as to how this hot lady couldn't believe that it was him she had a fling with during the wedding, turned out to be quite a hilarious one. Seeing how Liz could singlehandedly take on every other character on the show, we really wish she had made an appearance in more episodes throughout the series. After all, who doesn't love that perfect mix of hotness and sassiness that Teri brings to the screen!
6. Jenna Elfman
Jenna Elfman is among only the handful of actors who made an appearance on Two and a Half Men more than once, and as different characters too. While her second appearance as Dharma was quite a hit too, it is her first appearance across two episodes of the first season of the show that had us wanting more. Introduced to Charlie and Alan in a parking lot where was found taking a baseball bat to her therapist's car, Frankie, the name of the character Jenna was playing, gets along quite nicely with both brothers and even ends up staying at Charlie's ever-popular Malibu beach house. The twists and turns she brought to the two episodes she featured in proved to be quite funny and the dash of emotions made her role all the more endearing. Call it a need for a little more meaning in the storyline or simply just not being able to have enough of Jenna's energy, viewers sure wanted more of all that Frankie brought to the show!
5. Brooke Shields
Brooke Shields makes an impression no matter where she's seen. Whether it's on the ramp or on screen, this is one face that we just cannot have enough of, and it was the same when Brooke appeared on Two and a Half Men as the hot yet completely bonkers Danielle. With Charlie trying to hook up Alan with this hot young lady who has just bought a neighboring property, the episode has plenty of twists to make it a thoroughly enjoyable one. When asked by Alan as to why Charlie was even trying to hook him up with Danielle, Charlie's reply is "Because I thought she would be dull and boring like you and I'd hoped the two of you would go and be dull and boring at her house!". Ending the argument with, "It would have worked if she wasn't a drunken slut!", the episode goes on with Danielle proposing a threesome! With this long-term plan slowly unraveling, it is indeed interesting to see the two brothers tackle the craziness that Brooke brings to the storyline! We really wish we had more of her on the show. If not anything else, we would have loved to see how the character of Danielle wreaks havoc on every plan the Harper brothers make!
4. Denise Richards
On Two and a Half Men, Charlie Harper brings to the screen a persona that seldom thinks beyond himself, but there were quite a few instances where even the strongest hedonistic instincts of this playboy go out the window, all for love. One of the characters who keep popping by — but clearly not enough — and bringing to the fore a Charlie Harper few of knew even existed was Lisa, a character played by the ever-beautiful Denise Richards. Denise made an appearance on the show several times across season 1 and what made even more headlines was the fact that they were a real off-screen couple then. Whether it was the perfect mix of chemistry and calm between the two or simply the way the script was written, every meeting between Lisa and Charlie turned out to be meaningful and heartbreaking in its own way. We sure wish there was more of Lisa in Charlie's life for she sure seemed like the only one who could bring this wayward man to his knees! It was almost heartbreaking to see Charlie losing every battle he fights to keep seeing Lisa and making her a permanent part of his life, but it was even more beautiful to see Lisa handle this mess of a man with amazing levels of maturity and love. We sure wouldn't have wanted to turn the show into a mushy one in any way but a little more of Denise Richards? That we would have always welcomed!
3. Jodi Lyn O'Keefe
When Berta backs away from a confrontation, you know you have to sit up and take notice! Well, it all goes down when Charlie brings home yet another one of his flings. Only, this time around it looks like lives will be at stake, or on a stake, depending on how the storyline takes its turn! As the evil Isabella who not only makes life physically difficult for Alan by casting spells on him but even has the otherwise overpowering Berta to step out of the way, Jodi Lyn O'Keefe sure made quite the impression in season 3 of the show. From one evil turn to the next, it sure looked like the nasty Isabella would take both brothers on a ride through hell. Well, there's always a match for such characters on the show in the form of the one person that can beat them all, and it was indeed the most-powerful Evelyn Harper who eventually saves her sons from doom. All in all, we sure loved the evil undertones the episode dealt with, and considering how impressive Jodi was as the hot yet evil Isabella, we sure wish we could have seen more of her on the show!
2. Hilary Duff
One night stands weren't just Charlie Harper's domain, Walden Schmidt did them too! Or, was at least forced into them! One such episode had the multi-talented Hilary Duff showing off her comedic skills, playing a drunk young girl who tries to sleep with Walden but instead, catches him banging her grandmother instead! it sure turned out to be a hilarious episode and what was even more interesting to the audience was Hilary's absolute prowess at pulling off a comedic sequence in a show that had stalwarts performing at their best already. We all love the Disney version of Hilary and it was indeed surprising to see her pull off the drunk girlfriend bit as Stacy. We do wish we could have seen more of Hilary on the show! There sure was a possibility of a full-fledged romance between the two, especially if the script had her showing a little more brains to keep Walden interested. Well, that was how her role was written so we couldn't really complain on that front. But a little more of Hilary was what many of her fans wanted!
1. Mila Kunis
Oh, come on now! Who doesn't love seeing Mila Kunis and Ashton Kutcher on screen together! Right from their That 70's Show days to their years of friendship and subsequent marriage to one another, we've loved this couple to bits! So it was quite the treat when the two ended up on screen together once again, this time around for Two and a Half Men. From the kick in the nuts Vivian gives Walden when he surprises her in the woods to his confession of not being okay without her in his life, the interactions between these two did bring a lot of soul to the storyline. Even more endearing are the beautiful and soulful lines Mila delivers, even promoting Walden to say, "Are you writing these down?". We know Walden's own antics would have been impossible to pursue if Vivan had been a permanent part of his life, but we really wish we had more of this amazing, hilarious, and absolutely lovable on and off-screen couple on the show!
Did We Miss Any of Your Favorites?
With a fan following that proved its immense popularity, Two and a Half Men was one of those shows that everyone enjoyed thoroughly. Whether it was Charlie's unique perspective of life, Alan's uptight personality, Jake's cuteness, Evelyn's sarcasm, or Berta's acidic lines, there was always a lot to look forward to. Even later in the series, the life adventures of a grownup Jake and Walden Schmidt's own antics proved to offer loads of entertainment. Well, it was great to bring you this list. We hope you enjoyed reliving your favorite moments of the series. Oh, and if you want to see more of your favorites here, simply drop a line in the comments and we'll add them right away!