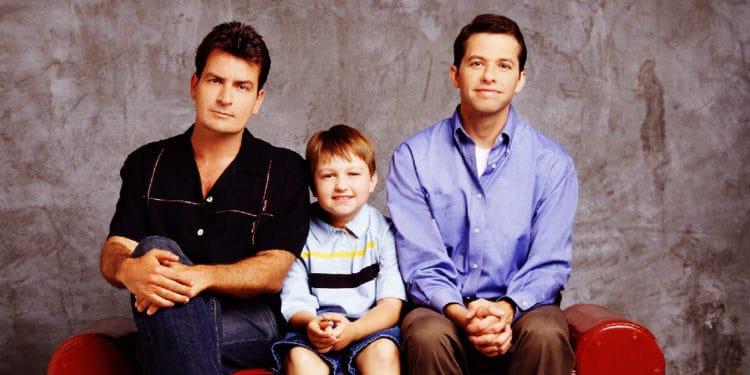 Starring Charlie Sheen as Charlie Harper, a jingle writer living off of royalties who housed his divorced brother and his son in a Malibu beach house, Two and a Half Men made its debut on CBS in 2003. The show ran for twelve seasons, four of which excluded the presence of Sheen's character, Charlie. While the show's creators put their best forward with the replacement of Sheen by Ashton Kutcher's character, Walden, legend has it that the first eight seasons were its best. A number of spin-offs would have worked going forward, and here are some of them:
1. The One Where Charlie Tries Out Monogamy
When it came to women, Charlie Harper ( Charlie Sheen) was always on top of his game. His love for women knew no boundaries. He'd try to woo them anywhere and everywhere. It didn't matter whether he was showing up at Jake's ( Angus T. Jones) school or Allan's workplace. If Charlie saw a woman he liked, the fact that he was at a funeral did not stop him from making a move. Once or twice, he would try out monogamy, but those relationships didn't last too long. In a parallel world, it would have been interesting to watch Charlie live the other way round. He would become a dad of one or two and have a regular job where he'd get paid by the hour. It would have been a pleasure to see him changing diapers and talking about routes to work. Charlie would have one woman who'd have him wrapped around her finger and keep him in check in case his old ways came back.
2. The One Where Allan Is Financially Stable
It's fascinating that Allan ( Jon Cryer) was always the broke one amongst the brothers. Just like Charlie, he had his woes with women, but a different kind. Allan was a hopeless romantic. In the presence of a woman he adored, however wrong she was for him, Allan's ability to think on his own faded with every touch. If he wasn't getting ready to marry a woman he'd just met at the supermarket, he was smitten with Kandi ( April Bowlby), going as far as marrying her. Allan was ever so drunk in love, and perhaps his dumbest point was when he ran back into the arms of Judith who'd belittle him at every chance she got. In an alternative universe, a more macho Allan would have made for good television: One who took time to know someone before he married them. One who didn't have to pay alimony or co-parent all the time. Even if he did, it would have to be on his own terms. On top of it all, an Allan who was financially okay and didn't have to barely scratch the surface would have been a great one to watch.
3. The One Where Berta Is A Rich Auntie
As Charlie's 'say it like it is' housekeeper, Berta ( Conchata Ferrell) made it her business to live a carefree unfiltered life, sometimes bossing her own employer. Her sharp tongue never ceased to work, regardless of who was in the picture. Her greatest monologue yet is a heap of praise towards Charlie, worded in a way only Berta could: "…I'll tell you why. Because your brother is the embodiment of the can-do, roll-up-your-sleeves spirit that made this country great. He never gets discouraged, he goes after what he wants, and he doesn't know the meaning of the word 'quit'. And if the day should come when any man, no matter how humble, can't go out there and soil the loins of some hot little dancer, well, I don't wanna live in that America!" In another life, Berta would have been the embodiment of the can-do attitude she talked about. She would have worked her way up or won the lottery and perched herself right next to Charlie's beach house, becoming her former employer's neighbor. Hers would have been the classic immigrant's 'Made it in America' story, making her one of television's richest villain aunties.
4. The One Where Jake Is Actually Smart
It's interesting to think that Jake was actually a smart little boy when we met him. Soon after, he was made to be the dumb kid we all got to see. What if he was made a smart boy all along? What if he was following in his father's footsteps and doing a lot more with his potential? If Jake had his own show as a smart one, he'd probably choose a career path close to his dad's. He'd be a doctor instead, one who has gone through years of medical school. He'd grow up to help his dad take care of his financial woes. Jake would set up shop in a rich neighborhood in California, majoring in plastic surgery. He would not have to go too far for clients, since his grandmother, Evelyn would be first in line. The bond between the two would be better, seeing as they'd share a common interest. Evelyn would be proud of her grandson, and maybe shower him with the affection she held back on when he was younger. Unlike her relationship with Charlie and Allan, Evelyn would live in harmony with Jake and his children.
5. The One Where Evelyn Is A Caring Mother
As a mother, Evelyn (Holland Taylor) was a mess. For some reason, Charlie thought that her self-centeredness and lack of motherly instincts was the reason for his philandering ways. When he confronted her about it, Evelyn was nonchalant about the subject. Her relationship with Allan was not so good either, despite the fact that he was the opposite of his brother. As a grandmother, Evelyn always offered the bare minimum, not letting Jake interfere with her life as it was. When it came to spending time with her grandson, she was all talk and no action. In a different life, Evelyn would make an effort to repair her relationship with her sons. She would be an accountable mother figure who puts family first. Had that happened before, her children would have possibly grown to not be troubled adults. She was the root of it all, and had she done things differently, she may have raised the best men out of her boys.
Tell us what's wrong with this post? How could we improve it? :)
Let us improve this post!